BlackBerry confirms Messenger for iOS submitted two weeks ago, awaiting approval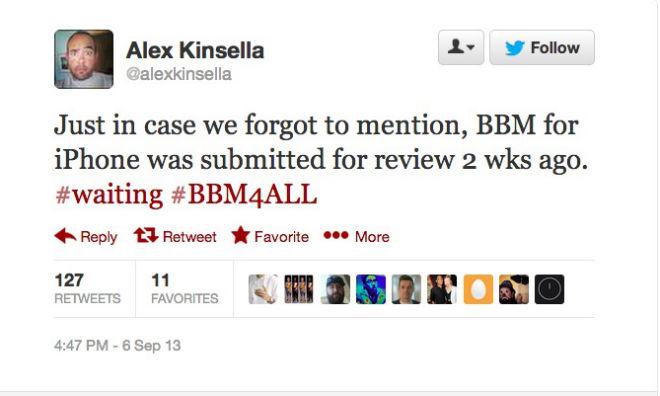 AppleInsider is supported by its audience and may earn commission as an Amazon Associate and affiliate partner on qualifying purchases. These affiliate partnerships do not influence our editorial content.
The BlackBerry Messenger app's arrival on iOS could be imminent, as a BlackBerry rep has announced that the app was submitted for Apple's App Store approval some two weeks ago.
Word of the submission came Friday afternoon from the Twitter account of BlackBerry's Alex Kinsella. "Just in case we forgot to mention," Kinsella wrote, "BBM for iPhone was submitted for review 2 wks ago. #waiting #BBM4ALL"
BlackBerry initially promised the app in May of this year, saying it would arrive on both Android and iOS over the summer.
"The time is definitely right for BBM to become a multi-platform mobile service," Andrew Bocking, executive vice president of Software Product Management and Ecosystem at BlackBerry said in a press release. "BBM has always been one of the most engaging services for BlackBerry customers, enabling them to easily connect while maintaining a valued level of personal privacy. We're excited to offer iOS and Android users the possibility to join the BBM community."
BBM was once the gold standard in mobile messaging, with its secure interface and powerful tools. In the years since, though, its fortunes have mirrored those of BlackBerry itself, with some users moving away to other platforms as competition increased.
When it does debut on iOS and Android, BlackBerry Messenger will face not only services like Apple's iMessage, which reproduces many of BBM's features as well as its security, but also Google's Hangouts app, which allows for much of the same functionality and is deeply integrated into Google's existing services. It will also go up against third-party apps like WhatsApp, which has a user base in the hundreds of millions.
According to BlackBerry, BBM has more than 60 million monthly active users, and more than 51 million of those people use BBM for an average of 90 minutes per day. BBM customers send and receive more than 10 billion messages each day.