In five years, Microsoft's share of personal computing fell from 90 to 33%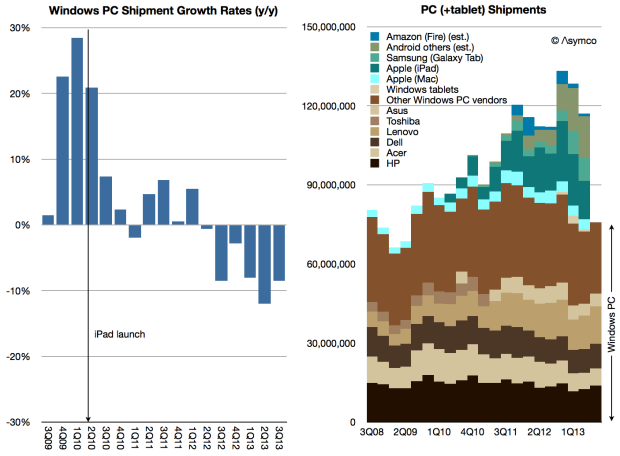 AppleInsider may earn an affiliate commission on purchases made through links on our site.
Over the last five years, Post-PC devices have displaced conventional Windows PCs so rapidly that Microsoft's dominance over personal computing has plummeted from roughly 90 percent share to less than a third.
Data compiled by Horace Dediu of Asymco highlights in implosion of growth that has sapped Worldwide PC shipments starting with at the launch of Apple's iPad in 2010 (above).
While PC shipments have stagnated over the past five years, Apple's sales of iPhone and iPads and the estimated shipments of Android-based devices have grown rapidly.
The personal computing industry has shifted from 92 million shipments in 2008 to today's market of 269 million units, as the site further details in charts.
Five years ago, Windows PCs accounted for the vast majority of computing devices - around 90 percent. But after failing to materially participate in the shift to tablets and smartphones, Microsoft has been left with its OS software on less than a third of the devices companies and individuals now use.
Dediu's figures come from Gartner's PC and tablet shipment data. The firm, along with IDC, suddenly stopped counting certain tablets among PC sales after Apple released its iPad. Both companies have since added Microsoft's Surface and other Windows-branded tablets to their PC numbers while relegating iPads and Android tablets into a separate "media tablet" category.
Ostensibly, this was to separate devices used only for "media consumption" from PC figures, but the firm's PC data has always included vast numbers of PCs that have only ever been used to browse the web or check mail, and have also included low powered netbooks and other limited-duty PC devices.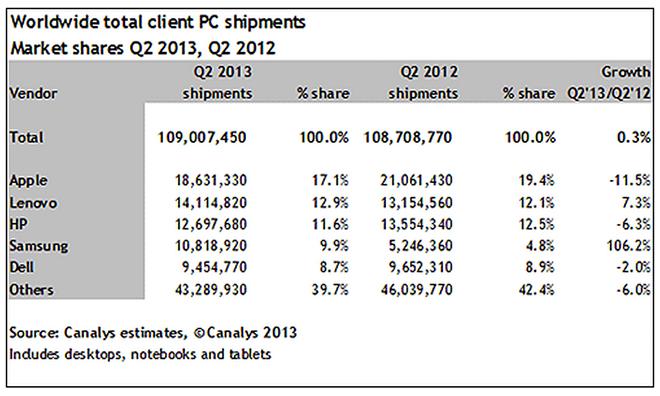 In stark contrast, complete PC market data from Canalys (above) has more clearly shown how modern tablet form factors have had a tremendous impact on the PC market, without regard for how flattering the truth is to Microsoft.