Apple bests Samsung, Intel in mobile processor revenues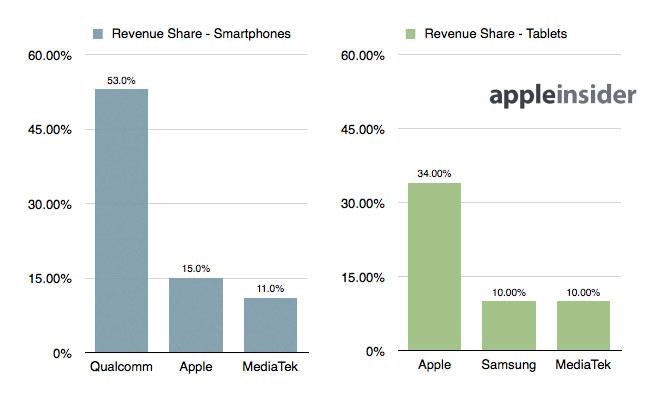 AppleInsider is supported by its audience and may earn commission as an Amazon Associate and affiliate partner on qualifying purchases. These affiliate partnerships do not influence our editorial content.
Thanks to the massive popularity of the iPhone and iPad, Apple has become one of the five largest makers of processors for mobile devices by revenue in the world, according to new data.

Revenue share for mobile device processors | Source: Strategy Analytics
Apple's custom-designed A-series processors, which have powered the iPhone since the steel-and-glass iPhone 4 and the iPad since its inception, helped the Cupertino company snare 15 percent of smartphone processor revenues and 34 percent of tablet processor revenues in the second quarter of 2013, according to a report provided to AppleInsider by consulting firm Strategy Analytics. Apple was tops in tablets and came in second to Qualcomm in smartphones.
The market for smartphone processors showed significant year-over-year growth, rising 44 percent to $4.4 billion in the second quarter, the report said. Qualcomm maintained a significant lead in the smartphone sector, boasting more than 50 percent revenue share. The report attributed Qualcomm's dominance to its technological leadership in LTE communications technology.
Samsung, after the disastrous debut of its Exynos 5 Octa that may have cost the company its processor manufacturing relationship with Apple, fell to fourth place in the ranking after being leapfrogged by Chinese upstart MediaTek.
In tablets, where the processor market made a robust 46 percent year-over-year leap to $759 million, Apple's market-leading 34 percent revenue share was more than three times that of its closest rivals Samsung and MediaTek, who each took home around 10 percent. Apple's iPad recently lost its overall market share title to Android, though the iPad remains the most popular single tablet model in the world — Apple's slate accounts for half of all tablet revenue worldwide.
For the purposes of calculating revenue share, Strategy Analytics classifies Apple as a fabless semiconductor company, akin to Qualcomm, even though Cupertino does not license or sell their processor designs to other companies. The firm then uses "market-level average selling prices," combined with Apple's reported unit shipments, to generate the expected revenue numbers.