Apple updates Apple Watch Human Interface Guidelines website with new design, more resources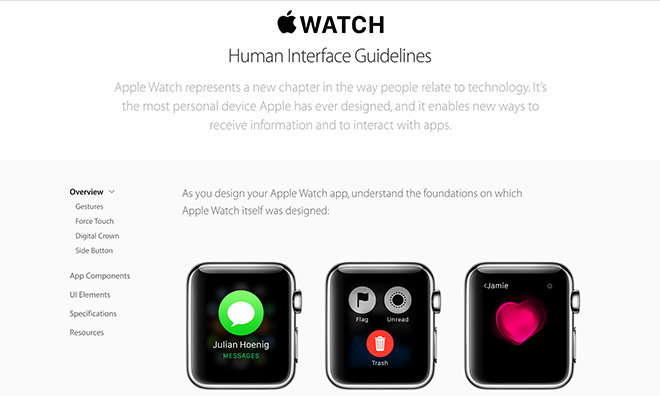 Apple on Monday updated the Apple Watch Human Interface Guidelines website with a refreshed look and new software design resources for app developers.
Mostly a rearrangement of its original Apple Watch HIG page, the new version is easily navigable with a persistent menu bar and interactive elements mimicking the look and feel of Apple's most recent Web designs.
Like Apple's previous HIG page, the revamped version is broken up into five categories: Overview, App Components, UI Elements, Specifications and Resources. Each section contains useful suggestions pertaining to general user interface guidelines, navigation, specific graphical elements and much more.
In Resources, Apple provides a number of templates to help developers create apps that are uniform in use and style. Among the resources available are Photoshop templates for bezels, buttons, notifications and more, while Photoshop Guides help devs lay out individual app elements.
Finally, developers can download Apple's San Francisco typeface, which was designed specifically for small form factor devices. Apple Watch uses two variants of San Francisco, one called Text for basic in-app content and a larger version called Display.
The assets are a welcome addition to Apple's Apple Watch HIG, which many developers have turned to in lieu of receiving actual hardware. With Watch demand far outstripping supply, third-party developers have had to make do with virtual test beds.
To deal with the issue, Apple extended a limited number of Apple Watch Sport models to developers, promising a ship date of April 28. While some received their Watch on time, others reported that Apple did not meet its self-imposed deadline and are still waiting for their test unit to arrive.