Apple's iOS 9 now installed on two out of three compatible devices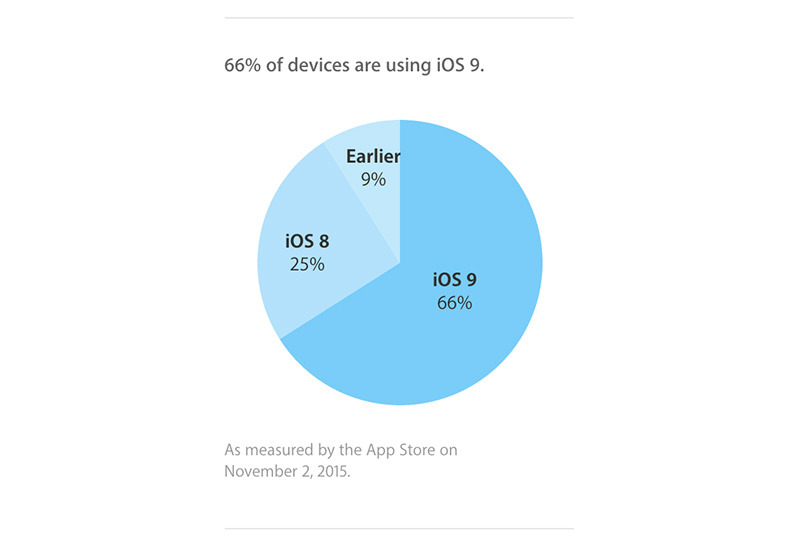 Apple on Tuesday revealed 66 percent of compatible devices are now running iOS 9 thanks to a spike in adoption following last week's update, which brought new emoji support, Live Photos tweaks and bug fixes.
According to Apple's developer webpage, the latest iOS 9.0.2 update released last week appears to be responsible for the recent bump in adoption. The 66 percent number compares to statistics gathered in early October that pegged adoption at 57 percent.
Alongside iOS 9, a quarter of Apple device owners are still running last year's iOS 8, while earlier operating system versions accounted for another 9 percent. Apple collects its data by measuring visits to the iOS App Store.
The latest iOS 9.0.2 update introduced two core features, the first being the addition of more than 150 new emoji characters with extended support for Unicode 7.0 and 8.0 characters. Apple also augmented Live Photos with hooks into iPhone's accelerometer APIs, allowing iPhone 6s handsets to sense when they are being raised and lowered to preventing inadvertent recording. The usual bug fixes and stability improvements were also included.
iOS 9 started out strong in September as first week results showed more than 50 percent of all iPhone, iPad and iPod touch owners had installed the new operating system on their respective devices. At the time, Apple said iOS 9 exhibited the fastest adoption rates in company history.
Apple most recently pushed out the second beta version of iOS 9.2 today with changes to Safari that enable extensions while running in third-party apps.