Google introduces YouTube Music app, Facebook adds 360 degree video support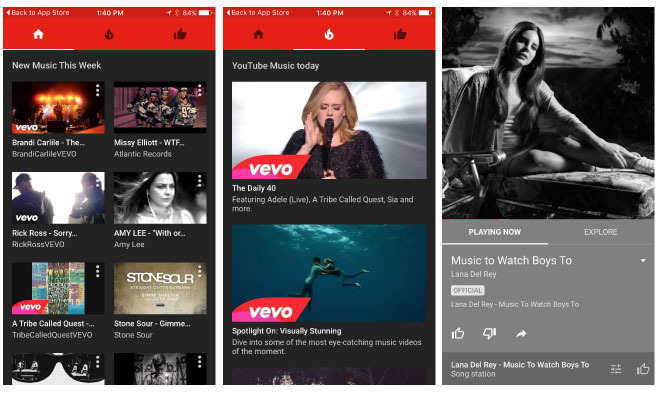 AppleInsider is supported by its audience and may earn commission as an Amazon Associate and affiliate partner on qualifying purchases. These affiliate partnerships do not influence our editorial content.
Two web giants released major updates for iOS users Thursday, with YouTube announcing a brand new music discovery app and Facebook adding support for 360-degree video in its existing iOS app.
YouTube Music
YouTube parent company Google introduced a brand new music discovery app called YouTube Music, providing users with recommended artists, tracks & other relevant music content as a separate experience from the standard YouTube app. The app is designed less as a competitive product to existing services like Spotify, Apple Music & even Google's own Play music service but instead, more of a complimentary experience to teens & college-aged students who, according to a number of studies published the last several years, already listen to their music on YouTube over anywhere else.
The company also hopes to use the app as a means of driving subscriptions to its new ad-free product, YouTube Red. Each download of YouTube Music comes with a 14-day trial of Red, which allows users to watch videos without ads, save videos to watch offline later as well as keep videos playing in the background while the screen is off or locked.
YouTube Music is free to download from the App Store. After the 14-day trial expires, YouTube Red costs $10 per month.
Facebook's 360 Video
After introducing support for 360-degree video for those viewing News Feed on Android devices and desktop web browsers back in September, Facebook announced Thursday that these videos can now be viewed on iOS devices going forward as well.
Several large media organizations like ABC News & Buzzfeed as well as athletes (Lebron James) and TV show producers (FOX's Scream Queens) have put together videos offering a variety of immersive content options to fans of their respective pages. Consumer brands like AT&T, Samsung & Walt Disney World (see the video below), have also begun utilizing 360 video technology in advertising campaigns.
To go along with iOS support, Facebook also introduced a new video microsite dedicated to assisting publishers with getting 360 videos up and running by providing guidelines & best practices. The company also introduced a video control setting for Page owners that allows for additional editing options prior to uploading video to Facebook.
Support for 360 video is available in the latest update to Facebook's iOS app on the App Store.