Analysts see 'strong growth' of Apple Pay annually, more room to grow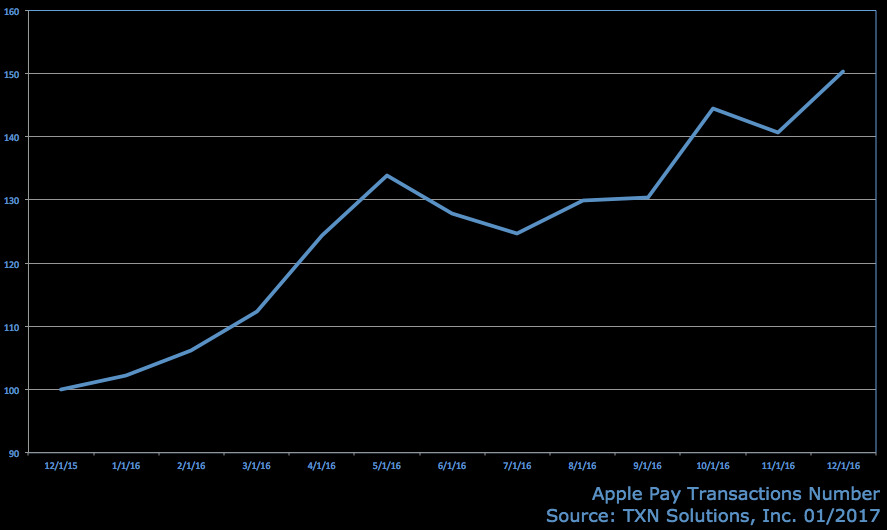 Apple Pay's usage is continuing its steadily rise in popularity, according to a report on credit and debit card transactions, with use of the Apple payment platform growing by approximately 50 percent in transaction volume within 12 months.
The data from consumer spending analytics firm TXN claims Apple Pay transactions grew by 50 percent for the month of December 2016, compared to the same month in 2015. A graph reveals usage gradually increased at the start of the year by over 30 percent in May, followed by a small drop before growth restarted for the rest of the period.
The claimed 50 percent increase in the analysis differs from information revealed by Apple itself. During the Q4 conference call last October, CEO Tim Cook mentioned Apple Pay transaction volumes were up almost 500 percent year-over-year, and the month of September was busier than what was observed throughout all of fiscal 2015.
The difference in figures likely stems from TXN's usage of a "panel of transactions from over 3 million payment cards," but it is only able to distinguish payments made with Apple Pay from others "for some of the card issuing banks."
Also revealed in the report were merchants that had the highest proportion of Apple Pay-derived transactions out of the total volume of credit card payments. The highest positions were dominated by app-based services, with HotelTonight topping the list with just under 3.5 percent of transactions stemming from Apple Pay, followed by Caviar and Postmates.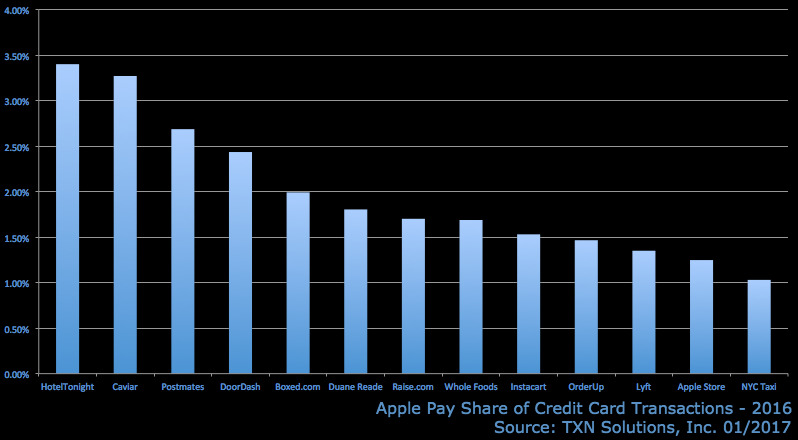 According to the data, Apple Pay makes up between 1 percent and 1.5 percent of credit card transactions for the Apple Store.
For Apple Pay at brick-and-mortar businesses, Duane Reade and Whole Foods outpace the rest, with 1.8 percent and 1.7 percent of transactions respectively. Aside from Canteen Vending, which achieved just under 1 percent, the other physical store businesses all measured at below 0.8 percent Apple Pay usage for transactions.
Among popular retail websites, Boxed.com has a 2 percent adoption rate, with Raise.com close behind and exceeding 1.5 percent.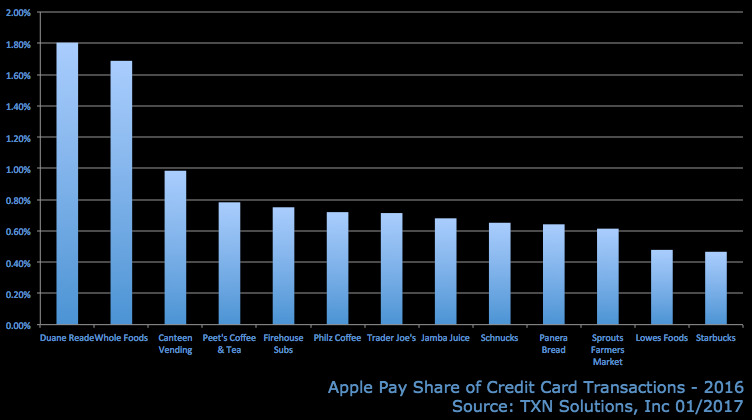 "Apple Pay had strong growth in 2016, but still accounts for a fairly small percent of all credit card transactions, leaving lots of room for further growth," TXN summarizes. "The businesses with fastest Apple Pay adoption are unsurprisingly apps and websites popular on Apple mobile devices."