Angela Ahrendts promotes Apple Retail vision, details renovations in new video interview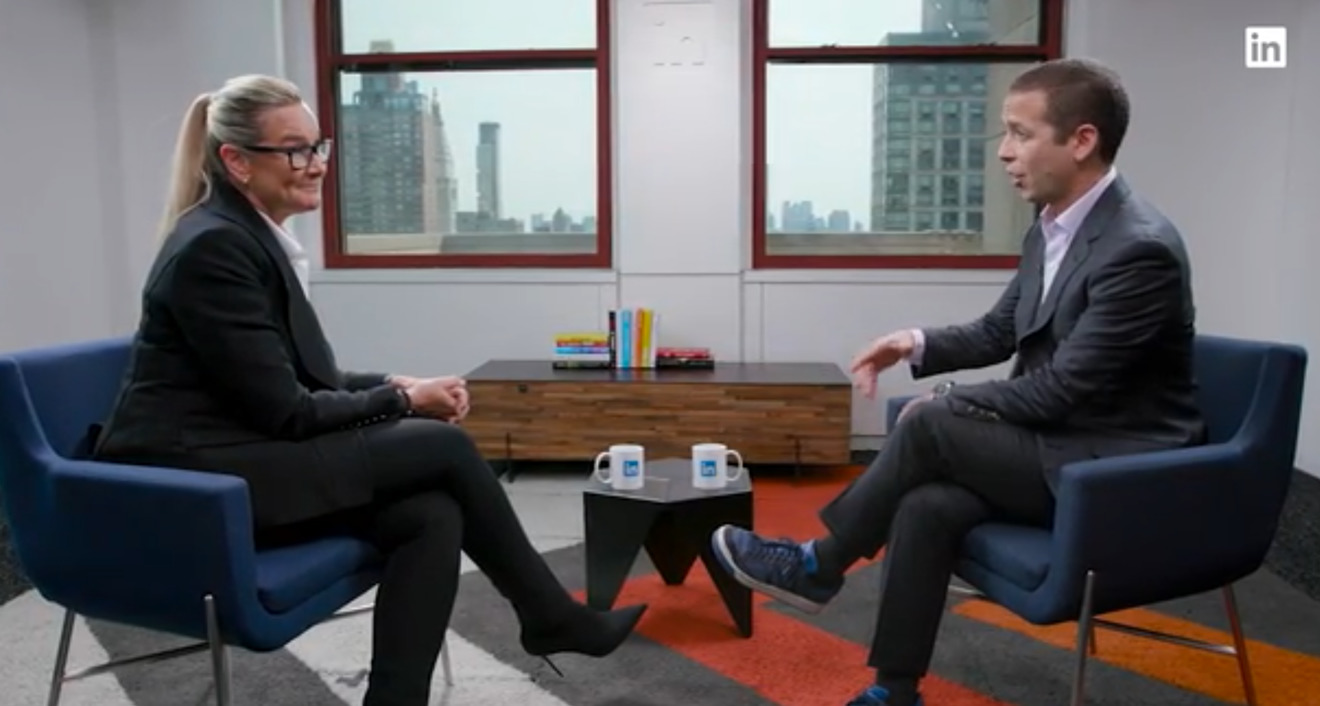 In an interview posted on Wednesday, Apple retail head Angela Ahrendts addressed why Apple Retail succeeds where others fail, and how the overnight renovation of some of the smaller retail stores in the U.S. was proposed, and by whom.
As part of LinkedIn's Influencer Interviews series, with host Daniel Roth, Ahrnendts believes that U.S. malls need to change, or they will lose relevancy. Ahrendts notes that malls that have added more in the way of gathering spaces, food, and entertainment have thrived — and that is part of why Apple has migrated to its new philosophy.
Half of Apple's employees work in retail, with the total coming to around 67,000 workers. Of those, Apple maintains a stunning 85 percent retention rate worldwide, with retail as an industry only maintaining 20 percent of its personnel year-over-year per store.
"It is a massive part of the secret," said Ahrendts when asked why Apple's numbers are so good. "It's actually interesting that in the U.S. its 88 percent retention rate of full-time employees with are about two-thirds of the team."
"I think that there's Apple values that Steve [Jobs] and Tim [Cook] carry on, the real true values of the company," added Ahrendts. "I think that's a big part of why everybody joins."
"All I wanted to do when I came in is was make sure that they have a voice and that they knew they were being heard," said Ahrendts. "I talk a lot about 'one Apple' that they also ... same benefits, shares in the company, education aid. You can't talk about 'one Apple' and [not] have everybody in it together."
"Share your ideas" is an Apple program, allowing employees to send in what they thought the future of retail should be. This program led to the modification of Apple's retail footprint, that is in progress now. Over 2000 submissions by employees were boiled down to seven pilot programs — which are being implemented and evaluated now.
Ahrendts also noted that 100 major renovations of Apple Stores are planned throughout 2017. Of those, about 35 will be replaced, and increased dramatically in size.
Addressing the overnight renovation and refresh that happened on Tuesday night, Ahrendts noted that 50,000 beacons were installed in 400 stores, spanning 30 countries. Stores that got the refresh won't be expanded or further renovated in 2017.