Apple Macintosh logo by Andy Warhol goes up for auction, valued up to $30K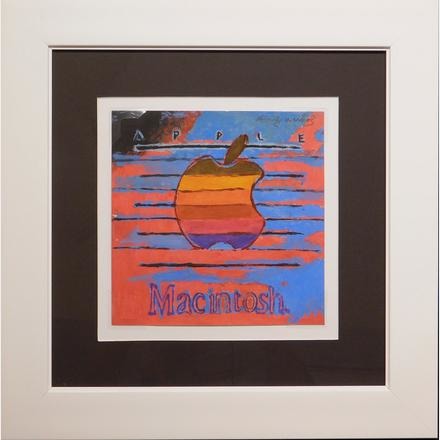 A rare piece of art history is now up for sale in the form of an Apple Macintosh logo painted and signed by pop artist Andy Warhol.
Thought its exact raison d'etre is unknown, the work may be a color study for an Apple advertising commission, according to Woodshed Art Auctions. It consists of gouache on 8-by-8-inch paper, "float" mounted in a frame with archival corners and no adhesives touching the art itself. It was painted around 1985, just two years before Warhol's death.
The piece is said to be in "very good condition," with an estimated worth of $20,000 to $30,000. Online bids are currently in progress with a $5,000 minimum.
Live bidding will start Feb. 1 at 5:30 p.m. Eastern time.
Warhol was famous for trying to bridge the gap between "high" art and pop culture, creating works with imagery of celebrities and branded products. Much of his early career was in advertising and marketing.
A similar Mac-themed Warhol canvas painting recently sold for $910,000 through Sotheby's, but the latest piece is both smaller and on less durable material.