Google Home speaker users offered ad-supported access to YouTube Music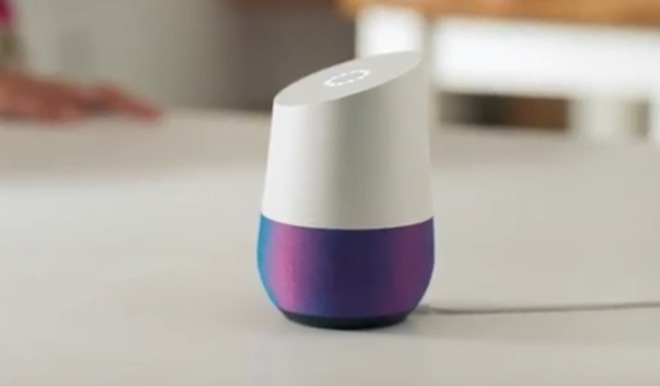 AppleInsider is supported by its audience and may earn commission as an Amazon Associate and affiliate partner on qualifying purchases. These affiliate partnerships do not influence our editorial content.
Google is giving owners of its Google Home smart speaker range free access to YouTube Music, with the ad-supported music streaming service arriving at the same time as Amazon's free variant launched for the Echo device range, in a bid to keep users from subscribing to Apple Music or Spotify.
Launched on Thursday, the Google Home, Mini, and Max speakers can be used to listen to YouTube Music streams, the service owned by the search giant. The free offering is also available on other devices that take advantage of the Google Assistant, including speakers from Polk.
Under the free version, users will be able to make YouTube Music requests for playlists, such as "Latin vibes" or a power playlist. While users cannot ask for a specific song, album, or artist to play, the service will stream music deemed to be "closely related" to their request.
There are also restrictions governing changes to radio stations and skipping to the next song on a playlist, with users only able to do so up to six times in an hour. Subscribers of the $9.99 YouTube Music Premium have free rein to select songs and to change or skip tracks at will, as well as enabling background music playback through the YouTube Music app on mobile devices.
Google has made the free service available in the United States, Australia, Austria, France, Germany, Great Britain, Ireland, Italy, Japan, Mexico, the Netherlands, Norway, Spain, and Sweden, with it also set to launch in other countries in the near future.
The launch of the ad-supported offering follows a similar service from Amazon, where Echo-enabled devices can be used to listen to playlists at no charge, albeit with a similar set of restrictions.
Both Google and Amazon are keen to introduce their own music streaming services to try and coax customers into paying for more control over their music, without going over to the major competitors Apple Music and Spotify.
While Spotify offers its own ad-supported tier to customers alongside a subscription version, Apple Music only offers a free trial and subscription, with no ad-supported elements at all. Apple also does not presently offer a similar ad-supported music offer for the HomePod, its own smart speaker.
The free services also appear shortly after both Amazon and Google announced plans to end a long-standing feud over video streaming, with an updated YouTube app arriving for the Fire TV streaming set-top box range, while Amazon will be working to bring Chromecast support to the Prime Video app.