Philips WiZ Connected Wi-Fi smart bulbs support Siri Shortcuts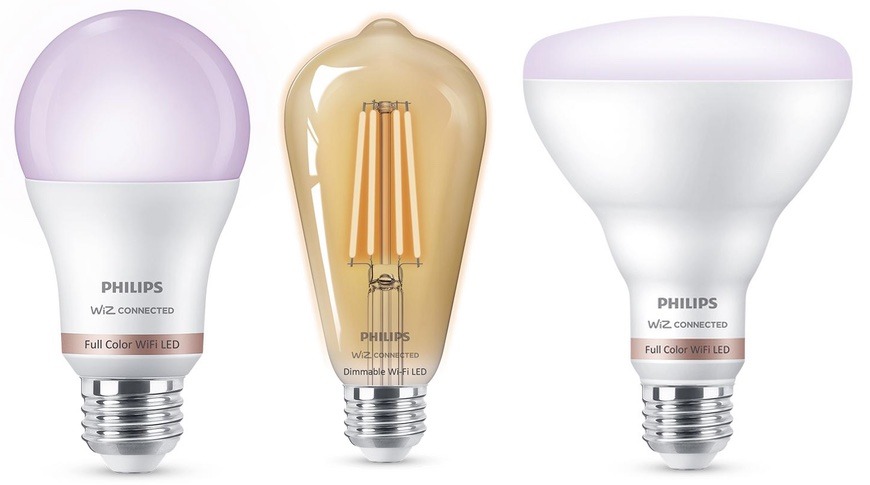 Philips has launched a new set of smart light bulbs under Signify's WiZ Connected ecosystem, one that works differently from the manufacturer's existing Hue range in that they connect directly with Wi-Fi, eliminating the need for an intermediary hub.
The collection of Philips Smart Wi-Fi LED WiZ Connected bulbs all operate through a Wi-Fi network connection and work through a free WiZ companion app for iOS. Once set up, the bulbs can be remotely controlled through the app on an iPhone or iPad, or even through an Android device.
As well as the app, there is also the ability to use virtual assistants to control the lighting, with support for Siri Shortcuts offered alongside Google Assistant and Alexa. At this time, the bulbs do not include support for HomeKit, meaning it can't be used as part of Apple's smart home framework directly.
In use, the bulbs can be set to wirelessly dim, as well as to use a preset light scene for ambience. Light schedules and timers are also able to be set up, as well as tuning the shade of white light from warm to cool white.
The system may be an attractive one for homeowners keen to start using smart bulbs in their home, as they do not require extra hubs or equipment, as is required for Bluetooth or Zigbee-based smart lighting systems like Philips Hue. The WiZ bulbs plug directly into a light socket and are then configured to use the available Wi-Fi network.
Five bulb types are offered in the initial connection, starting with the Dimmable Warm White (2700K) and Cool White (5000K bulbs in traditional A19 and BR30 downlight shapes. Tunable White (2700-5000K and Full Color with Tunable White versions are offered in A19, BR30, and 6-inch integrated downlight configurations.
Lastly, the Dimmable Clear Filament and Dimmable Amber Filament versions are available in A19, G25 globe, and ST19 teardrop shapes.
The Philips Smart Wi-FI LED WiZ Connected Bulbs are available now exclusively from Home Depot online, with the range priced between $9.97 and $19.97. Availability is expected in retail stores in the United States starting from September.