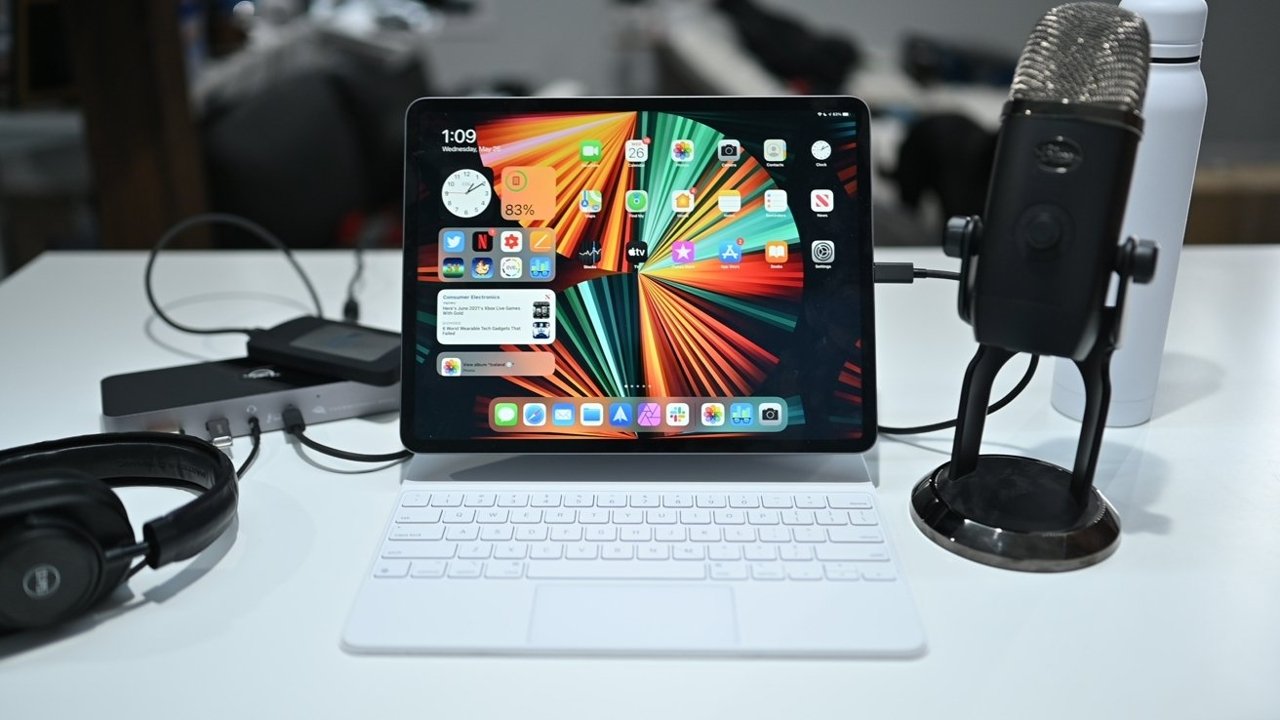 Summary
Launched in 2015, the iPad Pro packed more features, more storage, and a brand new accessory -- the Apple Pencil -- into Apple's beloved tablet line. It is designed to help users do more with features like an edge-to-edge display, Face ID, USB-C, and support for external storage thanks to iPadOS.
Features
● Slim design
● Available in Silver or Space Gray
● 12.9-inch or 11-inch edge-to-edge display
● A12Z processor
● Face ID and TrueDepth Camera
● Dual lens rear camera system with LiDAR
● Up to 1TB of storage
● Compatible with Apple Pencil 2
● Liquid Retina with ProMotion Display
---
Initially announced at Apple's September event in 2015, the iPad Pro is the higher-end entry into Apple's iPad series. The larger screen, increased storage capacities, and higher-end hardware make It a great device for those seeking a little more from their tablet experience.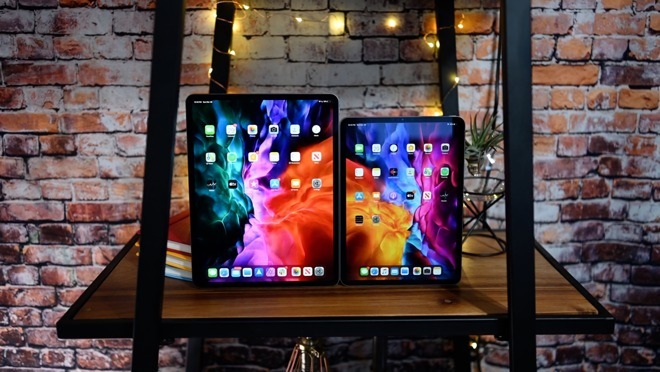 The 2020 iPad Pros are 11 or 12.9 inches
While Apple has claimed that the iPad Pro can function as a PC replacement, most users choose to supplement their computer usage with a tablet, rather than replace it. macOS Catalina furthers this practice with the introduction of Sidecar, which lets users augment their Mac with the iPad.
Common uses for Apple's tablets include watching video, reading books and magazines, taking notes, and general web browsing. Its portability and power have made it popular with college students and those who frequently travel. Thanks to the Apple Pencil, many digital artists have begun using it as their primary tool for digital drawing and painting.
The iPad Pro is great even for some professional work, unless you find yourself performing super complex tasks, need specific apps not present on iPadOS, or want to code apps in Xcode. It is likely that iPadOS 14 will include more updates with professional users in mind.
Initial response
All generations of the pro tablet have been widely praised by reviewers and the general public, though often have been docked for their higher than average cost. The price rivals a base MacBook or even MacBook Pro by the time you've bought a Pencil and keyboard, upgraded the storage, and added cellular.
Likewise, there had been some concerns over the durability of the third-generation iPad Pro, with many users reporting that their new tablet would develop a slight bend after typical use. Others reported that some units were bent out of the box.
Apple had asserted that this is a result of manufacturing, and should not impede the function of the device. If they are found visibly bent out of the box, they are likely out of the 400 micron spec and Apple will replace it. Please don't forcibly bend your brand new iPad.
Apple Pencil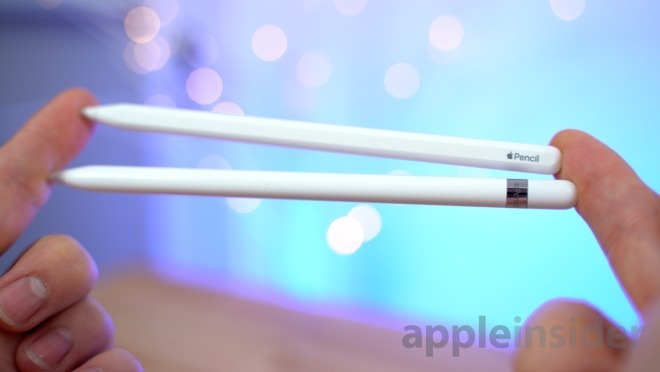 Second-generation Apple Pencil (top) vs first-generation Apple Pencil (bottom)
The Apple Pencil is an Apple-developed wireless stylus that works with various models of the iPad, including all models of the iPad Pro. It is a low-latency stylus that features pressure sensitivity and angle detection, and when used, the iPad will reject a user's palm input.
The first-generation Apple Pencil was released alongside the first-generation iPad Pro. It connects to compatible iPad models via Bluetooth and can be charged using the iPad's Lightning port, or via a Lightning cable when used in conjunction with the included adapter. On a full charge, the Apple Pencil will last for roughly 12 hours. 15 seconds of charging time enables the Apple Pencil to perform for up to 30 minutes.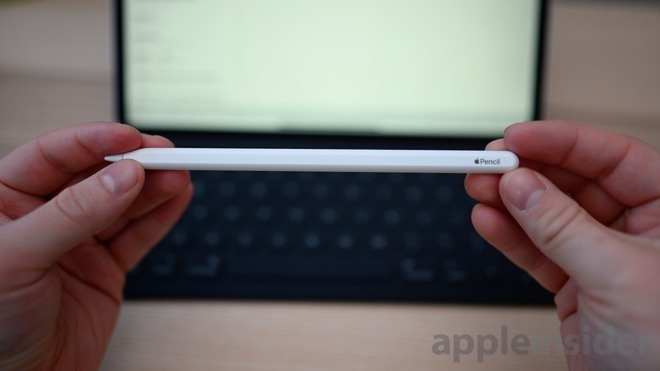 The second generation Apple Pencil
The second-generation Apple Pencil works with the third-generation and fourth-generation iPad Pro. It features a flattened section to prevent the stylus from rolling when placed on a flat surface and eschews the Lightning connector for wireless charging. It also boasts tap-sensitive areas that can be configured to perform functions within apps.
iPadOS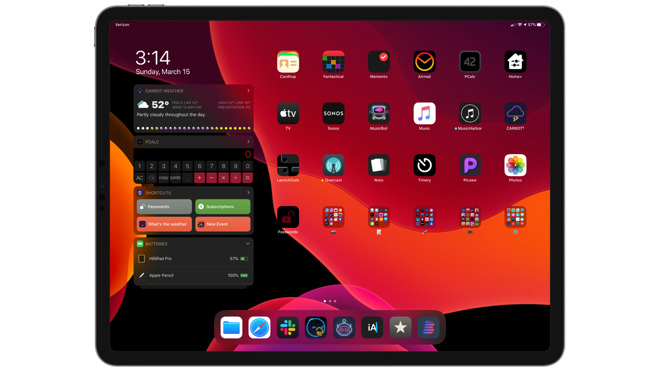 iPadOS brings many new functions and a new home screen design
iPadOS is the operating system used on iPads such as the iPad Air 2 and onward, iPad 5th generation and onward, the iPad mini 4 and onward, and all iPad Pro models.
While derivative of iOS 13, iPadOS boasts some unique features that are designed to take advantage of the iPad's larger screen. Slide Over and Split View make it possible to use multiple applications at once. It also features a Dock, where Apps can be easily dragged to different areas of the screen.
iPadOS also allows users to have multiple instances of a single app open at once. A new feature, dubbed App Exposé, enables users to see all instances of an app.
In iPadOS 13.4 Apple introduced the ability for users to connect an external mouse or trackpad via Bluetooth and control a cursor on screen. This cursor can interact with content and changes shape for text, objects, or buttons.
Fourth-generation iPad Pro
Apple announced the fourth-generation iPad Pro in mid-March with new updates to its cameras and processors. There is an 11-inch and 12.9-inch version with up to 1TB of internal storage and a cellular option.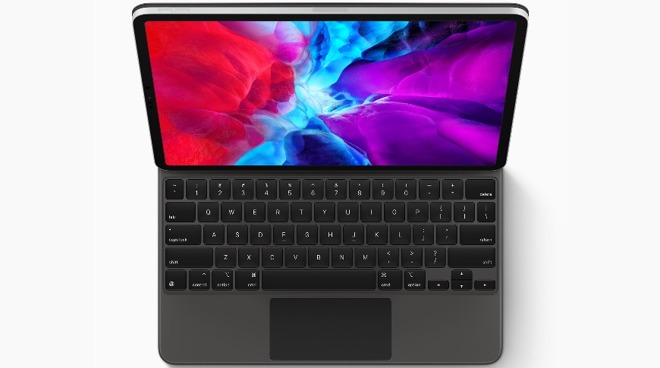 The iPad Pro and Magic Keyboard make for a compelling looking laptop
The latest A12Z processor is optimized for more powerful graphical applications and better AI for camera operations. The eight-core GPU and eight-core CPU with improved thermals means more performance than ever, and all models have 6GB of RAM. Apple says the processor is faster and more powerful than most Windows laptops.
Early benchmarks show little improvement in processing and graphical power, but this may also be due to unoptimized tools on an unreleased version of iOS. Another theory behind limited speed gains shows the A12Z could be a re-binned A12X, which means an inactive GPU core is in use now that was not before.
The Fourth Generation iPad Pro has a new dual camera system with built in LiDAR. A 12MP wide angle and 10MP ultra wide angle camera will allow for improved photography and depth capture.
The LiDAR will be used for 3D environment mapping that will allow for AR to be massively improved. The scanner works from up to 5 meters away and gets results instantly, which makes AR apps much easier to use and more accurate.
AppleInsider reviewed the 2020 iPad Pro and gave it a 4 out of 5.
There are now five independent studio-quality microphones on the iPad Pro for capturing the best audio possible on a mobile device.
The wireless capabilities have also improved, with WiFi 6 and improved LTE coverage with 30 bands vs 29 in previous generations. The U1 chip was rumored to have been included, but has since been proven to not be.
Alongside the new iPad comes a new Magic Keyboard built for it. Featuring a floating hinge mechanism, backlit keys, and a trackpad, this keyboard will transform your iPad into a productivity powerhouse. The Magic Keyboard with trackpad works with the third and fourth generation model.
Third-generation iPad Pro
AppleInsider reviewed the third-generation iPad Pro, giving it 4.5 out of 5, citing its polished feel, improved hardware, and compatibility with the second-generation Apple Pencil as reasons to upgrade.
Subscribe to AppleInsider on YouTube
Apple's third generation pro tablet was announced during the Apple Special Event in 2018 and featured the classic 12.9-inch size and a new 11-inch model that would replace the second generation's 10.5-inch model.
Both models received a new edge-to-edge Liquid Retina display, ProMotion with 120Hz screen refresh rate, improved front and rear cameras, and the Apple A12X Bionic chip.
The third-generation was the first to use Face ID, and removed Touch ID just like the iPhone X. Face ID on the third-generation iPad Pro is capable of working in any orientation. They also boast tap-to-wake, allowing a user to wake an iPad via touching the screen rather than pressing a physical button.
The third-generation models are also the first iPads to use USB-C connectors instead of Apple's proprietary Lightning connector.
The maximum storage capacity of the third generation doubled that of the second generation, with a maximum of 1TB of storage possible on both models. Interestingly, installing 1TB of memory will also gain you more RAM, maxing out at 6GB in both models.
The 11-inch pro tablet originally released for $799 for the most basic model, with additional configurations driving the price upward to $1699. The 12.9-inch third-generation iPad Pro could be bought for $999 at the cheapest, with the one terabyte cellular-enabled model priced at $1899. Because of reductions in memory pricing across all Apple products since their 2018 launch, the 12.9-inch and 11-inch now max out at $1499 and $1699 respectively. Check out our Price Guide for the latest deals on Apple hardware.
Second-generation iPad Pro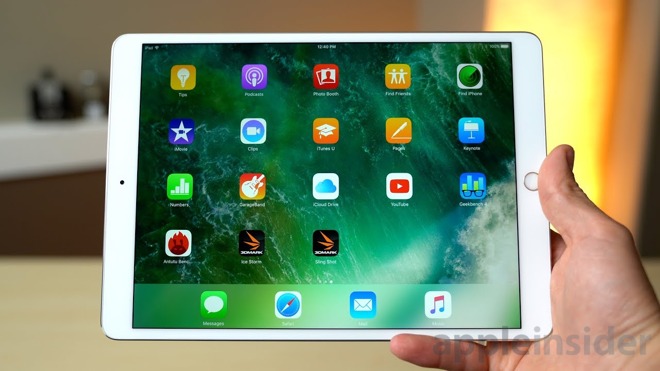 Thinner bezels and chassis made it much easier to hold
The second-generation iPad Pro models were announced at Apple's WWDC event in 2017 and saw significant upgrades over their predecessors. Replacing the 9.7-inch model was the new 10.5-inch model, though the size of the 12.9-inch would remain unchanged.
Both second-generation models featured an A10X Hex-core CPU and a 12-core GPU, ProMotion display, and a True Tone display that was 50% brighter than the previous models.
The second-generation models also boasted a 12-megapixel rear-facing camera, a 7-megapixel front-facing camera, and storage capacities up to 512 GB.
At launch, the 10.5-inch second-generation tablet started at $649 and could cost as much as $1079. The 12.9-inch second-generation could be purchased for as low as $799 or as much as $1299, depending on the configuration.
The 12.9-inch second-generation iPad Pro was discontinued in October of 2018, with the 10.5-inch being discontinued in March of 2019.
First-generation iPad Pro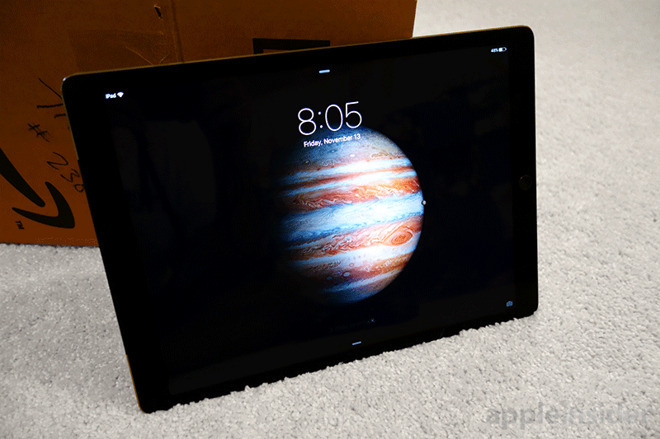 The original 12.9-inch iPad was almost comically huge

Released on November 11, 2015, the first-generation iPad Pro featured a 12.9-inch display and was available in silver, gold, and space gray. It could be purchased for $799 to $1299, depending on the size or cellular connectivity.
In March of 2016, Apple released the smaller 9.7-inch model, which featured an additional rose gold color to its line. It was available for $599 to $1129, depending on the buyer's chosen configuration.
Both models included Apple's A9X system-on-chip and the Apple M9 motion co-processor, and both featured Touch ID and Retina Display. A smart connector allowed users to connect Apple's Smart Keyboard, and both models were compatible with the first generation Apple Pencil.
Both first-generation iPad Pros were discontinued in June of 2017.
Essential Reading