Apple updates GarageBand software to v2.0.1
By AppleInsider Staff
Monday, April 25, 2005, 03:30 pm PT (06:30 pm ET)
A

pple today released GarageBand 2.0.1 via Software Update, which is accessible from the

A

pple Menu or Software Update preference pane.

A

ccording to

A

pple, the update addresses issues with duplicating tracks, playhead snapping to grid, joining software instrument regions on adjacent tracks, making precise adjustments to volume and pan settings, and converting Software Instrument

A

pple Loops based on drum sounds into Real Instrument

A

pple Loops. It also addresses an issue where recorded Real Instrument regions may not properly adjust to changes in the project key.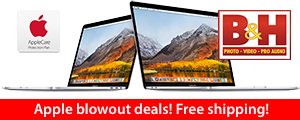 Lowest Prices Anywhere!