Apple seeks patent on "podmaps" concept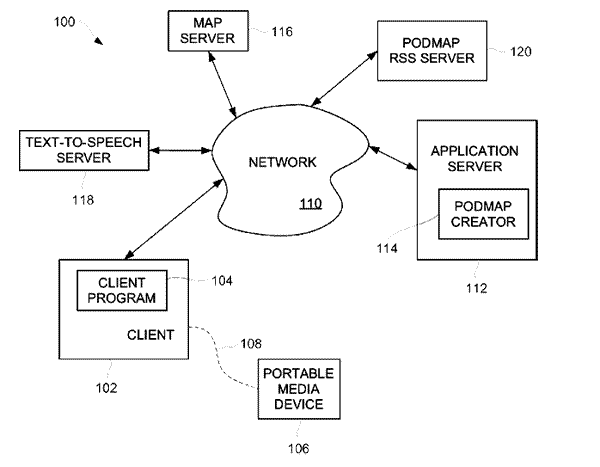 A new software concept proposed by Apple Inc. would merge visual maps and spoken driving directions into an advanced form of on-demand podcast known as a podmap, a recent company filing has revealed.
The software-driven concept would consist of four core components that would let users request directions from a starting location to a destination location and have the results of that request returned in the form of a podcast media file that includes visual maps and spoken step-by-step driving instructions.
The GPS alternative of sorts would function as such: users would request a set of driving directions, which would then be sent to a remote map server. In turn, the map server would return textual based directions and pass them through a text-to-speech conversion engine that would return audible equivalents.
According to Apple's filing, made January 2007 and published for the first time on Thursday, the textual and audio directions would then be sent to a "podmap creator" which would piece them together alongside visual media items (map images) into a video podcast file that would then be stored on an RSS server.
"In this regard, the application server can reply to the client program to notify the client that the requested podmap is now available from the podmap RSS server. The client program can then interact with the podmap RSS server to retrieve the requested podmap," Apple said.
"Furthermore, once the client program includes the requested podmap, the client program can transfer or copy the podmap to the portable media device," the company continued. "In any event, once the requested podmap is resident at the client or the portable media device, the podmap is able to be played on such devices. Due to their support of media playback, the client and the portable media device can also be referred to as media playback devices. When being played, the podmap presents to the user of the device the voice directions and the corresponding images so that the user is able to successfully navigate from the start location to the destination location. It is particularly useful to play on the portable media device because it can be easily carried or transferred by the user."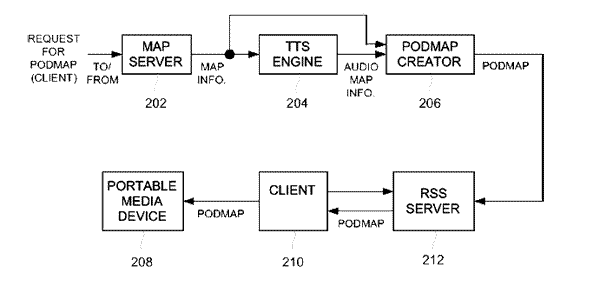 Each podmap, Apple adds, would likely be segmented into "episodes" or segments, where each step in a set of driving directions could be accessed separately, paused, played, or repeated.
The filing is credited to company employee Ellis Verosub of San Francisco, Calif.