Apple's Snow Leopard to load printer drivers on demand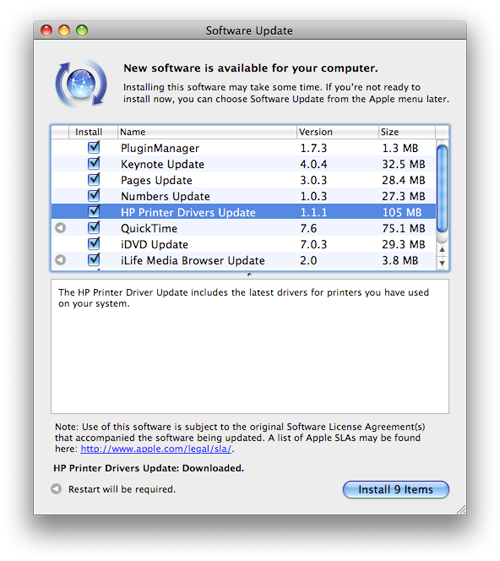 AppleInsider is supported by its audience and may earn commission as an Amazon Associate and affiliate partner on qualifying purchases. These affiliate partnerships do not influence our editorial content.
As part of Apple's plans to help trim the footprint of Mac OS X Snow Leopard, the new system will cease the customary installation of several gigabytes of printer drivers and instead load only the files necessary for existing devices, relying on Software Update to obtain new drivers in the future as needed.
Back in the late 80s, Apple began bundling PPD files for various PostScript printers with its System Software. The files identified features specific to each model, making it simple for users to take full advantage of each model. However, as the consumer market for printers expanded, expensive PostScript licensing was left behind for simpler and cheaper alternatives that relied on custom driver software unique to each printer manufacturer.
Microsoft began installing lots of third party printer drivers with the installation of Windows to make it simpler for users to install their printer without needing to obtain printer software themselves, a practice Apple also adopted. However, as printer manufacturers have expanded their printer software offerings to differentiate their hardware with special software features such as ink management and other add on utilities, the size of driver software has expanded rapidly.
Additionally, printer drivers are being updated more frequently and new printer models are appearing quickly enough to make it hard for operating system releases to stay current. Both Apple and Microsoft now support the ability of printer installation software to search for new or updated drivers online; Leopard began handling updates for HP drivers in 2007.
With the release of Snow Leopard this spring, Apple will put an end to the default installation of tons of drivers, according to people familiar with the latest test releases of the software. Instead, it will only install a select subset of drivers, including support for any currently attached printers or those that had been installed on the same Mac under previous versions of Mac OS X.
Sources say the system will review devices attached via USB and will scan the network for any printers advertised as available via Bonjour in order to create a short list of drivers that need to be installed. Any new printers that are attached after the installation of Snow Leopard will cause Software Update to check for drivers online.
This new policy will shave several unnecessary gigabytes from the Snow Leopard footprint, compounding the savings related to the new HFS+ file compression for compacting read only files and the compression and/or removal of unnecessary NIB files that will result in a greatly reduced size of applications on the new system.
A similar practice has been put into place in GarageBand 09, which offers a series of free video instructions for learning how to play instruments. Rather than installing all of the videos by default, the new app allows users to download just the lessons they want, saving considerable disk space.
The same policy could also be applied to foreign language localization files and fonts, which currently consume lots of disk space but are only used by relatively small portions of the Mac OS X user base.
While software developers have historically relied on the luxury of constantly expanding, cheap hard drive space to ignore any need to be conservative in the amount of files loaded during installation, Apple's interest in deploying systems that use more expensive but faster SSD devices has resulted in new efforts to make Snow Leopard smaller and leaner than the system it replaces.