Apple's iOS 4 already powering 50% of iPhone traffic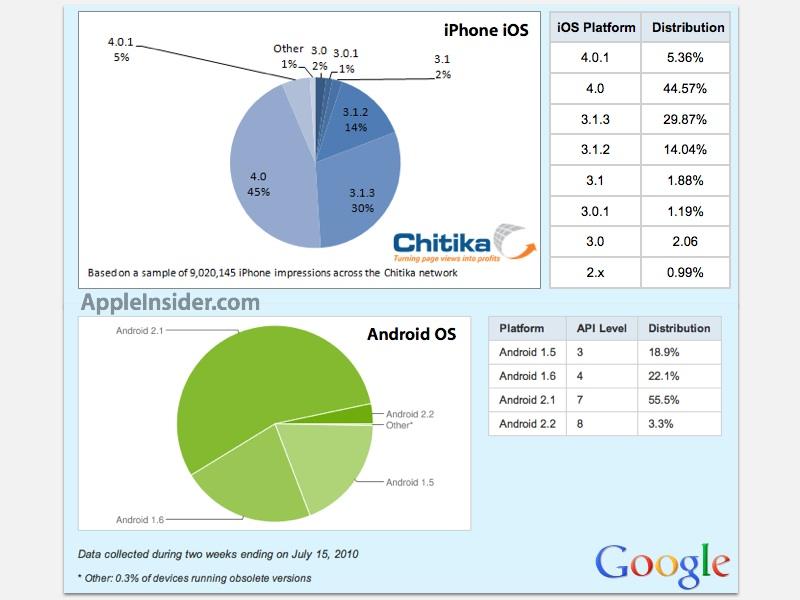 A third party analytics firm is reporting that Apple's iOS 4 is now powering half of all iPhones, just one month after its release.
Chitika Research compiles its statistics by looking at 9 million ad impressions it has served to iPhone users running apps that incorporate its banners. The data does't include users who don't install apps with Chitika's ads, so may present a slight bias toward users who actively install apps, and therefore users who are more likely to install software updates.
Of the 50 percent running iOS 4, 10 percent have upgraded to 4.0.1, which Apple released July 15, just a week ago.
Of the other half of iPhone users running an earlier version of iOS, nearly 60% are running the latest 3.1.3 version predating iOS 4 (29.9 percent of all iPhone users). About 20 percent of all iPhone users have not updated their devices since at least last October, according to Chitka's data. One percent are still using 2.0. No users still using 1.0 would be running apps, and therefore would be invisible in Chitika's analytics.
Apple makes it relatively easy to upgrade to the latest version of iOS through iTunes, and all iPhone users are able to update, for free, to the latest version except for first generation iPhone users, which are stuck with iOS 3.1.3.
Android lags behind in updates
In contrast, Google reports that 55.5 percent of Android users are still using Android 2.1, which was officially released back in January, although it rolled out to users very slowly. Only 3.3 percent of Android users have the latest Android OS 2.2 Froyo, which was officially announced in May.
However, Android users aren't just failing to upgrade; Google and its hardware and carrier partners have not made 2.2 available on any new handsets apart from Google's own Nexus One, which is not even available for sale anymore.
Most modern Android phones can't officially be upgraded to the latest 2.2 yet either, due to problems being worked out between the vendors and mobile carriers, which hold up upgrade releases until they've added to or otherwise tweaked the standard distribution to fit their needs.
Another 41 percent of Android users are stuck with Android OS 1.5 or 1.6, but unlike iPhone users who haven't upgraded, in most cases those users won't ever be able to upgrade to the latest version of the Android OS, simply because neither Google nor the carriers nor handset makers see any need to create a custom version of the latest Android 2.x that can run on those phones.
The fractionalization of Android is a problem for developers, who must test their software titles against not just a variety of hardware devices with different specifications, but also against a wide variety of installed software versions that differ significantly in the APIs they support.