Apple continues to investigate solar power for mobile devices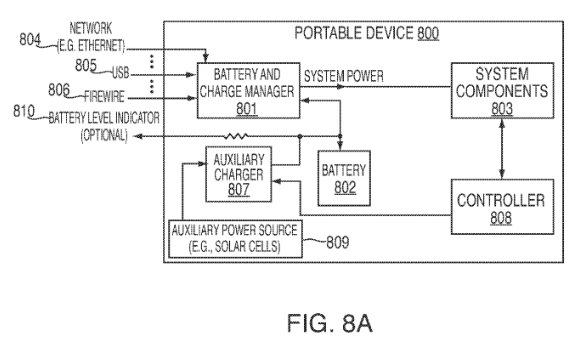 AppleInsider is supported by its audience and may earn commission as an Amazon Associate and affiliate partner on qualifying purchases. These affiliate partnerships do not influence our editorial content.
A recently revealed patent application shows that Apple is continuing to research solar power as a potential secondary power source for its mobile devices.
The application, which describes an auxiliary solar cell that interfaces with a device's battery, was published earlier this week.
The invention includes a "battery charging manager" that can handle power from a "plurality of power sources including a solar power source."
According to the filing, the patent is for "a solar power package for use with an electronic device, the package comprising: at least one solar cell operable to derive solar power from solar energy; and a power charger operable to provide the derived solar power to the portable electronic device, wherein the derived solar power is provided in a plug-and-play fashion when the portable electronic device is coupled to the package, and wherein the power charge is operative to adjust the amount of power provided to the portable electronic device based on attributes of the portable electronic device."
Alternate embodiments of the invention include charging the device's battery or an accessory battery, simultaneously charging a battery and providing power to the device and removable solar cells. The described solar power charging accessory could be used to power "a media player, a notebook computer, a tablet computer, a cellular phone, an image processing device, and a handheld computing device."
Intellectual property blog IPBiz reports that Apple's patent application hit several snags because of similarities to a patent for a solar charger case and a patent for solar power connector cables, but the iPhone maker was able to distinguish its patent because the invention is "plug-and-play" and regulates power levels according to the attributes of the device it is powering.
Apple has been looking into solar power for its portable devices for several years now. Early last year, the U.S. Patent & Trademark Office published an application describing a portable device such as an iPod or iPhone with solar cells on the front and back that could power the device and recharge the battery.
The patent, which was filed in Feb. 2009, is titled "Portable devices having multiple power interfaces" and replaces a prior application from 2006 with the same title. Wendell B. Sander and Daniel A. Warren are listed as the inventors.
According to his LinkedIn profile, Daniel Warren is an iPod System Integrator for Apple and has previously worked on the iPod Nano, iPod Classic and iPod Shuffle.
Last year, Apple was awarded 563 patents, twice as many as in 2009, making it the No. 46 company in the world in terms of inventions acknowledged by the USPTO. In its 2010 fiscal year, Apple spent a total of $1.8 billion on research and development, compared to $1.3 billion in 2009, according to the company's annual Form 10-K filing with the Securities Exchange Commission.
Several years ago, the Cupertino, Calif., company was criticized by Greenpeace for the use of toxic chemicals in its products. Last year, Greenpeace praised Apple for its turnaround, honoring the Mac maker with the environmental advocacy group's top ranking as the greenest electronics marker.