Mass exodus of executives continues at Microsoft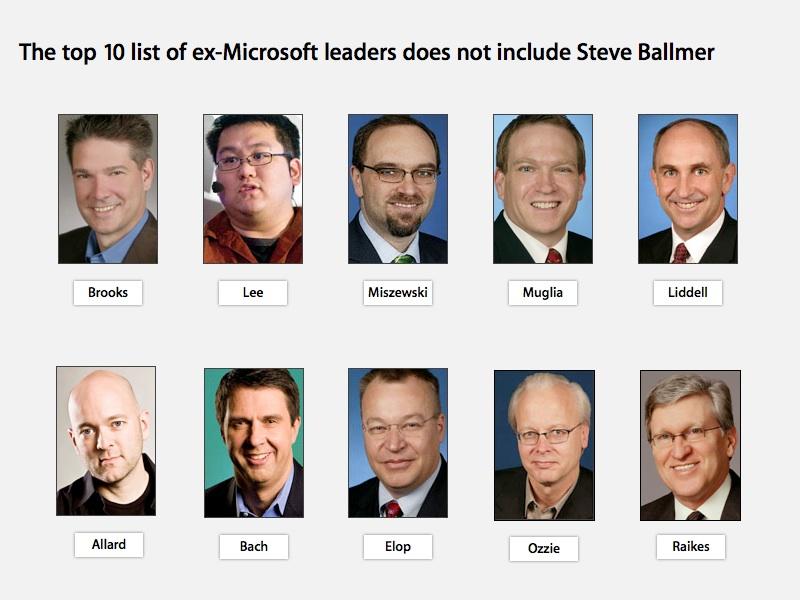 AppleInsider is supported by its audience and may earn commission as an Amazon Associate and affiliate partner on qualifying purchases. These affiliate partnerships do not influence our editorial content.
While Google's senior management reshuffles, Microsoft appears to be folding its entire hand of face card executives and core eingineers.
Juniper Networks announced today that it had recruited Brad Brooks, an eight year Microsoft veteran who had managed the marketing of Windows Vista and Windows 7.
In a late 2008 interview with Newsweek Brooks insisted, "nobody here looks at Vista as a fiasco," and went on to say that 89 percent of users asked Vista said they were satisfied or very satisfied. Microsoft didn't fire Brooks or ask him to leave however; he took the Juniper job on his on volition.
Brooks' departure marks the third high profile figure to leave the company this week, joining Johnny Chung Lee, credited with the development of the company's fast selling Kinect motion sensing add on for Xbox 360, who left for Google, and Matt Miszewski, Microsoft's general manager of worldwide government, who exited for Salesforce.com.
A week ago, Microsoft's chief executive Steve Ballmer announced plans to replace Bob Muglia, the company's head of its Servers & Tools Business division. Microsoft also lost Chris Liddell, its chief financial officer, at the end of 2010.
Since the beginning of its winter quarter, Microsoft has also lost or dismissed at least four other top executives, including Xbox and Zune leader J Allard, Entertainment & Devices Division head Robbie Bach, Business Division head Stephen Elop (who left his Office job to become Nokia's chief executive), as well as chief software architect Ray Ozzie (who had joined Microsoft in 2005 to take over the vision role of Bill Gates, and who was supposed to be holding the company's divisions together in a coordinating role).
In 2008, Microsoft's Platforms & Services Division president Kevin Johnson abruptly left for Juniper Networks, disrupting its Bing strategy and prompting the company to reconfigure the division into separate Windows and Online Services groups as it attempted to purchase Yahoo.
That same year the company also announced the resignation of Jeff Raikes, who had left Apple to joint Microsoft in the early 80s. Raikes was one of the company's longest running executives, and oversaw the development of Office. After his departure, Microsoft split the Business Division Raikes managed into Server & Tools, managed by Muglia, and a new Office-centric Business Division run by Elop, both of whom have also now left the company.
Thousands laid off, billion dollar questions
These departures only count high level executives; in 2009, Microsoft's broad layoffs included the director of business development for its Emerging Business Team, Don Dodge, who has since started working for Google.
"Thousands of employees have been laid off or fired [from Microsoft] over the past two years," Dodge wrote in his blog.
Referencing the exodus of high level managers, Dodge wrote, "but these guys are the highest level execs at Microsoft, all of whom reported to CEO Steve Ballmer. Is it possible that the presidents of all these divisions messed up so badly in the past 9 months that they were asked to leave? Given the reported financial results this seems inconceivable. There is something else going on here.
"Losing a seasoned exec like Bob Muglia is a big, but recoverable loss." Dodge noted. "Losing Muglia, Robbie Bach, Steve Elop, Ray Ozzie, Chris Liddell, Kevin Johnson, Jeff Raikes, and other senior execs is devastating. The effects aren't visible yet. It takes years to unfold. Each individual business division will get a new leader, and revenues will continue to chug along.
"But, who will be the visionary for the future? And, who will be ready to step in as CEO when Ballmer leaves? Those are billion dollar questions."