MacBook Air now 28% of Apple's notebook shipments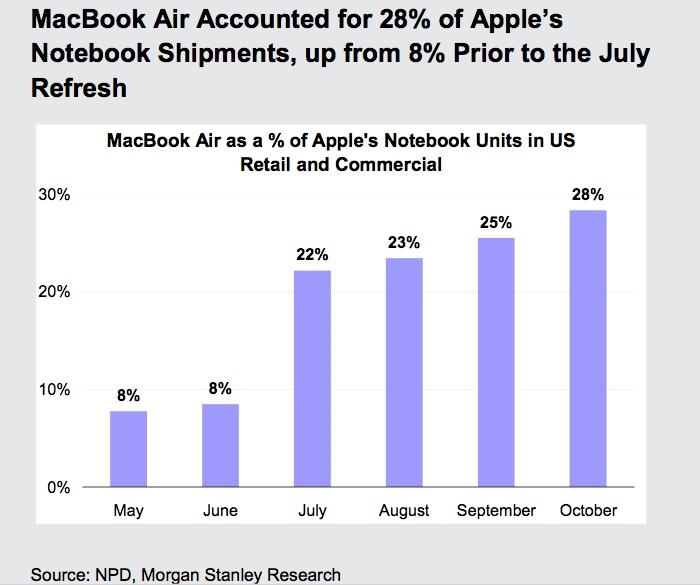 Apple's MacBook Air models now make up 28 percent of the company's notebook shipments, up from just 8 percent in the first half of the year.
Research by Morgan Stanley involving NPD figures reported by analyst Katy Huberty indicate Apple's thin new MacBook Air models lacking an optical drive now account for more than a quarter of the company's notebooks.
The MacBook Air's rapidly growing share of Apple's notebook mix grew dramatically following the summer enhancements that brought Thunderbolt, making the new models potentially more expandable than ever, even though relatively few Thunderbolt devices have yet appeared.
Apple's own Thunderbolt Display enables the MacBook Air to connect to Firewire and Gigabit Ethernet via Thunderbolt, two features that have never previously been possible from the company's light, thin Air notebooks.
The popularity of Apple's MacBook Air, which incorporates design elements and features of the iPad (such as instant wake and solid state storage) has sparked speculation that MacBook Pro models would similarly slim down, while slowing sales of the Mac Pro have suggested Apple might eventually abandon large desktop form factors to focus on highly mobile products.
Apple's growth continues to outpace industry
NPD's figures also indicate 11 percent year over year growth in overall PC shipments in October, although retail growth was just 3 percent. Commercial shipments were up 27 percent.
Apple experienced 20 percent growth in PC shipments, nearly double the industry at large, while its retail shipments grew by 18 percent, six times the overall retail growth of PC makers. Among commercial shipments tracked by NPD, Apple grew by 34 percent year over year.
Apple's share of PC unit shipments for the month was 17.3 percent, with a 23.9 percent share of retail sales and a 5.7 percent share of commercial shipments.