Apple's smart call waiting system automatically puts incoming calls on hold, supports voice to text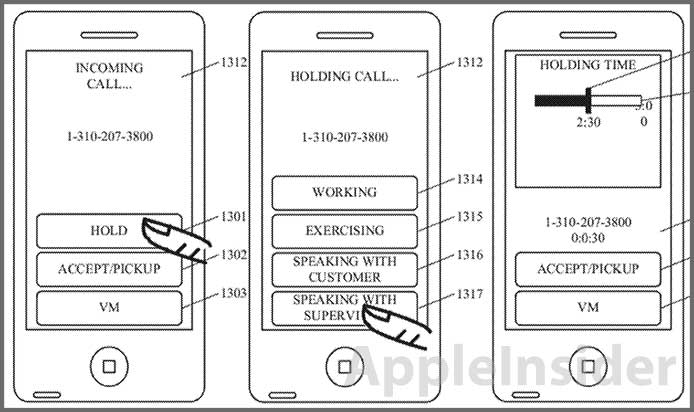 AppleInsider may earn an affiliate commission on purchases made through links on our site.
A filing with the U.S. Patent and Trademark Office on Thursday revealed Apple's invention for an intelligent call waiting system that uses contextual clues to play back pre-defined "please hold" messages or translate voice mails into text.
Apple's patent, titled "Dynamic context-based auto-response generation" covers a system in which a phone holds an incoming call when the user is temporarily unavailable, playing back pre-recorded messages based on a determined situation or manual input. When implemented, the automated service can stop incoming calls from interrupting important meetings and help facilitate more efficient mobile communication.
The application builds on the current call-waiting features implemented in iOS 6, which offer users the option of denying an incoming call with a preset text message or simply sending it straight to voicemail, by automatically putting calls on hold without forcing a user to break communication with the original caller.
In its simplest iteration, the invention covers an automated solution that places an incoming call on hold if a user is temporarily busy. For example, if the user is already using the phone, the incoming caller will hear a pre-recorded message asking them to hold on the line until the initial call is completed. These custom messages can be played back in accordance to a set of rules defined by the user or in response to a given situation, examples being a meeting, working out or eating.
Another embodiment calls for the playback of a message that requests the caller to speak, at which point a speech-to-text converter will translate and display the incoming caller's message on the device's screen. A user can then take action by either texting back without interrupting their current conversation or selecting another recorded message to ask the caller to hold. Once again, the pre-recorded message will be played either automatically or through manual intervention by the user.
The patent also allows for an estimated hold time to be entered through an on-screen user interface, with the corresponding information being relayed to the incoming caller who can choose to leave a message or call back.
As for automation, the system can use a device's internal sensors, such as an accelerometer or GPS, to determine when to play certain recordings. For example, if it is determined that a user is driving or participating in some other activity that would preclude them to answer a call, a message may ask the caller to leave a voice mail. Alternatively, a device equipped with a GPS module can recognize when a user is in the conference room of their office, suggesting that a business meeting is taking place, and choose to ask the caller to hold.
In addition, all assets are available to the system, such as the device Calendar and Contacts list, to allow for a more accurate determination of which message should be played during a given situation.
The patent was filed in June and is attributed to Craig A. Peitrow and Carlos M. Salinas.