Apple adds iOS Maps Flyover support, 3D buildings, turn-by-turn navigation in multiple cities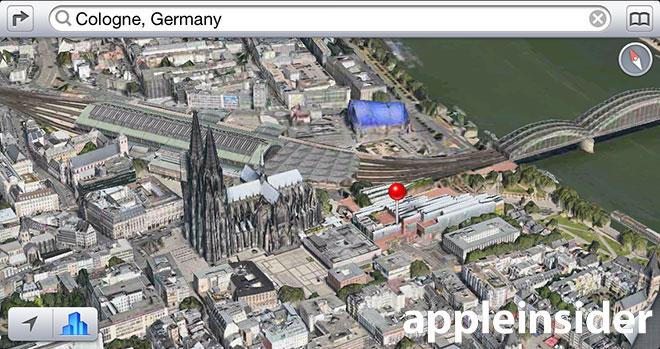 AppleInsider is supported by its audience and may earn commission as an Amazon Associate and affiliate partner on qualifying purchases. These affiliate partnerships do not influence our editorial content.
Apple has been quietly updating its much maligned iOS Maps app over the past weeks, adding Flyover support for 15 new cities, while updating 3D building rendering, turn-by-turn navigation, points of interest and other tweaks for many others.
As reported by The Loop, Apple is continually updating its mapping service and has recently added a number of new cities that support the company's proprietary 3D Flyover view.
New cities to offer Flyover support:
Modesto, CA
Stockton, CA
Indianapolis, IN
Baltimore, MD
Minneapolis, MN
Portland, ME
Albany, NY
Buffalo, NY
Cleveland, OH
Tulsa, OK
Providence, RH
Green Bay, WI
Vancouver, BC
Cologne, Germany
Glasgow, Scotland
Expanded Flyover coverage in cities with existing support:
Birmingham, AL
Boston, MA
Portland, OR
Houston, TX
Toronto, ON
Copenhagen, Denmark
London, England
Lyon, France
Berlin, Germany
Munich, Germany
Rome, Italy
Barcelona, Spain
Madrid, Spain
Stockholm, Sweden
In addition to the enhanced Flyover support, Apple has extended 3D building renderings for locations that do not yet have access to the feature.
Apple also updated a number of Chinese assets, including a new coloring scheme, Chinese character readability, point of interest tweaks, and road network changes. Other improvements include expanded international points of interest with new iconography and more accurate address data.
It was reported in February that job listings pointed to ongoing development of Apple's mapping platform, with hires including software engineers and, more recently, fact checkers.
The company is working hard to rectify a shaky launch in September 2012 that drew the ire of users around the world, who complained of multiple inaccuracies, poor implementation of the Flyover feature and various usability issues. Compounding the problem was Apple's decision to ditch Google Maps, which powered iOS Maps until iOS 6, a move that left iOS device users without familiar features like Google's Street View and public transit times.