iPhone 5 bests Samsung's Galaxy S4 in smartphone torture test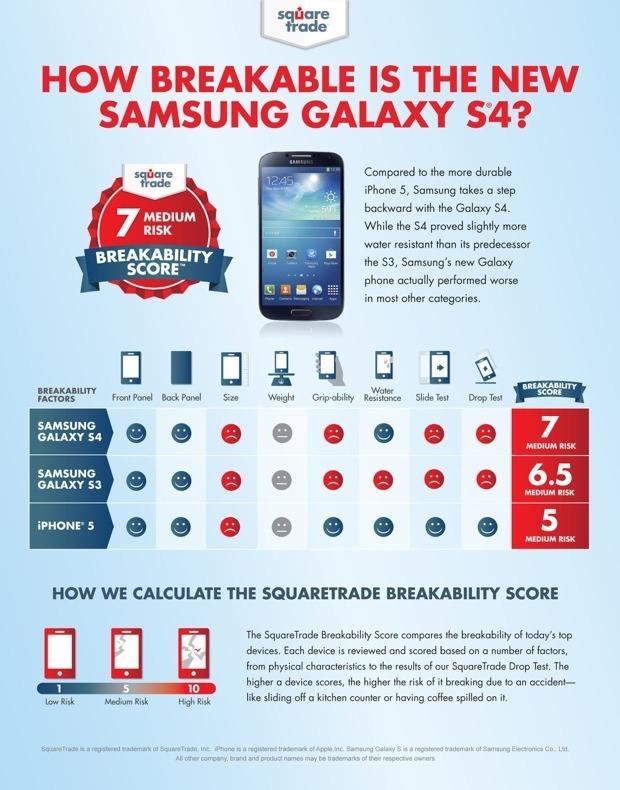 Samsung's design choices for the Galaxy S4 took another knock today, as phone insurance firm SquareTrade found the company's new flagship handset to fall short of Apple's iPhone 5 in terms of durability.
SquareTrade put the Galaxy S4, the Galaxy S3, and Apple's iPhone 5 through a torture test of sorts, reproducing the perils that smartphones face in the hands of everyday consumers. The handsets were dropped to test case strength, skidded across tables to see how far they would slide, and dunked underwater to see how well they fared with submersion.
All three phones scored a "Medium Risk" in SquareTrade's evaluation, but the Galaxy S4 got a worse numerical score than the iPhone 5 and even its predecessor Galaxy S3. On a scale of 1 to 10, with 10 being the worst, Apple's iPhone scored a 5, while the Galaxy S3 and S4 scored 6.5 and 7, respectively.
In the drop test, the S3 and S4's plastic casing did little to absorb the impact of a 4-foot fall, and the screens on both devices showed cracking. Those plastic cases also apparently have a low friction coefficient, as the slide test showed them going farther than Apple's aluminum unibody iPhone.
Both the iPhone and the S4 survived the submersion test with their functions intact, still playing video and audio even while underwater. The S3 fared worse, though: its video function survived, but the speakers gave out.
SquareTrade also graded the devices on their ergonomics, under the assumption that a phone that is easier to grip is less likely to slip. The S3 and S4 scored poorly on the grip-ability test, while the iPhone 5 netted a positive score. All three phones got a neutral rating on weight, and all three scored poorly on overall size.
SquareTrade estimates that one in five Americans will buy Samsung's new flagship model. Of those buying it, the company estimates that one in eight will break it within six months. SquareTrade figures indicate that one in three smartphone owners break their devices within the first year.