Google looks to spark iOS browser war with OpenInChrome function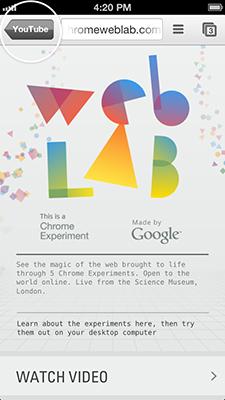 AppleInsider may earn an affiliate commission on purchases made through links on our site.
Google looks to be attempting to grow its mini-ecosystem on Apple's iOS platform, as the search giant is now enticing developers to have their apps open web links in its Chrome browser.
Google on Tuesday publicized a new API feature, OpenInChromeController, in a post (via The Inquirer) on The Chromium Blog. OpenInChromeController allows developers to have links within their apps open in Google's Chrome iOS browser instead of in the default Safari browser. OpenInChromeController also makes the Back button in Chrome point toward the originating app, so that users can return to the app in one tap.
The feature also allows for checking whether Chrome is installed on a device, and developers can specify whether a link should open in a new tab or not.
Google provided additional documentation on the OpenInChromeController API on its developers site. Developers can download the API from that site in order to integrate it into their apps, if they wish.
Taken in combination with Google's recent Chrome efforts on iOS, the search giant's push to integrate and expand its own micro-ecosystem on Apple's mobile platform comes into stark relief. Monday saw the release of an updated Gmail app that doesn't route web links, location data, and YouTube links through Apple's default Safari browser. Instead, the app now opens such links directly within Google's relevant apps: Chrome Google Maps, and YouTube.
Google's Chrome browser debuted to some degree of popularity, but the inability to set it as a default browsing app on iOS has relegated the browser to a very distant second place to Apple's Safari among iOS browsers.
Tying Chrome and other Google services together, though, could be a way for the search giant to grow browser share and enrich its suite of apps on Apple's platform. Google has, for the past few months, been building in the capability for its apps to interact with each other, tweaking its Google+ app to open links in Chrome in addition to its more recent efforts.
Opening up the possibility for developers to specify a default browser other than Apple's Safari, though, could mark the beginning of a new generation of browser wars similar to the struggles seen between Microsoft's Internet Explorer and other competitors in the desktop computing era.