Apple yanks 'Bang with Friends' app from iOS App Store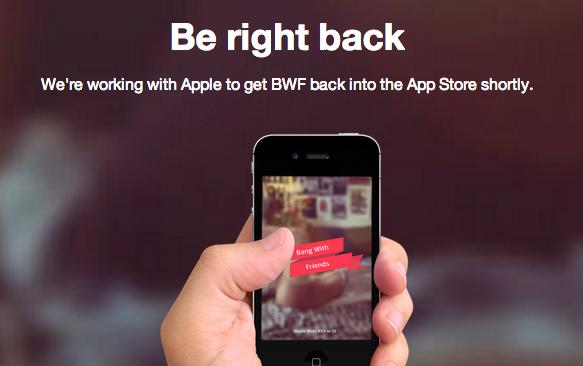 Facebook-connected hookup app "Bang with Friends" was pulled from Apple's App Store on Friday, with the removal coming a little over one week following the app's debut.
Bang with Friends, the Facebook integrated app that lets users hookup with friends on the ubiquitous social network, hit the App Store last week Wednesday, but it seems Apple found something amiss with the title, leading to a takedown earlier today.
The Bang with Friends mobile webpage is also down with a "Be Right Back" message, though it is unclear if the two issues are related. According to cofounder Colin Hodge, Apple has not yet given an official response as to why the app was removed, reports CNET.
While the app's title may be somewhat risqué, the service behind it is more akin to an anonymous matchmaking service limited to a Facebook user's friends list. To use "BWF," a Facebook account holder signs up with the service and selects friends with which they would like to have a sexual encounter. If that friend is also a member of BWF, and has likewise selected the first person as a potential match, emails are sent to each user notifying them a match has been made.
The service is anonymous, meaning users will not be alerted when a friend wants to "hookup" unless they have also shown interest.
Apple has not yet responded to requests regarding the pulling of BWF, but the company has recently taken a stricter stance on apps that contain questionable content. For example, Twitter-owned Vine was stripped of its App Store's Editors' Choice designation after the app's curators mistakenly featured a snippet showing hardcore pornographic content.