Apple offers developers free copies of OS X Server for Mavericks in bid to keep apps fresh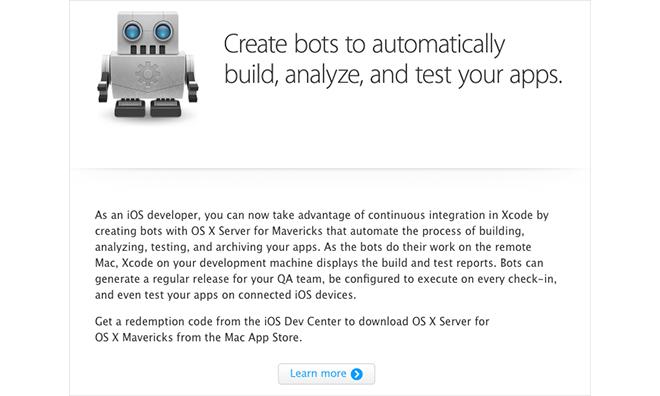 In emails sent to iOS developers on Thursday, Apple announced that it is giving away free copies of OS X Server for OS X 10.9 Mavericks in a promotion for Xcode bots, which automate some of the app building process.
As seen above, Apple's email, provided by AppleInsider reader Gregg Mojica, touts Server's integration with developer tool Xcode, which was updated to version 5.0.1 on Tuesday.
Apple urges devs to take advantage of "continuous integration" in Xcode by creating and using bots, or tools that automate certain processes in the app making workflow. Currently, bots have the ability to test apps on iOS devices and generate regular builds for quality assurance testing, among other actions.
Because bots work remotely, developers can monitor the work and test reports on their development machine running Xcode.
OS X Server 3.0 was released alongside Mavericks on Tuesday, bringing a host of new features specific to Apple's new operating system. Features include OS X Server file sharing for Mac, PC and iPad, integration and implementation of Xcode Server, Web service tools, profile management and remote access to VPNs.
Apple notes that developers can obtain a redemption code from the iOS Dev Center for OS X Server for Mavericks, which can then be applied to a download from the Mac App Store.