Retina iPad mini teardown reveals larger battery, display supplied by LG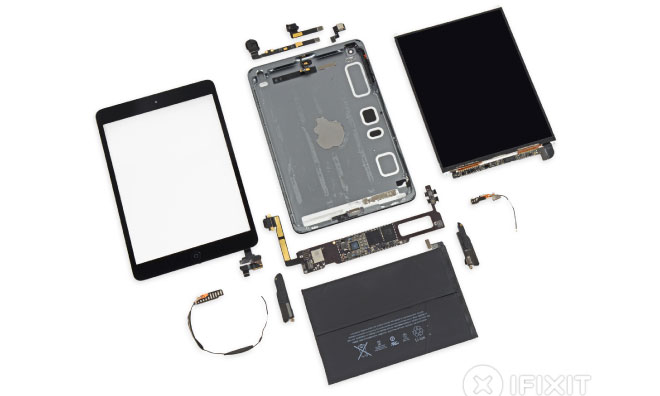 AppleInsider is supported by its audience and may earn commission as an Amazon Associate and affiliate partner on qualifying purchases. These affiliate partnerships do not influence our editorial content.
A breakdown of Apple's second generation 7.9-inch tablet shows some slight adjustments to its construction and marginally less powerful components than its larger sibling, the iPad Air.
The Retina display-equipped iPad mini features a new 2-cell, 24.3 watt-hour battery design, compared to the single cell, 16.5 watt-hour part found in its predecessor, according to repair firm iFixit. The larger battery mitigates the increased power consumption of the new Retina display and is the likely cause of the new iPad mini's extra 0.3 millimeters of girth.
Apple's latest A7 processor has also been ported to the new slate. The iPad mini's chip is the same 1.29 gigahertz model found in the iPhone 5s, rather than the beefier 1.4 gigahertz variant that ships with the iPad Air.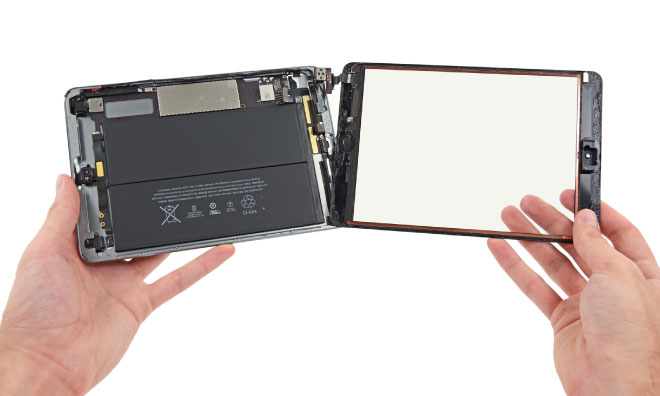 Like the iPad Air, the new mini sports a 2048-by-1536-pixel resolution on its Retina display, and is driven by a similar Parade-manufactured LCD driver. The mini also borrows the separate LCD and digitizer configuration found in Apple's other tablets.
Also like the iPad Air, USI appears to have replaced Murata as the supplier for the iPad mini's Wi-Fi controller chip. The move is likely related to the tablets' use of MIMO, or muliple-input, multiple-output, Wi-Fi technology.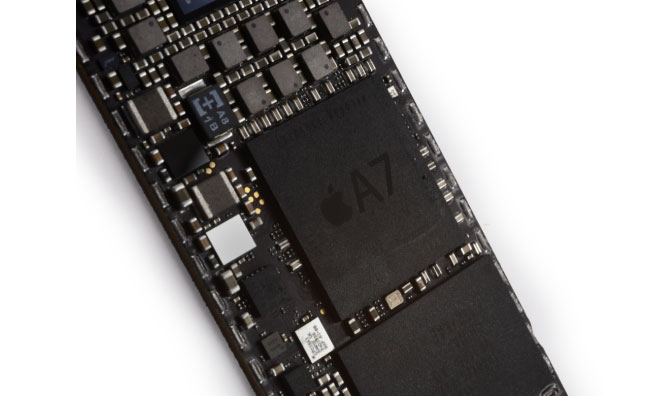 Finally, the logic board layout has been slightly altered. What used to be a patch of blank PCB in the Wi-Fi only models — where the cellar radios would be in the cellular-equipped variant — Â is now a cut out in the shape of a rounded rectangle. iFixit speculates this change may be a play to reduce as much weight as possible in order to compensate for the larger battery and Retina display.
A list of chips found soldered to the Retina iPad mini's logic board:
Apple A7
Elpida F8164A1PD 1 GB LPDDR3 DRAM
Apple M7
Toshiba THGBX2G7B2JLA01 16 GB NAND flash
B334 STMicro MEMS accelerometer/gyroscope
Apple 338S1213 Cirrus Audio Codec
Apple 338S1199 Audio Amplifiers
Apple 343S0656-A1 Dialog Power Management IC
Fairchild Semiconductor FDMC6676BZ and FDCM6683 MOSFETs