Apple gobbling up retail market share as Radio Shack, Best Buy shrink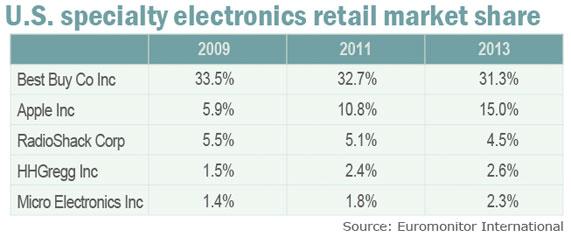 Apple's market share among specialty electronics retailers has been steadily growing since the release of iPhone in 2007, having reportedly expanded from 3.8 percent (with $3.5 billion in revenue) to 15 percent ($15.6 billion) six years later in 2013.
The numbers, compiled by Euromonitor International and published by MarketWatch, indicate that the market as a whole has seen a significant decline since 2007. Total sales have fallen from a peak of $109.9 billion that year to $95.9 billion last year.
Apple's retail sales are up however, likely due to the fact that it sells higher end products and provides a unique level of support for its customers. Other "brick and mortar" electronics retailers have been hit hard by the increasing availability of low cost products from online retailers such as Amazon.
Apple itself actually reported $20.8 billion in total retail store revenues during calendar 2013 (significantly higher than the $15.6 billion figure that Euromonitor provided for the company when calculating 15 percent of 59.9 billion).
In first place, Best Buy was said to have a 31.3 percent share of the market last year, with just over twice the sales of Apple despite having nearly 2,000 outlets internationally compared to Apple's 410 locations.
While up from 28.7 percent share in 2007, Best Buy has seen its piece of the electronics sales pie steadily shrink each year since 2009.
Third place Radio Shack has seen its share fall from 4.9 percent in 2007 to today's 4.5 percent share. However, in 2009 the company's share was nearly as large as Apple's, while four years later it has fallen to represent less than a third, or 4.5 percent to the iPhone maker's 15 percent share.
This all happened before
Apple's ability to maintain or expand its market share in a shrinking market is also evident in PCs, where Apple's share has steadily inclined as the company's Mac sales have grown rapidly while overall unit sales of generic PCs have plateaued and actually begun to contract.
Apple is not only growing its share, but also doing so with premium priced Macs that cost on average $1300, compared to the industry average selling price for PCs now at $301.
The maturing market for "smartphones" is also predicted to similarly begin slowing down this year, and early predictions have targeted Apple as being an early casualty in this shift, contrary to its history among PCs.
However, while Google, Microsoft and Samsung are increasingly focusing on the perceived growth potential in low end devices, Apple continues to see extraordinarily healthy demand for its highest end iPhone 5s, and across its entire premium iPhone lineup. Apple doesn't even sell a low end phone priced near the Average Selling Price of global sales of Windows Phone ($301) or Android ($276).
In stark contrast, Samsung's Galaxy S and Note products failed to reach initial predictions, selling just 100 million units last year as Apple sold over 150 million iPhones at similar, premium priced tiers. HTC's One, LG's G2, Motorola's flagship X phone and Nokia's higher end Lumia phones running Microsoft's Windows Phone all suffered very disappointing sales.