Apple details $3.5 billion European bond, interest accrual starts Nov. 10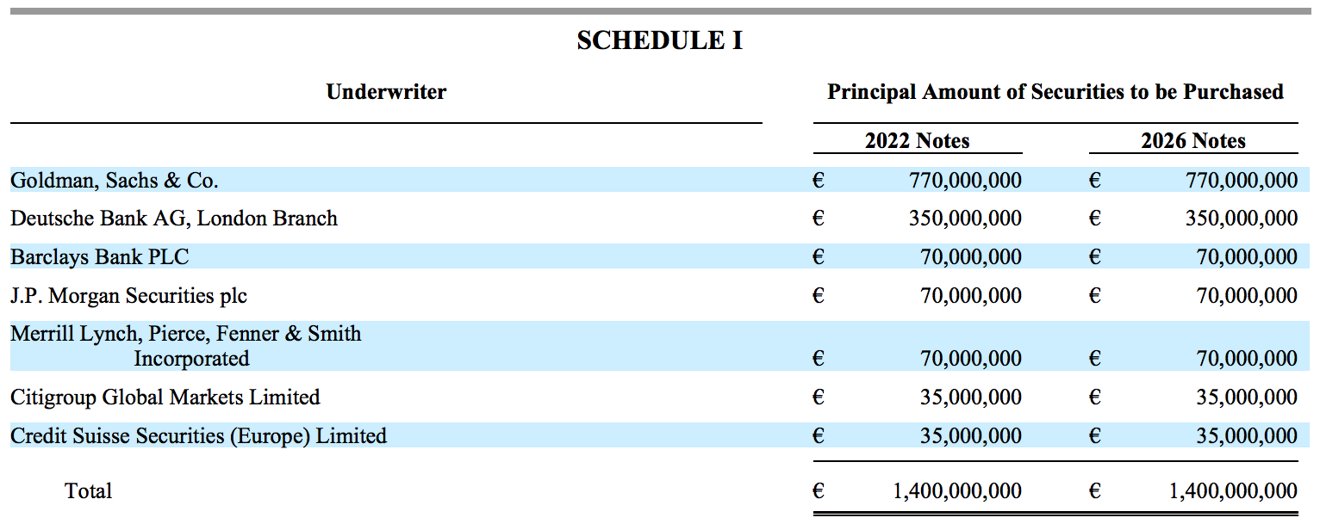 The U.S. Securities and Exchange Commission on Monday published Apple's official european debt filing, which looks to take advantage of low European interest rates to raise $3.5 billion, or 2.8 billion euros.
Outlined in the securities statement, Apple's first non-dollar bonds — split between eight-year bonds and 12-year bonds — begin to accrue interest today, with annual payments to occur on Nov. 10 starting next year. This also means the eight-year bond's principal payment date is slated for Nov. 10, 2022.
During a conference call with investors last week, Apple announced yields of 1.082 percent for eight-year bonds and 1.671 percent for 12-year bonds, some of the lowest rates in history.
Goldman, Sachs & Co. is listed as representative for six other underwriters in the prospectus and also accounts for the highest volume of securities to be purchased at 700 million euros for each set of notes.
As seen in the breakdown above, Deutsche Bank AG's London office will handle 350 million euros for both 2022 and 2026 notes, while other players include Barclays Bank, J.P. Morgan Securities, Merrill Lynch, Pierce, Fenner & Smith, Citigroup Global Markets Limited and Credit Suisse Securities.