'Send To' function expected to arrive in Transmit for iOS after Apple changes course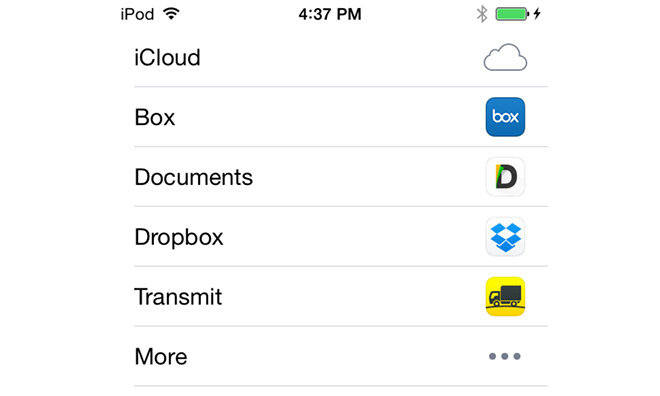 AppleInsider is supported by its audience and may earn commission as an Amazon Associate and affiliate partner on qualifying purchases. These affiliate partnerships do not influence our editorial content.
Apple has apparently changed its mind on allowing "Send to iCloud Drive" functionality within apps, and has asked for the popular FTP application Transmit for iOS to be resubmitted to the App Store.
The change was announced by developer Panic Inc. to its official Twitter account Thursday afternoon. The company revealed that it received a "nice call from Apple" on Wednesday, and as a result of their talks, Transmit for iOS has been resubmitted to the App Store with the "Send To" function restored.
The comments suggest that the update to Transmit will be approved by Apple, and the feature will in fact appear in the iOS app.
The update from the developer comes a few days after Apple blocked Panic from adding the standard iOS Share Sheet to Transmit. The opposition apparently stemmed from an unwritten policy that "forbids apps from uploading content to iCloud Drive unless the content was created in the app itself."
However, creating a problem for Transmit and other applications is the fact that it's not possible for developers to selectively disable the ability to send files to iCloud Drive, because iOS creates the Share Sheet itself. Therefore, the "Send to iCloud Drive" feature was not specifically inserted by Panic.
Removing the Share Sheet function prevented other services like Dropbox, Box, Google Drive and Microsoft OneDrive from being integrated into Transmit.
Apple's App Store Review Guidelines make no mention of iCloud Drive, and the section on Extensions only references iOS Data Storage policies related to iCloud Backups.
Core Data and iCloud Backup seek to limit the amount of data that needs to be shuttled back and forth between users' devices and Apple's iCloud servers, meaning that Transmit's file transfer features could result in an unanticipated server load, given that iOS intends to use iCloud Drive as a repository for users' active documents that are actively backed up and kept in sync.
Apple's evolving policies for App Store titles have sometimes created unanticipated issues with developers as the company cultivates a strictly managed "walled garden" of apps that are free from the rampant spyware, malware and quality issues that affect other platforms.