Former Google exec Vic Gundotra shows off Kardia Band, an ECG heart monitor for Apple Watch [u]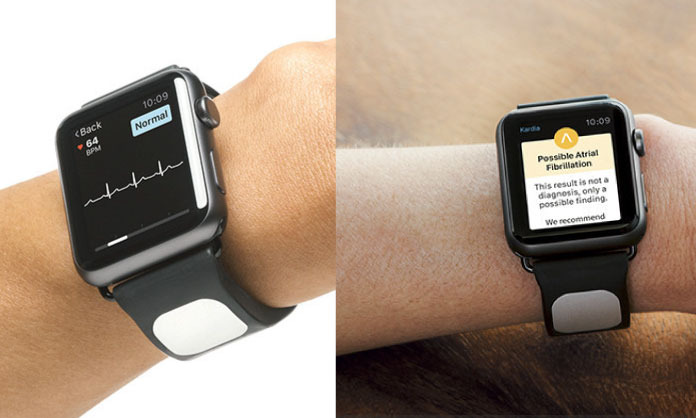 The Kardia Band — built by Google+ founding father Vic Gundotra's medical device startup AliveCor — is an Apple Watch band with an integrated ECG module that the company hopes will make it easier for heart patients to identify potential problems before it's too late [updated].
Together with a companion iOS app, the Kardia band will help wearers quickly determine whether they should seek help when they feel unusual symptoms. The results of the sensor's analysis can be quickly e-mailed to a doctor if necessary, and users can attach voice memos to describe what they feel.
Update:The app has not yet received FDA approval, but is awaiting clearance from the administration, expected to occur in late spring. The band will be released once the agency has finished its review process.
"AliveCor sits on the other side of the FDA line," Gundotra said to Re/code. "We are not a fitness product. This is not a toy. We're talking about people's lives."
The Kardia Band is a more portable version of the smartphone-connected Kardia Mobile, which is already approved by the FDA.
"We think it will become the first FDA-cleared accessory for any smartwatch device," Gundotra said. There is no word yet on how long that process might take, or how much the Kardia Band will cost when it does hit shelves.
Many believe that Apple initially planned to build more sensitive medical sensors into the Apple Watch, but scaled back plans to avoid the rigorous FDA approval process. Company executives went so far as to meet with agency representatives to discuss "mobile medical applications."
By opening up the Apple Watch to third-party developers, Apple can encourage the same types of uses without incurring the regulatory overhead.