Lowest Price Ever: Audeze Sine On-Ear 24-bit High-Resolution Lightning headphones for $350 ($150 off)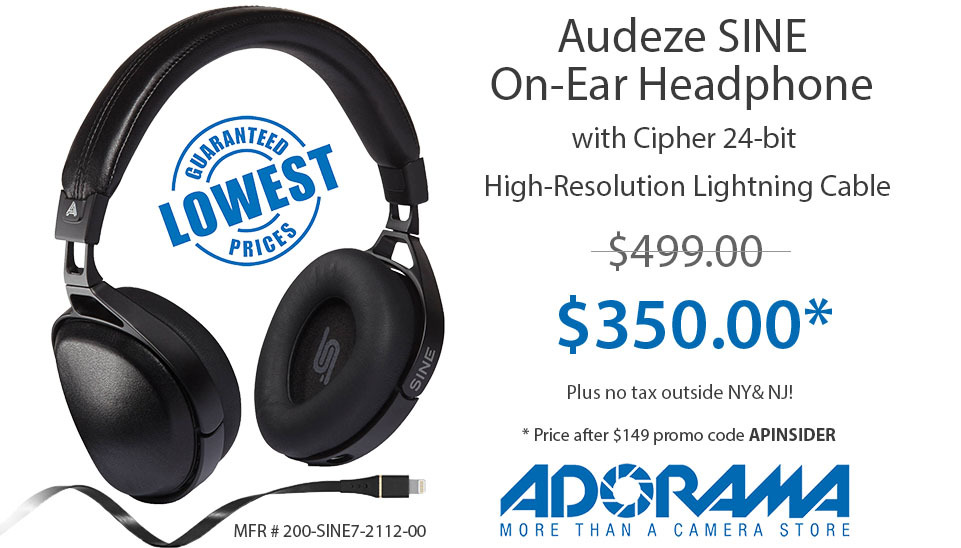 This week only, AppleInsider readers can use an exclusive $149 coupon code to grab the lowest price ever ($350!) on Audeze's SINE On-Ear Headphones with Cipher 24-bit High-Resolution Lightning cable, plus free shipping in time for the holidays and no tax on orders outside NY and NJ.
Audeze Sine Lightning headphones for $350 with coupon
Audeze Sine On-Ear Headphones with Cipher Lightning Cable for $350.00 %
($149 off + no tax outside NY & NJ) - Deal expired
% Price with promo code APINSIDER. Offer is both promo code and link activated.
Exclusively for AppleInsider readers, Adorama is taking $149 off Audeze's Sine headphones with a Cipher Lightning cable, bringing the price down to $350.00 with promo code APINSIDER (but you must click through our links in the same browsing session for the code to work, see below). This is by far the lowest price available for these premium headphones, which are in stock and ready to ship in time for the holidays. Plus, on top of the coupon savings, Adorama will not collect sales tax on orders shipped outside NY and NJ, which means shoppers outside these two states can save $190 on average compared to paying full price with tax at the Apple Store.
Compatible with iPhone and iPad devices, Audeze's Sine on-ear headphones feature planar magnetic technology for enhanced sound. In fact, in our recent review, the Audeze Sine headphones scored a 4.5 out of 5 due to their accurate imaging and sleek design. The modern feel comes courtesy of BMW subsidiary Designworks and includes premium finishes throughout, such as a custom aluminum frame and leather headband. The Sine headphones are also lightweight, weighing in at 0.5 lb., and fold for easy transport.
In addition to the visually appealing design, audio does not disappoint with rich and full-bodied sound due to the large 80mm-by-70mm drivers which, when combined with Apple's Lightning connection, provides a pure 24-bit signal to the integrated amp, DAC and DSP module. The Cipher cable also features a microphone for voice calls that's Siri-compatible. For additional customization, users can tweak EQ settings using the Audeze iOS app as well.
Made in the USA, the Audeze Sine headphones are handcrafted in Southern California and made to fit everyone. To take advantage of the special savings in time for the holidays, see the step-by-step instructions found below.
(%) Step by Step instructions for this deal at Adorama
1) Make sure you're using a browser with cookies enabled that isn't in private mode.
2) Click through one of our Adorama Audeze Sine headphone price links above. You MUST click through one of these links in the same shopping session that you plan to use our coupon. If you save the link for later, the coupon won't work. Once you click through, you'll see a price that's higher than advertised (we'll fix that in a moment).
3) Add the Audeze Sine headphones with Cipher Lightning cable to your cart anyway, and when you're done shopping, begin the checkout process.
4) After you enter your shipping information, move to the Payment section during checkout.
5) Look for a link that says "Do you have a gift card or promo code?" next to the gift icon. Click on it to bring up a coupon code field.

6) Enter the coupon code APINSIDER in the field and click apply. The discount should appear under "Promo Savings" above the order total.
7) This should drop the price of the Audeze Sine headphones by $149. At this point you can complete your checkout.
As always, if you have any issues, you can reach out to us at [email protected] and we'll try and help.
Additional Apple Deals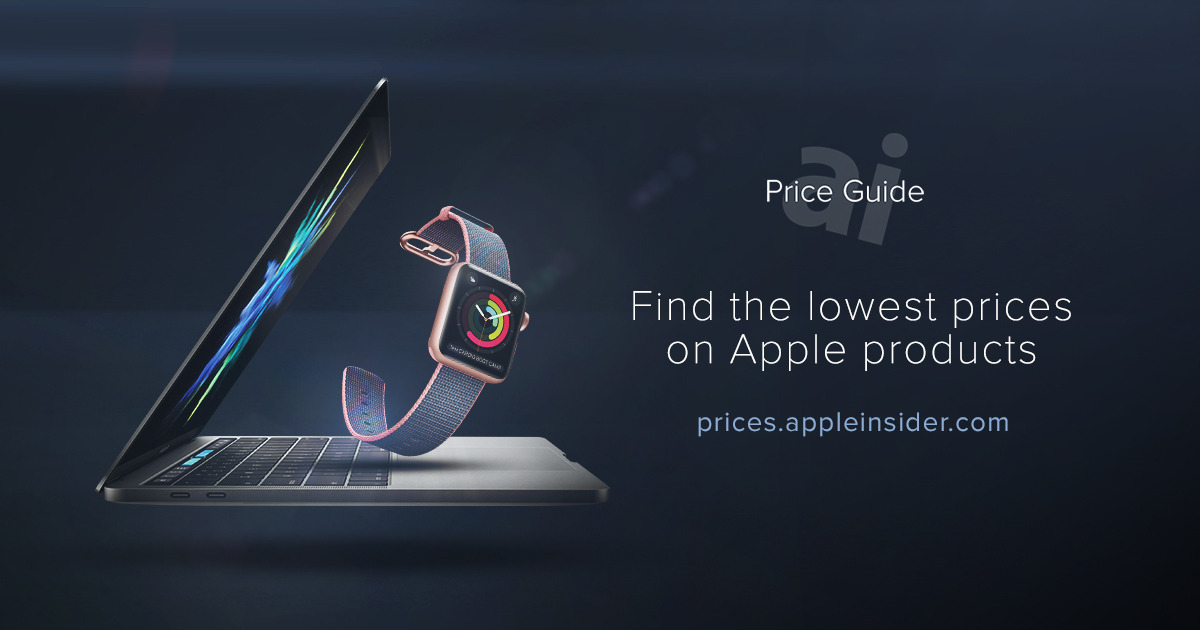 AppleInsider and Apple authorized resellers are also running a handful of additional exclusive promotions this month on other Apple hardware that will not only deliver the lowest prices on many of the items, but also throw in discounts on AppleCare, software and accessories. These deals are as follows: