Conflicting statistics still put Apple's iPad at top of tablet market in Dec. quarter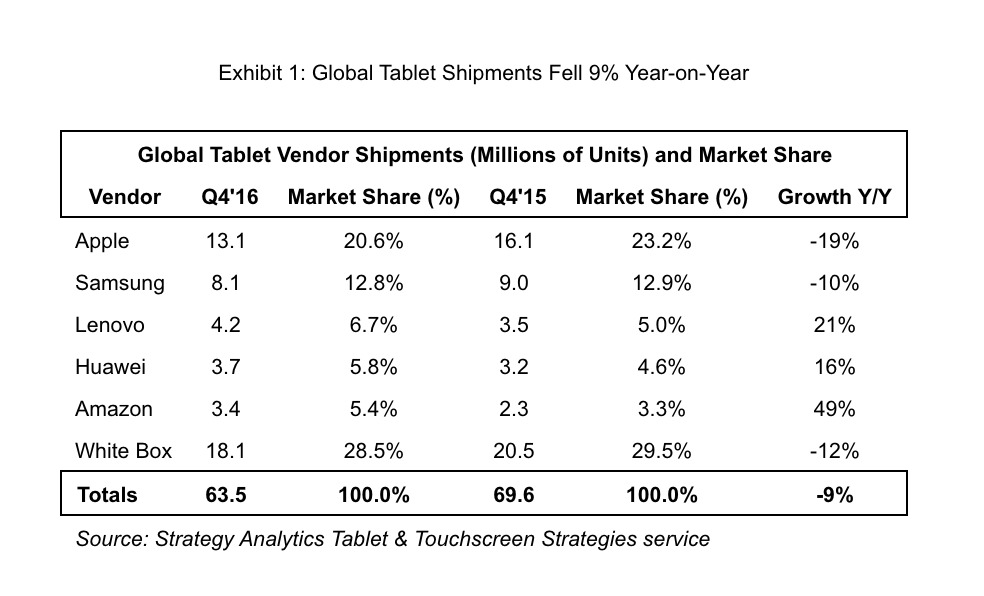 While differing on some key figures, global tablet industry statistics published on Thursday suggest that the Apple's iPad still has a firm lead as the most popular option, even if the company and the industry as a whole are losing sales.
Apple's 13.1 million shipments gave it a 24.7 percent marketshare according to IDC data, and a 20.6 percent share according to Strategy Analytics. The difference stems from estimates for Lenovo, Huawei, and others, but particularly Amazon, since while Strategy Analytics claimed 3.4 million units for the Fire maker, IDC estimated 5.2 million.
As a consequence the two firms also disagree on how much the industry shrank. While Strategy Analytics calculated a 9 percent decline year-over-year to 63.5 million units, IDC suggested a 20.1 percent drop to 52.9 million.
The latter firm estimated that 9 out of 10 iPads sold in the quarter were cheaper models like the Air 2 or the Mini 4, and not Pros. Similarly, Strategy Analytics commented that average selling prices (ASPs) dipped 4 percent to $423, reflecting the pull of less expensive models.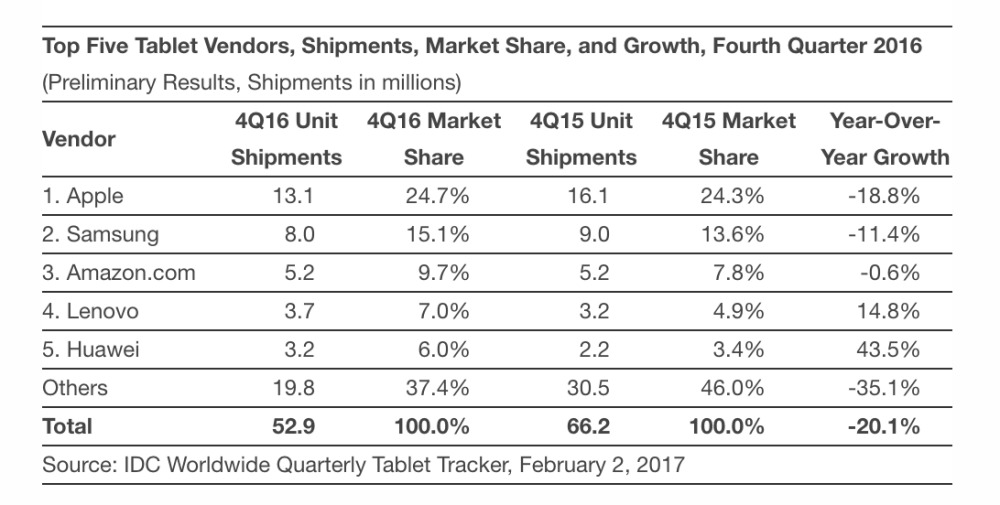 A 9.7-inch iPad Pro starts at $599, while a 12.9-inch model is at least $799. Conversely an iPad Air 2 can be had for as little as $399, and the most budget-conscious can pick up an iPad mini 2 for $269.
Apple didn't release any new iPads last fall, and is instead thought to be saving updates for later this year. Three models are likely to be on offer: updated 9.7- and 12.9-inch tablets, plus a new 10.5-inch device, which could have a sharper screen. The 9.7-inch product could have "budget" specifications.