10 years ago — Apple's iPhone as seen on AppleInsider and by our readers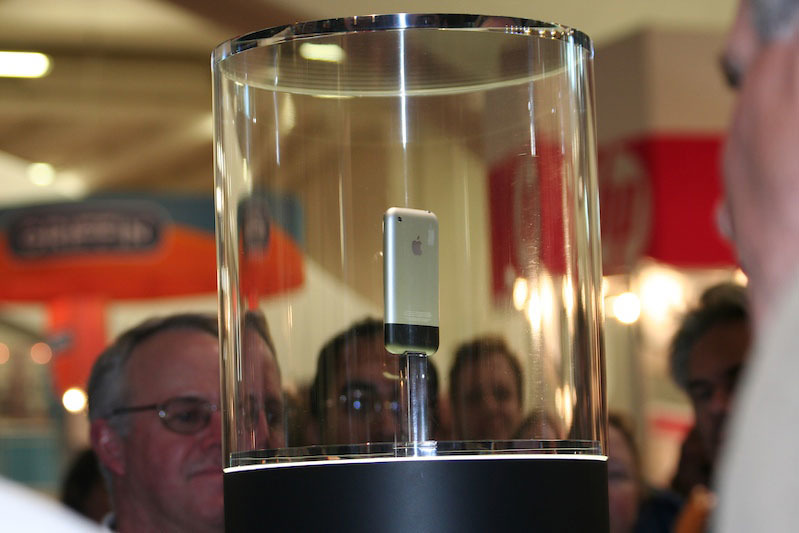 AppleInsider was heavily invested the the launch of the original iPhone, and you were too. Here's some of the things we said about it at launch — and what somer of you thought then.
AppleInsider was on the scene at the announcement in January 2007. Crowds gathering around the two iPhones on display were five to seven people deep, as photographers and enthusiasts tried to snag some clean shots of the groundbreaking device to call their own.
A second feature published the same day looked more closely at the software installed on the phone. There weren't a lot to go around — there didn't appear to be any more besides the two in the plexiglass shields, and the one that Jobs was clutching.
In a 22-page forum thread, AppleInsider readers speculated on Jobs's release, with the general consensus that it would do very well for Apple. Of course, there were some nay-sayers, and to match them, a few who thought that it would revolutionize the industry.
On June 29, 2007 AppleInsider finally got one and quickly got pictures up, without comment.
Examination would begin discussing the hardware a couple of days later, with long-time staffer Daniel Eran Dilger reviewing the first iPhone, in his own timeless style. In a sprawling review, he called it "the most incredible piece of consumer hardware I've ever touched."
We asked for your stories and pictures, and here are some of the responses we received:
Twitter user Sean Terry told us about his early iPhone experience as a blind user. He skipped the first two iPhones, but got the first iPhone to have VoiceOver for the Blind — the iPhone 3GS. Terry called the iPhone "a life changing experience."
Long time forum member Singularity spoke on Thursday of his experience, and said:
"Before the iPhone I had a Sony Ericsson M600i, but after the reveal in January I found myself a few days after the launch in the UK, in the O2 phone shop and a few minutes later I had the phone in my hand. That would teach my wife to leave me alone for a few minutes. Coming from a resistive touchscreen to a capacitive touch screen meant that I didn't have such a shift in user input and I soon forgot about the keys. The big plus was the screen it was big and it was nice! "
I was first in line at ATT store Muscle Shoals Al, got there at 3 pm was out at 6:15 with one. Picked up second later. They both still work! pic.twitter.com/WcjSMzsOLR

— Walter25 (@walter25) June 28, 2017
My dad bought me a 4S before he got an iPhone himself. Sounds mean now but I was delighted. When I swapped it for a 6, the size dif startled

— Rachel P (@museum_mouse) June 28, 2017
Still have mine, still works, didn't need to upgrade til iphone 5s came out

— Ryan Wuckert (@RWDMTDIT) June 28, 2017
First #Apple product was #iPod 3. Still working like a charm.

Since then, the house has been invaded by Apple !

— SylvainL (@monblogApple) June 28, 2017
I remember when I wanted an iPhone so badly. Now I have one I totally forget that I do. We can take things for granted sometimes.

— Aaron Garcia (@agarciatv) June 28, 2017