Eighth developer betas of Apple's High Sierra, iOS 11, tvOS 11, watchOS 4 now available [u]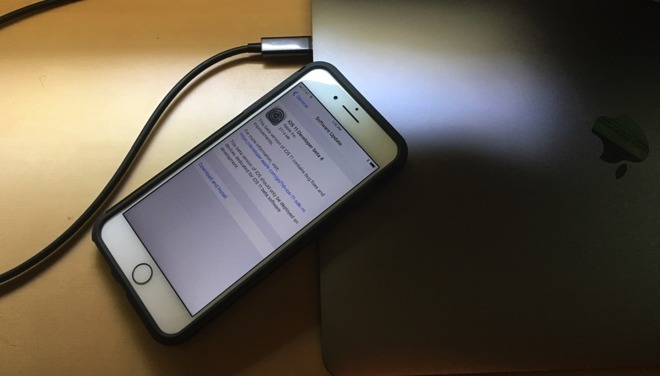 Keeping up with the one per week cycle one more for the most part Apple has updated all of its developer betas, with eighth releases of iOS 11, macOS 10.13 High Sierra, tvOS 11, and watchOS 4.
macOS 10.13 High Sierra
The macOS High Sierra update, with build number 17A358a, contains a number improvements like Apple File System integration, migration from H.264 to H.265, and Metal 2, alongside other refinements. The previous beta sported build number 17A352a.
Alongside beta 5 of High Sierra, Apple launched a Safari extensions section of the Mac App Store. This most recent beta version adds APFS support to the 2012 Mac Pro tower.
What will not ship with High Sierra in the fall is eGPU support. Apple's inclusion of the technology allowing Thunderbolt 3 PCI-E enclosures with a GPU installed to connect, and accelerate, graphics in High Sierra will come at at some point in the spring of 2018.
iOS 11
The most notable changes in iOS 11 overall are back-end enhancements and an improved voice for Siri, plus Apple Pay and Photos services enhancements. The Do Not Disturb While Driving feature was introduced during the second beta. The seventh beta of iOS 11 has build number 15A5368a, with the previous holding number 15A5362a.
The "Messages in iCloud" feature was removed in the iOS 11 beta 5 release, and Apple claims that it will ship in a future software update to iOS 11. Users can continue to receive and store messages on each device, and they can continue to backup and restore messages using iCloud Backup.
WatchOS 4
Apple's watchOS beta 4 has build number 15R5371a. The previous built was build number 15R5365a.
Prior betas delivered the announced "Toy Story" watch faces to testers, and also fixed issues related to haptic feedback, music playback, location-based HomeKit triggers and Siri usability.
tvOS 11
Release notes for the eighth tvOS beta remain very short, with very few issues noted or changes specified. The previous tvOS build was numbered 15J5369a, and the current has been incremented to 15J5374a.
The previous updates were on August 21, with it only a week after the previous beta. The increments of the beta numbers narrowing between iterations suggests that Apple is planning a release soon.
Apple is rumored to have a product release on or about Sept. 12, with the "iPhone 7s" family, the "iPhone 8," and possibly a new 4K Apple TV expected. The new versions of the operating systems will likely be available at the same time the associated products ship, with High Sierra at about the same time to support the other releases.
Update: Apple has also released public beta versions of iOS 11, macOS High Sierra and tvOS 11.