Waymo may launch autonomous ridehailing service as soon as October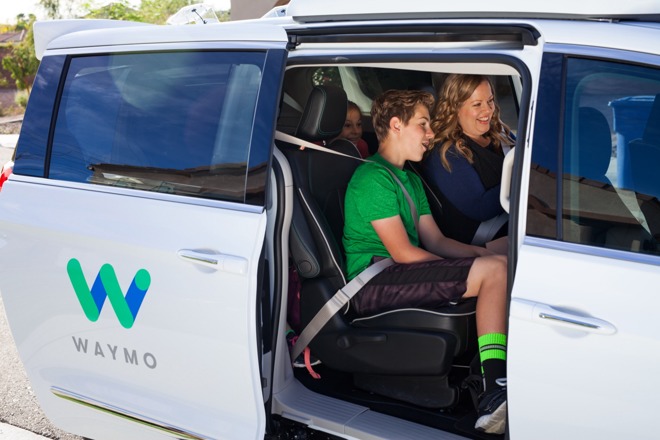 AppleInsider may earn an affiliate commission on purchases made through links on our site.
Alphabet's Waymo — formerly the self-driving car division within Google — is reportedly preparing to launch a commercial autonomous ridehailing service as soon as this fall, possibly even later this month.
Any pickups starting in October would take place in Phoenix, Ariz., where the company has already been offering limited rides as part of a test program, The Information said. It's not clear where else a service might operate, but Waymo's fleet is in many cases expected to run without any human backup — a major though risky step forward on public roads.
Some vehicles could have drivers for longer trips, or places Waymo has yet to map. These may fall under the aegis of Lyft, with which Waymo partnered several months ago.
Alphabet executives Larry Page and Sergey Brin have allegedly been aggressive about autonomous ridehailing, wanting to launch a service as far back as last year. Waymo engineers are said to have talked management into accepting a "mixed" fleet.
Indeed some workers are said to be upset about Waymo CEO John Krafcik, complaining that he sided with Page and Brin on unrealistic deadlines and hiring freezes, perhaps partly because of a lack of technical knowledge about self-driving systems.
At the moment, though, Apple is believed to be uninterested in launching a ridehailing service of its own, meaning it would have to sell technology to other firms or partner with them. One likely candidate is China's Didi Chuxing, which received a $1 billion investment from Apple and recently opened a self-driving car lab in Mountain View, not far from Apple's offices.