Microsoft reveals Surface Book 2 hybrid tablets, claims they're twice as powerful as Apple's MacBook Pro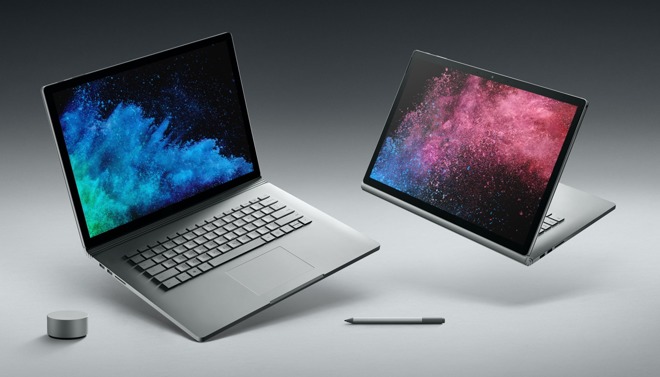 AppleInsider may earn an affiliate commission on purchases made through links on our site.
Microsoft is continuing its attempts to compete against Apple's MacBook Pro and iPad Pro lines with an updated version of its tablet-notebook hybrid, with the Surface Book 2 boasting a new larger model and a USB-C port, alongside expected performance improvements.
Two models of the Surface Book 2 are on offer, with the earlier 13-inch size accompanied by a larger 15-inch variant. The 13-inch model features a 13.5-inch PixelSense display with a resolution of 3,000 by 2,000, while the 15-inch version offers a resolution of 3,240 by2,160, with both having an aspect ratio of 3:2, a contrast ratio of 1,600:1, and 10-point multitouch.
As for the performance, Microsoft claims the new Surface Book 2 is five times more powerful than the original model, and twice as powerful as a MacBook Pro. Microsoft states this is due to the use of 8th-generation Intel Core processors and more powerful Nvidia discrete graphics options, though there is a fair amount of variation in power across the product range.
The 13-inch model can be supplied with a 7th-generation Kaby Lake Core i5-7300U dual-core processor clocked at 3.2GHz or an 8th-generation Kaby-Lake R Core i7-8650U quad-core processor, clocked at 4.2GHz. The Core i5 model is equipped with 8 gigabytes of RAM, 256 gigabytes of SSD storage, and integrated Intel HD Graphics 620, while the Core i7 has 8 gigabyte and 16 gigabyte RAM options, up to 1 terabyte of SSD storage, and adds an Nvidia GeForce GTX 1050 2 gigabyte discrete GPU in the keyboard section alongside the integrated graphics.
The 15-inch version is offered only with the Core i7 processor with 16 gigabytes of RAM, but still includes options for 256 gigabytes, 512 gigabytes, and 1 terabyte capacities of SSD storage. Again, integrated and discrete graphics are on offer, with the Intel UHD Graphics 620 paired with the Nvidia GeForce GTX 1060 discrete GPU, equipped with its own 6 gigabytes of VRAM.
Both versions continue to use the design of a tablet for the top section that can be attached to a keyboard section to turn it into a notebook, with the base also increasing the tablet's capabilities with an additional battery and extra ports, as well as housing a discrete GPU. The tablet section offers up to five hours of usage for both models, with this extending to up to 17 hours of video playback when used with the base, which Microsoft claims is 70 percent more than a MacBook Pro.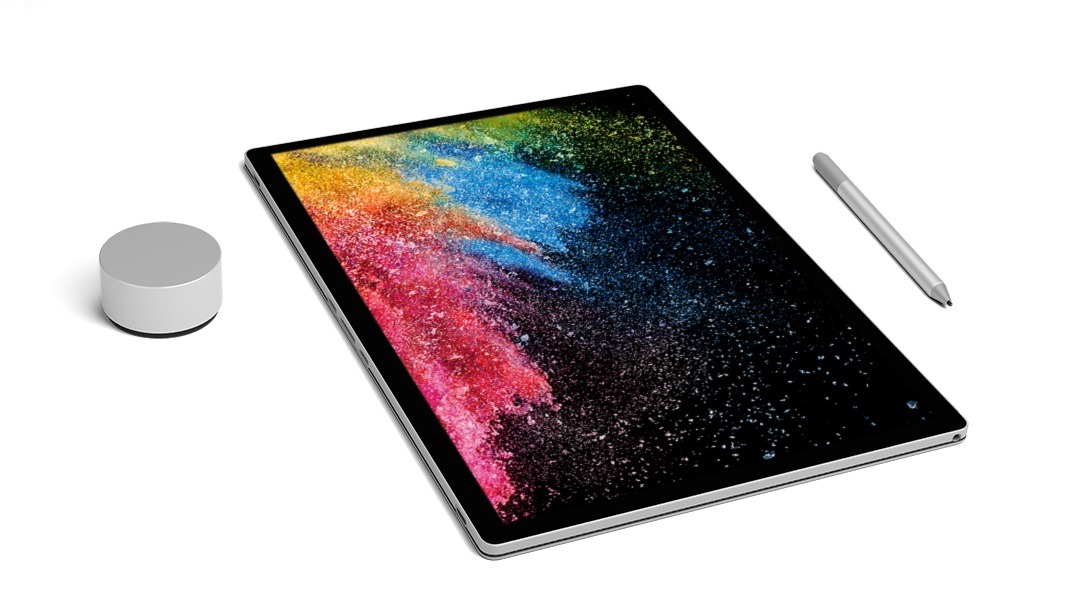 Alongside wireless connectivity via Wi-Fi and Bluetooth 4.1 LE, the 15-inch model also include Xbox Wireless built-in, allowing Xbox One controllers to connect to the Surface Book 2 for gaming. When the two sections are combined, the connectivity options include two USB 3.0 Type A ports, an SDXC card reader, a headphone jack, magnetically-connected power, and for the first time, a USB Type-C connection.
Though the addition of USB Type-C is likely to be seen as progress, it is notable that Microsoft did not include Thunderbolt 3 connectivity, a technology that is slowly being adopted by other notebook manufacturers, as well as Apple. The omission effectively excludes the Surface Book 2 from connecting with a range of Thunderbolt 3 devices, including the ability to use an external GPU enclosure, leaving those wanting to use the Surface Book 2 for intense graphical purposes, like gaming, stuck using only the GPUs included within the devices.
Support for the Surface Pen and Surface Dial are also included, as well as headsets and controllers within Microsoft's Windows Mixed Reality program.
For video, a rear 8-megapixel camera with autofocus is accompanied by a 5-megapixel version, with both capable of recording 1080p video, and the front-facing version able to use the Windows Hello face authentication system. Dual microphones and front-facing stereo speakers with Dolby Audio Premium are also included.
The Dynamic Fulcrum Hinge, the unique mechanism used in the Surface Book line, has apparently been updated to take the heavier load of the 15-inch tablet. The system used to connect the tablet to the keyboard section has also been redesigned to make it faster to attach and separate the two components.
Microsoft will ship both sizes of the Surface Book 2 from November 16, with the company accepting preorders from November 9. Though full pricing details have yet to be revealed, it has been confirmed the range will start from $1,499 for the lowest-specification model.
While this is named as the second generation of the Surface Book line, some may consider it to be the third release. After the original's launch in late 2015, Microsoft updated the Surface Book in late 2016 with new processors and increased battery life.