Apple's 77.3 million iPhone, $88.3 billion quarter by the numbers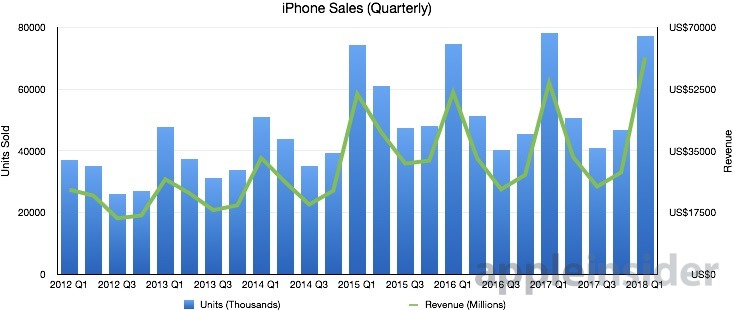 The addition of the iPhone X that commanded a steeper premium than ever before has made Apple's financial quarter an interesting one. The changes over time are best illustrated graphically, showing the magnitude of the quarter, as compared to quarters of years past.
Even though Wall Street seems disappointed by the number of iPhones sold, it is still competitive with the year-ago quarter, with a notably higher average selling price in comparison.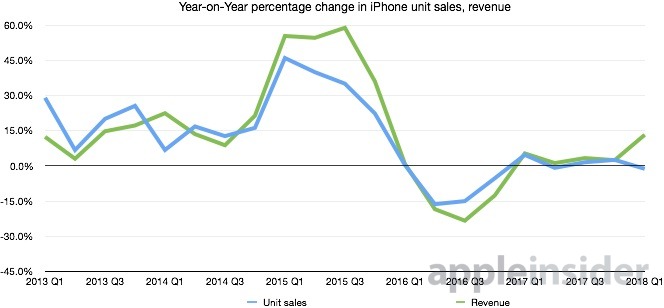 A great deal was made about a decline in units of iPhones sold in the quarter by analysts, and we expect that it will be a talking point in the weeks to come, for better or worse. While it is a lower number, it is a drop of just more than one percent from the year-ago-quarter. And, the year-ago quarter had one extra sales week than the most recent one did.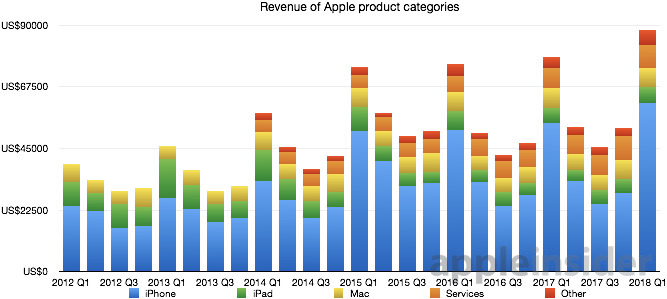 The iPhone continues to dominate Apple's sales volumes, with services like iTunes and the App Stores continuing to eclipse Mac sales — to the dismay of the long-time faithful. The "other" category including the Apple Watch, the AirPods, and in the next quarter, the HomePod continues to grow, with the holiday quarter being the best one since the formation of the category in 2014.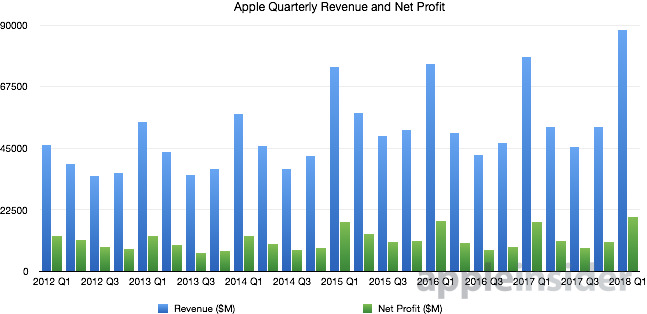 The painfully obvious note for Apple's income is that it is continuing its high-Q1 trend, with revenues still considerably higher than for the previous three quarters. As one would expect, net profit follows a similar path of growth and decline, usually hovering at around 20 percent of Revenue's value.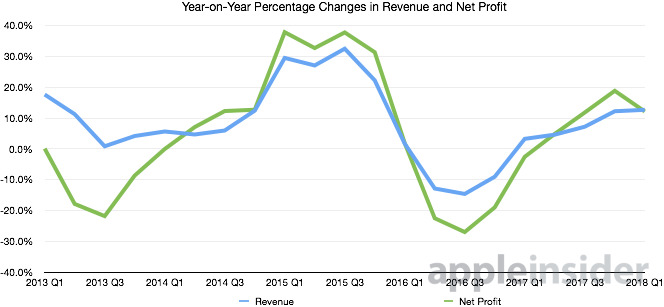 When viewed as a percentage change, both revenue and net profit are still growing. Though they both similarly increased year-on-year by 12.7 percent and 12.2 percent respectively, the graph shows two slightly different trajectories.
While revenue's yearly growth has marginally increased compared to the previous quarter, net profit growth has actually reduced down from the 18.9 percent year-on-year change recorded for Q4 2017.