First look: Occipital Structure sensor iPad attachment aims to simplify, add precision to room and object 3D scanning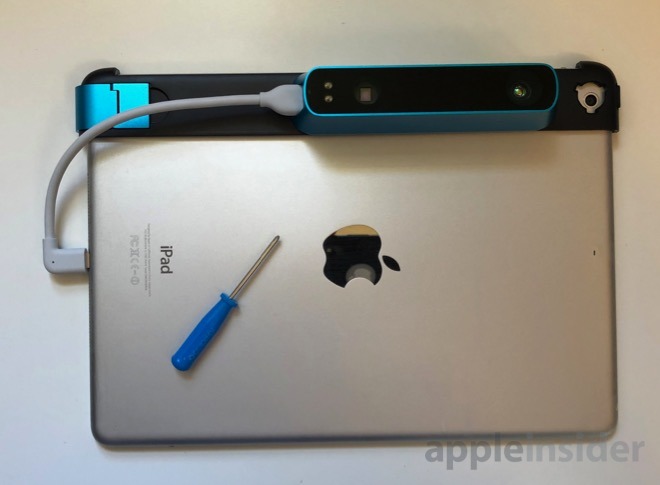 At the Las Vegas Consumer Electronics Show, Occipital showed off its Structure mobile depth sensor that attaches to the back of an iPad to capture a 3D model of whatever is in front of it, including small and large objects, and the overall layout of a room — and AppleInsider just got one to try out.
The assembly process for the Structure Sensor and the bracket is pretty simple — the sensor screws into a bracket for an iPad, and a wide-angle lens attaches over the camera. To wrap up the installation, a cable connects from the sensor to the iPad's Lightning port.
After starting the a scan and walking around a room, the room's model is built in real time, with the hardware capturing thousands of points of data for a 3D map using the Canvas app.
We've only just started using the sensor in conjunction with the Canvas app. After a very quick scan and trial, the app functions well for fairly accurate room measurements and scanning, but we're going to hammer on both the calibration process the sensor needs before the first use, and practical uses of the app more before we give it a thumbs up or down.
Occipital also claims the Structure sensor is the most popular device of its type for orthotics and prosthetics, due to being able to create a 3D model within ten seconds. Despite the speed, the generated model is accurate enough to create prosthetics or orthotics for patients, cutting development time down dramatically.
The Structure sensor is currently sold for $379, complete with a mounting bracket for one of a selection of iPads. The Canvas app is free from the App Store, though it requires the sensor to function.