Hands on: Twitterrific 5.2.4 will make you like Twitter on the Mac again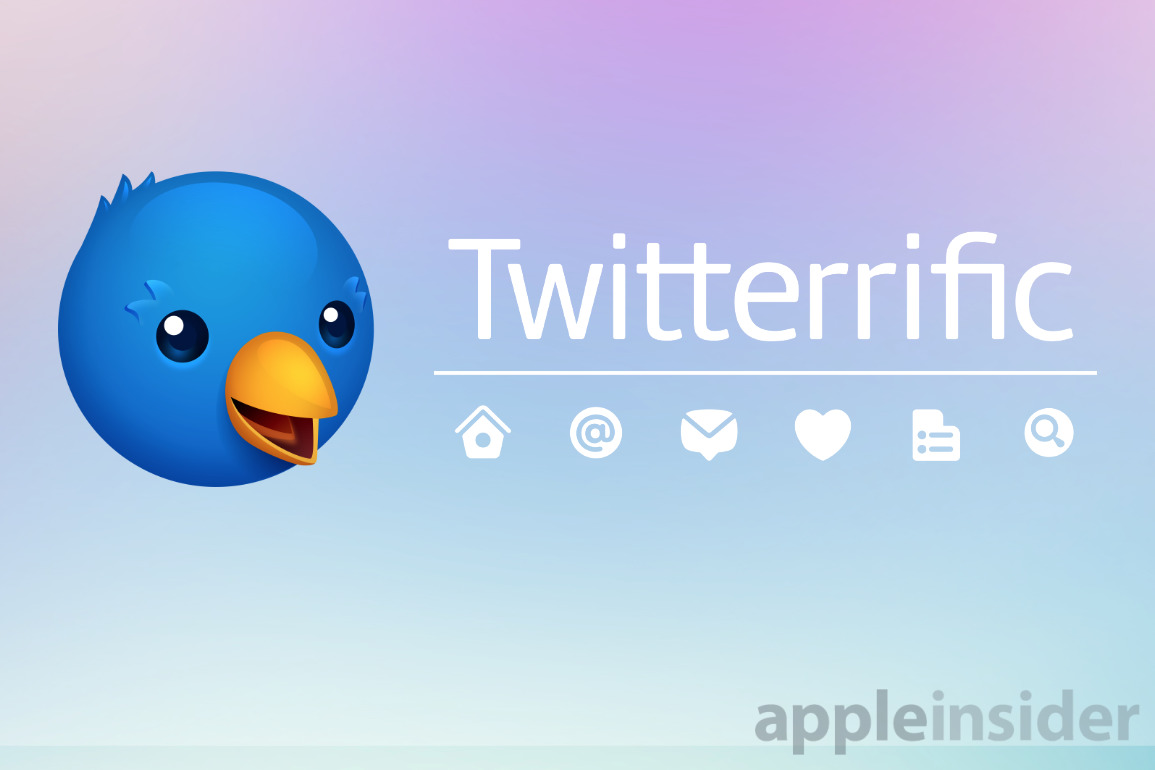 In the wake of Twitter killing the official Mac app, there's going to be a power vacuum — and Twitterrific can, and does, fill it.
If more of us used Twitter on our Macs we might yet have an official app that worked well and was a pleasure to use. As it is, we have Twitterrific 5.2.4 which is an unofficial app that works superbly and is a pleasure to use. We can live with that.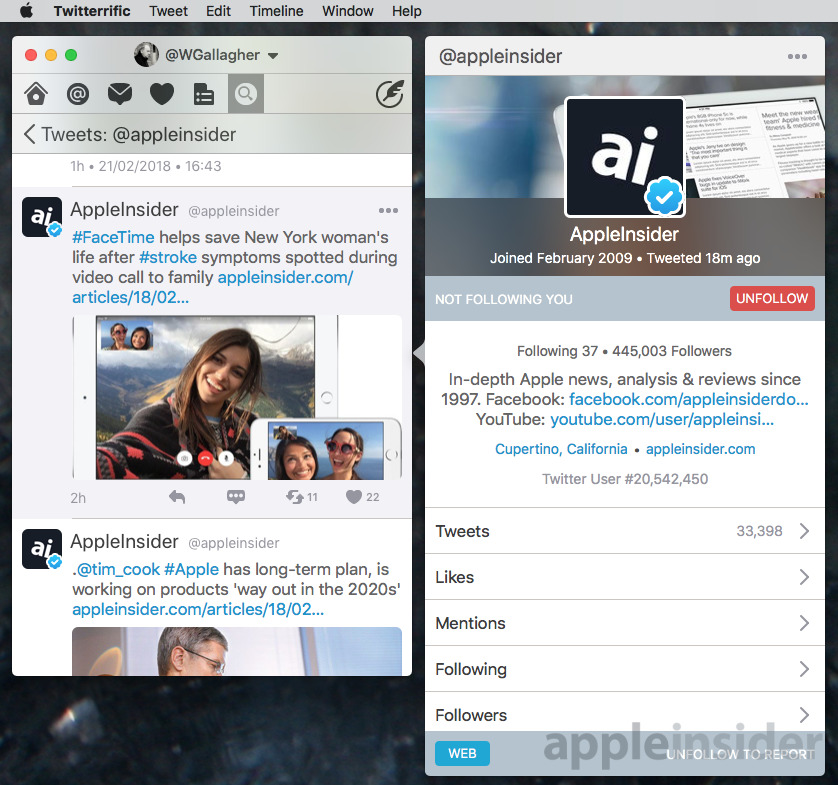 Twitter, the company, has this month announced it's abandoning the Mac but of course did it in PR-speak by telling us we'd be happier using the service in Safari instead of an app. It's the publicists' syllogism: we need to say something positive, this is positive, we must say this.
It wasn't the greatest of shocks, then, when this news was followed by the makers of Twitterrific for Mac announcing a price cut from $19.99 to $7.99. Yet if that's opportune, it's also a coincidence: this week happens to see a new update to the app. Plus the developers, The Icon Factory, tell us that this isn't a short-term price drop to attract users of the abandoned official app and it isn't a launch price for their update. While you can never know what will happen in the future, the company plans to keep the app at this price at least for a long time.
It's still $7.99 — but, you've already got Safari and can go to twitter.com as easily as you can any other site. In fact, if you do that then you can indeed use Twitter in Safari just fine.
Or at least you can so long as you only want to dip in. Then be prepared to fiddle about with multiple Safari tabs and resizing windows to show a couple of Twitter accounts alongside your other work, too.
Whereas, if you use an app like Twitterrific instead then it grabs your feed whenever you are connected. It keeps everything so you can scroll back. It lets you finish reading a tweet before it suddenly scrolls off the screen because Twitter's updated.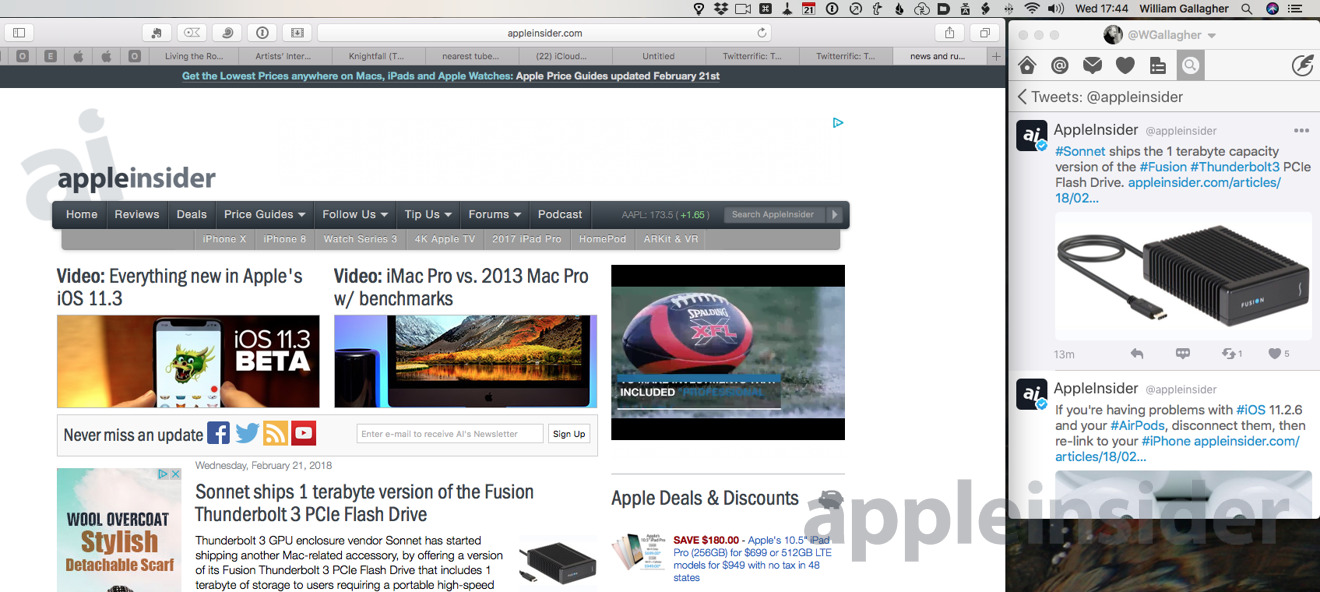 Then by default, Twitterrific's screen is narrow and short like an iPhone's one so it's easy to leave it open beside your work in Word, Excel or anything else. For instance, we have BBC News's Twitter feed up in one corner of our iMac screen courtesy of Twitterrific and so all day we see when news breaks.
Twitterrific is also fast and convenient when you have multiple Twitter accounts and this is something that's been improved with version 5.2.4.
If you use Twitter online then have to start each session by through logging in on separate tabs. Twitter tried to help you, too, by automatically entering the last account details you logged in with so actually I end up muttering as you delete that and enter the account you want.
You do have to log in to each of these accounts in Twitterrific but you do so once. Forever after, it's a click to move between them. If you want to see multiple accounts at the same time, go right ahead.
What's new is how Twitterrific lets you change the account you're tweeting in while you're actually writing the tweet. So your timeline is showing, say, your personal account and you start to write a tweet but realize it'd be better coming from your company's one. Without cancelling that tweet and without changing accounts on your timeline, you can click your Twitter avatar and pick the account you want.
Pick the right one, finish writing, click Tweet and you've posted to that company account without leaving your personal one.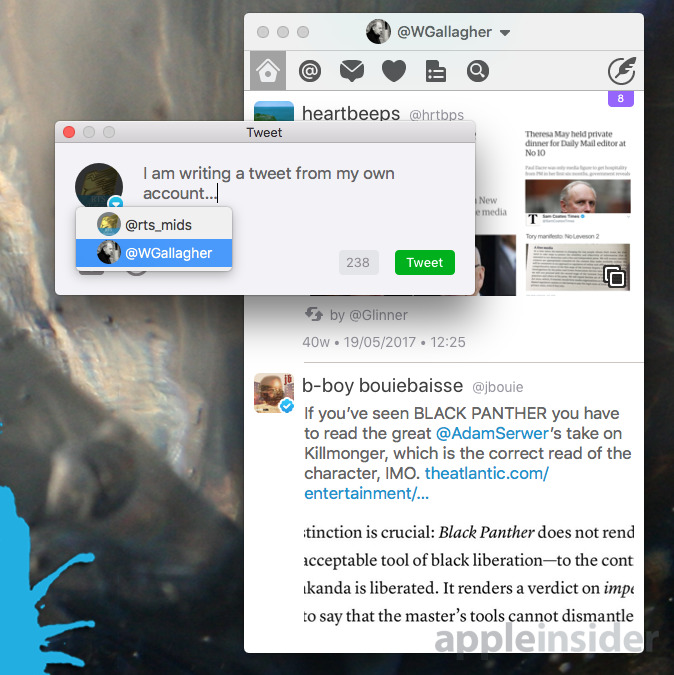 Similarly, if someone then tweets to you on your company account but it's a message about favorite baseball teams, you can right click on the Reply button and choose to send a response from your personal account instead.
This is all excellent for when you're pumping out tweets but when you just want to keep an eye on what's happening with all your accounts, Twitterrific now helps you with that too.
It can place each account in a separate window, if you want, and you can have multiple accounts plus your BBC News list and all your direct messages right up next to each other too.
We generally limit ourselves to just a news feed because we don't want to be interrupted or distracted every single second. Something else Twitterrific does to help with that balance between distraction and staying informed, though, is that it color-codes tweets.

This isn't the same as changing the settings overall. You can make many changes to the colors and the look of Twitterrific, from swapping between Light, Dark and Black modes to altering the fonts used. This update adds the Georgia font face to the list.
Whatever you choose, though, you still always get a clear differentiation between the types of tweets you see so that you know when to pay attention.
So in the default set of colors a tweet that is specifically sent to you is shown as brown text on a sepia background. It's nicer than it sounds. If you're mentioned but just among many people, it's the same brown text but a lighter color sepia background.
A reply or any other tweet you send is green text on a green-tinged background. Everything else is plain black text on a white background so without really even paying any notice, we can see when something needs our attention.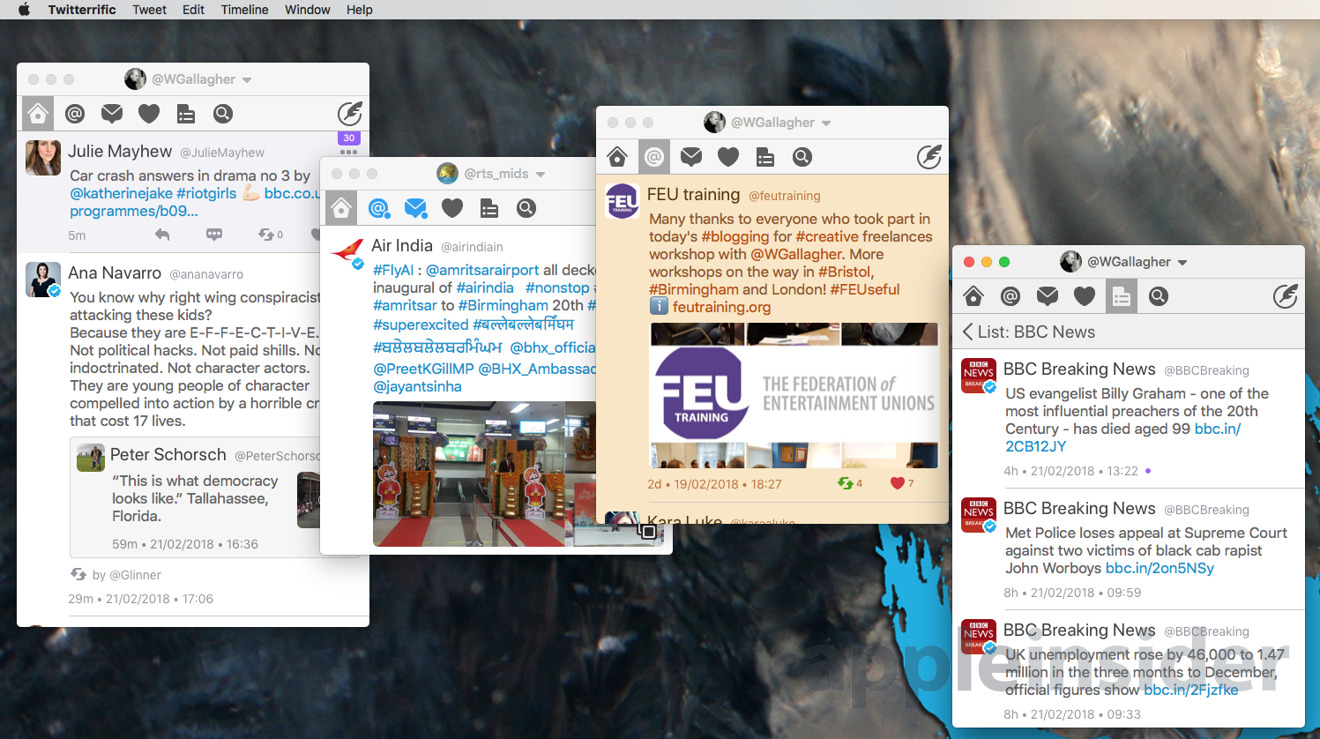 That alone has increased our use of Twitter when, to be honest, we'd started to slack off. The convenience of a news list, the convenience of the colors, and the convenience of it being in a separate app all means we now regularly leave Twitterrific running.
Still, Twitterrific for Mac is supposed to sync with Twitterrific for iOS and that doesn't always seem to work for us.
Then there's a little niggle with searching. Twitterrific has one search box that you type into whether you're looking for a person or for a tweet. The thing is that unlike with Twitterrific for iOS, you have to specify which you're looking for before it start typing.
Invariably, we have typed what we want before spotting that it's going to search for a tweet instead of a person. Tap the person button and it clears the search box. Once you've actually performed the search, Twitterrific retains the previous search term.
We may never have made a more picky criticism of anything in our lives. Yet it would be good to see that change to match how Twitterrific does it in iOS.
AppleInsider has affiliate partnerships and may earn commission on products purchased through affiliate links. These partnerships do not influence our editorial content.