Apple Watch Podcasts app now being filtered from listening data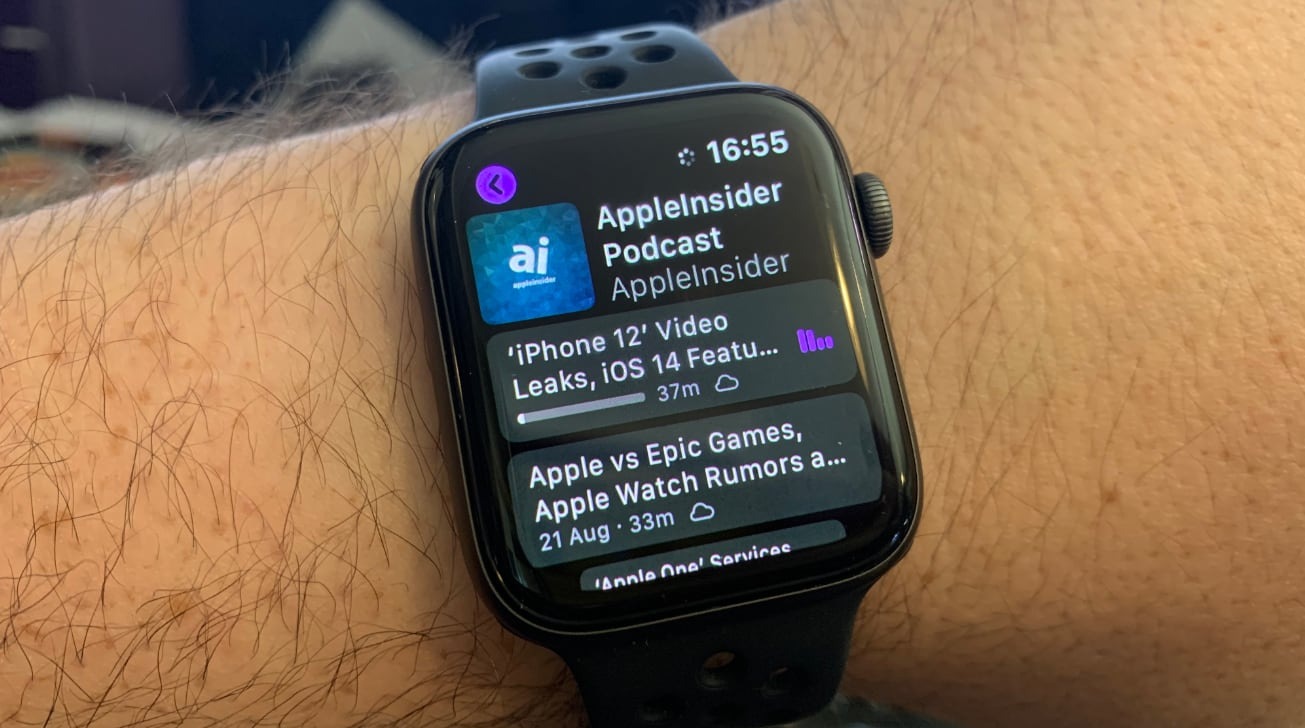 A marketer-led consortium is recommending podcast services filter listening figures involving the Apple Watch, on claims the watchOS Podcasts app redownloads podcasts already stored on the user's iPhone.
In a post on August 26, the Interactive Advertising Bureau (IAB) Tech Lab accused the Apple Watch of producing "significantly inflated download counts." The metric is an important one for podcasters, as it is used to assist with gaining advertisers, so therefore it needs to be as accurate as possible.
According to the group, the Apple Watch enacts an "inherent behavior that triggers non-user initiated podcast downloads," which are counted as standard downloads by servers. It is claimed that, during a synchronization cycle between an iPhone and Apple Watch, the Apple Watch downloads the podcast from the server via the iPhone's data connection, rather than simply copying over the already-downloaded file.
As the Apple Watch is downloading a second copy of the file, the group believes this results in a listener downloading twice, and would count as two unique downloads or listeners. This is especially true at the time of charging an Apple Watch, as by default, it will sync any subscribed podcasts identified in the synchronization to the Apple Watch's storage.
As default settings can include downloading the next ten episodes in a user's "Up Next" list for subscribed podcasts, this can further increase the download count.
Further complicating matters is that the IAB Tech Lab's technical guidelines for measuring podcast downloads do not take into account the ability to stream a podcast on an Apple Watch, according to AdTech. Attempting to play a podcast that hasn't been downloaded fully will trigger a stream, namely initiating another download.
Downloads via Apple apps involve sending a device user agent, which differs between devices as well as whether a podcast is being streamed or downloaded. While it would be useful for podcast services to monitor streams as definitive listens of a podcast, many apparently do not count this data as such, and bundle them in with download requests.
The IAB Tech Lab has recommended that Apple Podcasts app watchOS user agent requests should be "filtered out altogether up front, and not be counted as unique downloads/listeners." The lab's participating members have also agreed that Apple Watch traffic won't be counted towards listenership totals for the podcast industry by October 1, 2020.
To advertisers, the requirement may alter how advertising is served to consumers. Programmatic ad serving will find it harder to track Apple Watch listeners and add targeted advertising to the download. For podcasters, it may skew listener data to show fewer Apple Watch downloads, which again can affect the kind of advertisers it could attract.
The Tech Lab has "made efforts to work with Apple" to try and differentiate automatic downloads versus valid downloads from Apple Watch devices. "Should Apple take steps to clearly distinguish those automatic downloads from user-initiated downloads, take other corrective actions, or make other changes that affect this guidance, it will be revised or retracted," the lab states.
The change will generally decrease listening figures, but only by a "small percent of downloads," according to the group.
This may make it harder for advertisers to target podcasts listened to by Apple Watch users due to the filtering, but it is likely that some tracking will still be possible with the use of alternative podcast apps for watchOS.
The IAB Tech Lab is a "non-profit consortium" comprised of publishers, ad technology firms, agencies, marketers, and other related companies, with its remit including working on issues like ad fraud, consumer privacy, ad measurement, and "programmatic effectiveness."