New iPods still rely on Synaptics interface solutions
By AppleInsider Staff
Friday, February 25, 2005, 08:00 am PT (11:00 am ET)
U

ser interface maker Synaptics admitted Friday that its touchpad technology is still being used in the new iPod products unveiled earlier this week, squelching rumors that Apple may have begun using its own proprietary technology in the music players, TMO reports. In an 8-K filing with the Securities and Exchange Commission the company said that while it believes it\'s inappropriate \"to comment on unconfirmed rumors and speculation\" it can confirm that its interface solutions are being used in the new 6GB iPod mini as well as the 30GB and 60GB color iPod photo. Following the statement, on Friday Synaptics shares soared as much as 18.42% before 11 a.m. EST, to more than $24.00 a share.
Unbeatable Deals from AppleInsider & Apple's Top Authorized Resellers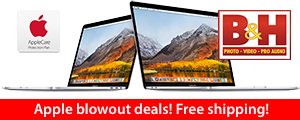 Lowest Prices Anywhere!