Consensus builds for rumored Sept. 9 iPod event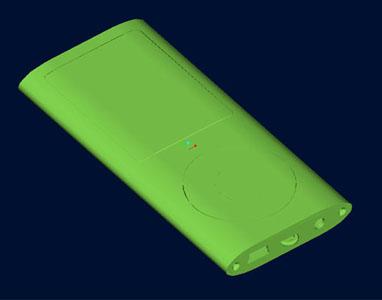 Spurred on by his own leak from the past weekend, Digg founder Kevin Rose has pegged a more specific date for Apple to unveil its new iPods and is garnering support from additional sources.
Listeners to the August 25th episode of This Week in Tech, which features Rose as a show guest, report the site creator mentioning a September 9th introduction for the new iPods that he himself broke word of a day before the podcast was recorded.
While he doesn't say whether this would involve one of Apple's characteristic press events to usher in the changes, the Digg head also sent what are allegedly further images of the redesigned iPod nano to show founder Leo Laporte, who didn't find any glaring problems with what he saw but was sworn to keep the product shots to himself; he quickly deleted them outright.
Separately, leaks that would support Rose's claims have seemingly popped up at the same time, as Chinese resellers at AliBaba and iDealsChina are either selling or claim to know of silicone skin cases for the fourth-generation iPod that fit a player like that seen in an image this weekend. In at least one of these shots, however, Apple's proprietary Dock Connector is replaced with a mini-USB port and a lanyard hook, casting doubt on its accuracy.
Outside of the hardware, Rose also believes he has knowledge of at least one of the features of iTunes 8.0, which he previously said would arrive simultaneously with the iPods. He hears that the new software will be "looking at your music" and recommending content based on specific conditions.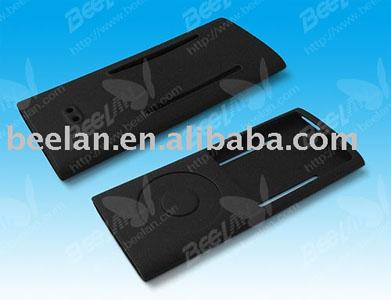 Purported 3D renderings and case images for the new iPod nano. | Image credits: AliBaba and iDealsChina.
Although Rose hopes to avoid incriminating himself by revealing too many features and risking added criticism if he's proven wrong, his assertions are gaining support. A report from Ars Technica later on Monday says the technology site could give a "wink and nod" about the general timeframe, though it stops short of confirming an event or any of the product details. Analysts at Piper Jaffray have also predicted similar plans for Apple in September as it reveals one or more product updates.
Nonetheless, while an iPod refresh is all but certain for the holidays, the nature of any possible event is said Ars to be complicated. With the delay of Intel's Centrino 2 platform likely pushing the release of a redesigned MacBook line out of its intended schedule, Apple may face the undesirable prospect of either having to incorporate new Mac launches into an iPod-oriented press gathering or else staggering the announcements in a way that might jeopardize valuable back-to-school Mac sales.