Apple awarded patent for touchscreen slide-to-unlock gesture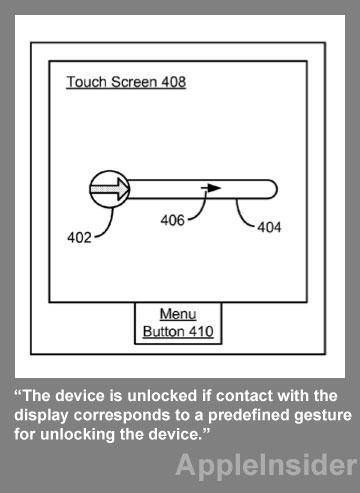 AppleInsider is supported by its audience and may earn commission as an Amazon Associate and affiliate partner on qualifying purchases. These affiliate partnerships do not influence our editorial content.
Apple's arsenal of patents potentially became stronger this week, when the U.S. Patent and Trademark Office awarded the company another patent related to unlock gestures on a touchscreen device.
U.S. Patent No. 8,406,721, entitled "Unlocking a Device by Performing Gestures on an Unlock Image," was awarded by the USPTO this week. First filed in an application in 2009, the invention includes Scott Forstall, Apple's senior vice president of iOS software, as one of its inventors.
A report from the BBC on Wednesday said the patent "would appear" to cover a number of devices that compete with Apple's iPhone and iPad, including touchscreen products developed by Google and Microsoft. But an intellectual property solicitor in London told the news organization that it's unknown whether the patent win will help Apple in its legal pursuit against devices running Android.
"Often you have situations where patents are argued through long and hard to get to registration, but when they are challenged there is a counter action to claim that the patent shouldn't have been granted," Silas Brown, of the law firm Briffa, reportedly said.
One example of this is in Apple existing patent infringement action against Samsung. In August, a Dutch judge said that a previously granted patent, also related to Apple's slide-to-unlock gesture, was likely invalid.
U.S. Patent No. 7,657,849 was awarded to Apple in February of 2010, and it is even listed as a related U.S. patent document in the new gesture patent awarded by the USPTO this week. A Dutch judge said he felt the '849 patent, awarded in 2010, was "not inventive," and therefore likely invalid.
The patent awarded this week describes a touchscreen device where certain gestures performed on the display can unlock it and allow users to use it.
"The device is unlocked if contact with the display corresponds to a predefined gesture for unlocking the device," the filing reads. "The device displays one or more unlock images with respect to which the predetermined gesture is to be performed in order to unlock the device.
"The performance of the predefined gesture with respect to the unlock image may include moving the unlock image to a predefined location and/or moving the unlock image along a predefined path. The device may also display visual cues of the predefined gesture on the touchscreen."
Software cannot be patented in Europe, but Brown told the BBC that Apple could potentially still utilize the newly approved patent if the company could demonstrate that the slide-to-unlock gesture materially improves the performance of the hardware, such as giving it added security.
Apple has recently been engaged in patent infringement suits against device makers who create smartphones running the Google Android operating system. Its legal pursuits have found some success against rivals HTC and Samsung, and have even resulted in some Android-based Samsung products being barred from sale in Germany and Australia.