Parallels Desktop 9 for Mac to feature Mavericks optimization, ship in early Sept.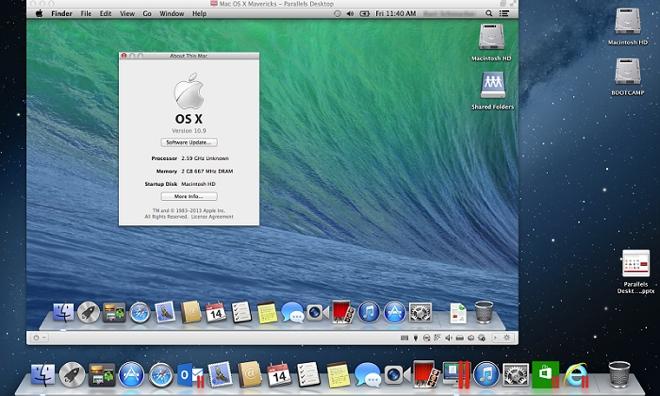 The next version of popular virtualization software Parallels Desktop, which allows users to run Microsoft Windows applications natively on their Mac without the need to reboot, is scheduled to ship the first week of September and boast a number of new features, including optimization for Apple's forthcoming OS X 10.9 Mavericks.
Parallels Desktop 9, which is currently available to select testers in beta form, is also said to feature copy and paste support for Mac OS X virtual machines. The new software also has an improved "Coherence View," which makes Windows applications appear as if they are running natively on the Mac.
The new version of Parallels also reportedly includes improvements to creating and customizing key commands, as well as an improved interface that makes it easier to install Windows on a Mac without a DVD SuperDrive. Apple has been working to eliminate integrated legacy disc drives from its Mac lineup.
Parallels Desktop 9 for Mac is slated to become available in the first week of September — specifically, a release date of Thursday, Sept. 5 has been leaked through some online resellers. Parallels has said that customers who buy the latest version, Parallels Desktop 8, from an authorized reseller between now and Oct. 31 will receive a free upgrade to Parallels Desktop 9 with a dated proof of purchase.
The last major version, Parallels Desktop 8 for Mac, debuted last September, featuring 30 percent faster 3D graphics and 25 percent faster startup of Windows. It was also updated in June to work with developer pre-release builds of OS X Mavericks.
Parallels Desktop 8 also features support for Microsoft's latest Windows 8 platform, and gives users the ability to utilize the dictation feature in OS X in Windows applications. It also supports the high-resolution Retina displays on Apple's latest high-end MacBook Pros.