First look: Apple's upcoming Mac Pro and new MacBook Pros with Retina display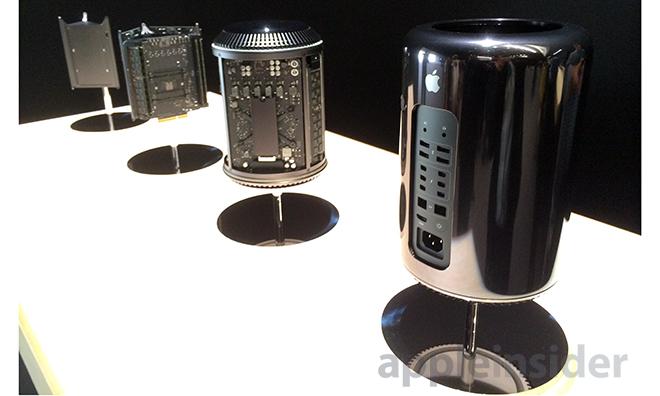 Apple on Tuesday announced updates to its Mac product lineup, offering a closer look at the upcoming Mac Pro desktop and refreshes to the MacBook Pro with Retina display lineup. AppleInsider was at the event for a hands-on look at the new machines.
Unlike the Mac Pro introduction in June, which showed off a non-functioning model behind glass, Apple gave attendees of its media event some hands-on time with the forthcoming pro-level desktop.
As seen above, Apple had a disassembled Mac Pro on display, revealing the triangular heat sink and unique internal layout of the aluminum-clad device. Apple's pro workhorse features a base configuration with 3.7GHz Intel Xeon E5 processor, 12GB of RAM, dual FirePro D300 GPUs with 2GB of RAM each, and a 256GB SSD.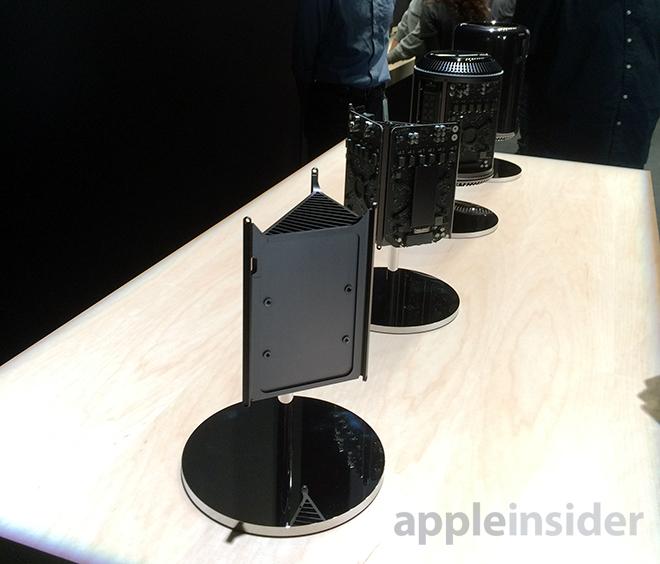 The computer was also being shown off running Final Cut Pro X on 4K displays made by Sharp, connected to one or more of the Mac Pro's six Thunderbolt 2 ports. With up to 20Gbps of bandwidth per channel, the Mac Pro can interface with up to 36 Thunderbolt peripherals, including hard drives, PCI expansion components, audio and video breakout boxes and high-resolution displays.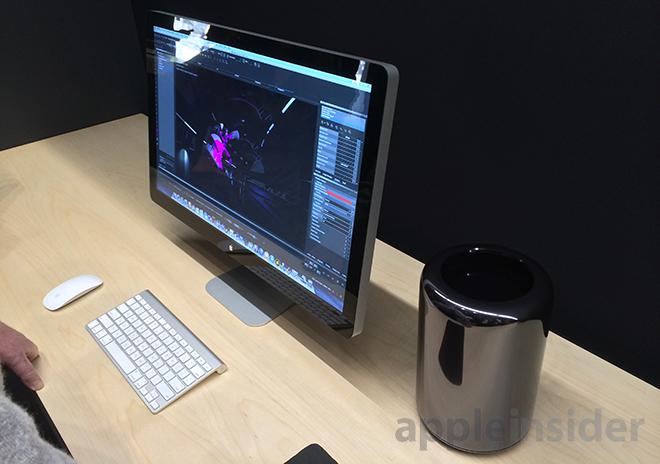 As for the new MacBook Pros, not much has changed aesthetically aside from a slimming down for the 13-inch version, which is now only 0.71 inches thick. Both models got significant spec bumps, however, including new Haswell Core i5 and i7 processors and next-generation integrated graphics from Intel.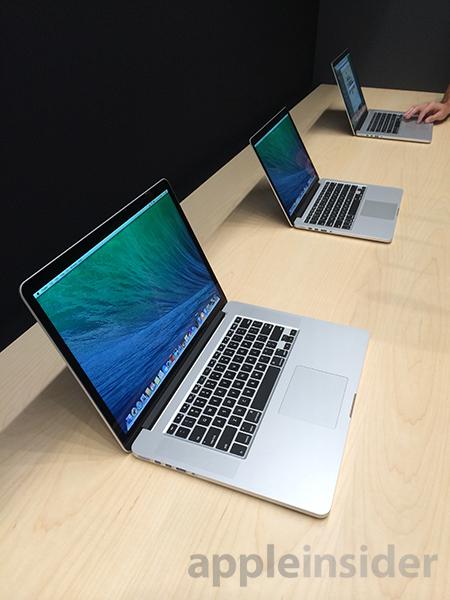 Among the updated internal components, both the 13- and 15-inch MacBook Pros received PCIe-based flash storage with up to 60 percent faster read speeds than last year's models. In addition, the laptops were brought in line with the MacBook Air lineup and now feature 802.11ac Wi-Fi connectivity. Battery life has been boosted as well, with the smaller model now lasting up to nine hours, while the 15-inch Pro can run for eight hours on a single charge.
Apple's MacBook Pros are out now with new lower starting prices of $1,299 for the 13-inch model and $1,999 for the 15-inch version. The company did not set a firm date for the Mac Pro's release, but pegged a base price at $2,999.