Apple remains institutional investors' most-loved stock with $383B in holdings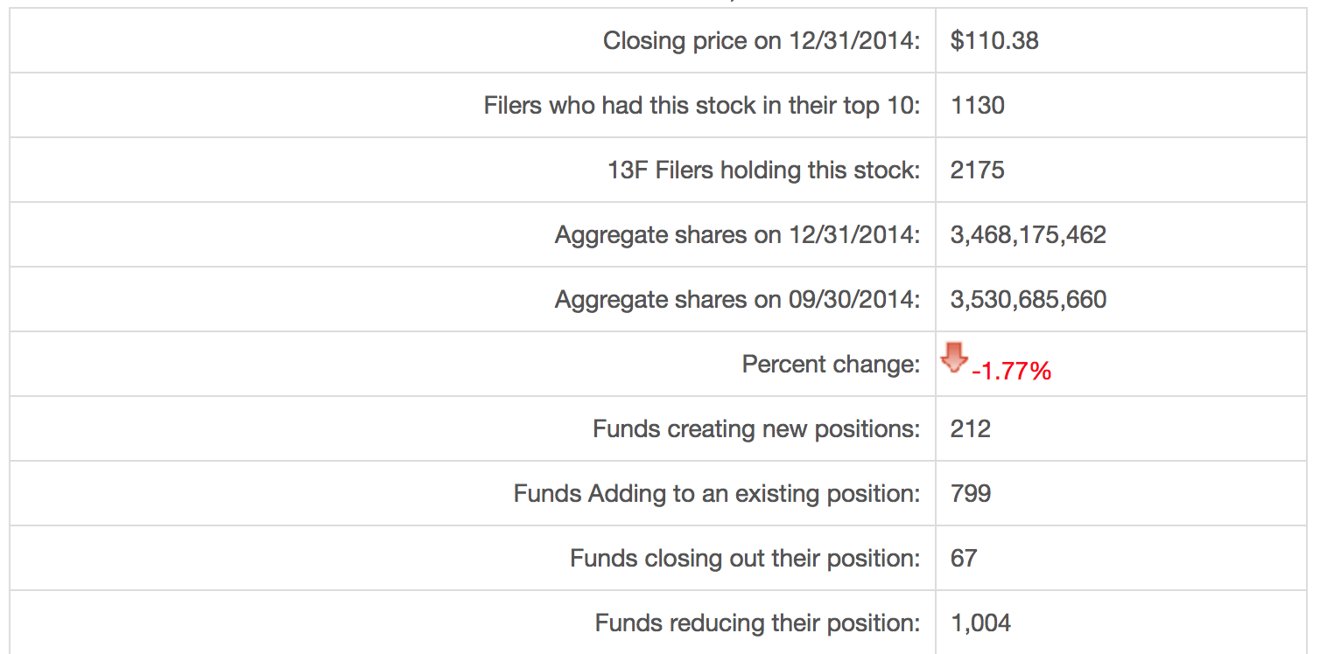 Hedge funds, mutual funds, and other large investors continue to make Apple a core component of their portfolios, with over 2,000 individual funds holding shares worth more than $380 billion at the close of 2014, by far the most for any U.S. company.
Apple beat on-and-off rival Microsoft by over $100 billion to take the top slot in the fourth quarter, according to regulatory filing data collated by fund tracking site Whale Wisdom. No other pure technology companies found themselves in the top 10 institutional holdings by value, though chipmaker Intel was the tenth-most widely held issue.
Overall, the number of aggregate Apple shares held by institutional investors dipped by 1.77 percent from the previous quarter. 212 funds entered new Apple positions, 799 added to their existing positions, 1,004 reduced their positions, and 67 closed out their positions entirely.
The Vanguard Group — the largest investment management firm in the world, with more than $3 trillion in assets — remained Apple's largest shareholder, adding more than 5 million shares during the period to finish with a $37 billion position.
As noted by Fortune's Philip Elmer-Dewitt, nearly half of the total value is held by just 12 funds. Among that group is activist investor Carl Icahn, who recently upped his Apple valuation to $216 per share, a price that would give the company a market cap of more than $1 trillion.
Swedish bank Swedbank was the largest buyer of Apple stock in the quarter, picking up 9.5 million shares, nearly twice as many as second-place Blackrock Fund Advisors. Capital Research Global Investors led the sellers, shedding 28.5 million shares.