With Starbucks deal Spotify looks to build out streaming music platform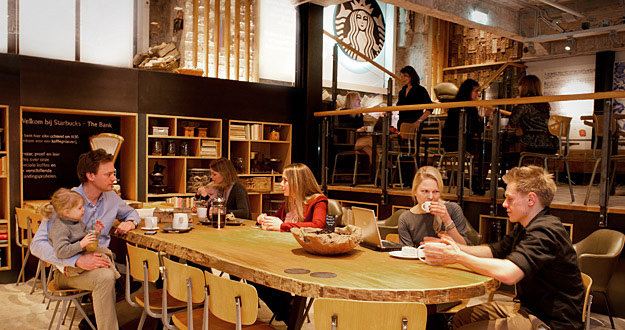 AppleInsider is supported by its audience and may earn commission as an Amazon Associate and affiliate partner on qualifying purchases. These affiliate partnerships do not influence our editorial content.
Spotify on Monday announced a joint initiative with Starbucks that will see the world's largest coffeehouse chain stream its music in stores, promote premium Spotify subscription tiers and grant current users access to Starbucks' rewards program.
The multi-year deal aims to create a new music ecosystem that will interconnect 10 million My Starbucks Rewards members with Spotify's 60 million global users.
As part of the deal, Starbucks will promote Spotify Premium in its brick-and-mortar stores, while current subscribers can take advantage of a new "Stars as Currency" rewards system that earns points toward free drinks and other perks. Spotify is the first outside company to gain access to MSR, though it is not yet clear how customers accrue rewards under the new plan.
Interestingly, Starbucks is leaving content programming to employees. The company will supply 150,000 U.S. "partners," otherwise known as Starbucks coffeehouse workers, with Spotify Premium subscriptions to be used for generating in-store playlists. After launching this fall, Spotify users will be able to access these playlists, as well as exclusive an Starbucks music section, via Spotify and Starbucks' mobile apps.
Initially, Starbucks is looking to roll out service at 7,000 U.S. stores, with plans to expand availability to Canada and the UK shortly thereafter. The same goes for employee access to Spotify Premium.
Spotify's Starbucks deal comes amid heated competition in the streaming music industry, including a rumored offering from Apple.
At its upcoming Worldwide Developers Conference in June, Apple is widely expected to launch a rebranded version of Beats Music, possibly with exclusive content and lower monthly pricing. Negotiations are ongoing, but Apple is said to be driving hard bargains with record labels in a bid to gain a leg up over the competition.