Apple offers $199.99 Pro Apps Bundle for Education, including Final Cut Pro X, Logic Pro X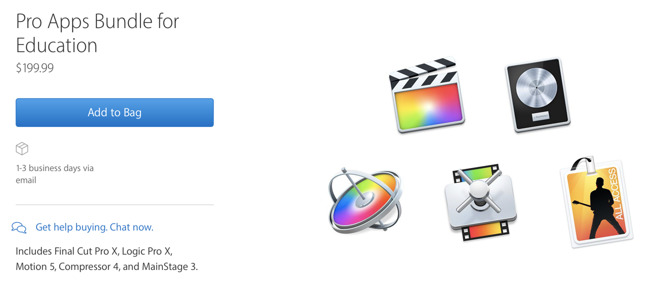 On Friday, Apple rolled out a Pro Apps bundle for educators and students, giving purchasers of the $199 bundle download codes from the Mac App Store for Final Cut Pro X, Logic Pro X, Motion 5, Compressor 4, and MainStage 3.
The deal is available for all faculty and staff at U.S educational institutions all the way from kindergarten through college. College students qualify for the bundle pricing as well.
Combined, the five apps retail for $629.95. Final Cut Pro X itself sells separately for $299.99.
After purchasing the $199.99 Pro Apps Bundle, users receive an email with content codes that can be redeemed on the Mac App Store. Apple notes that codes are usually delivered within one business day but may occasionally take longer.