Cloud startup founded by former Apple executives acquired by Western Digital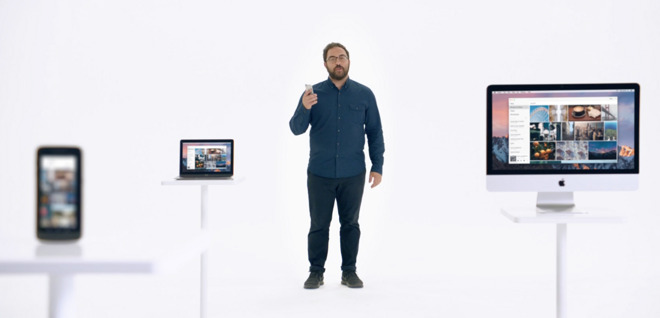 Western Digital on Monday announced the acquisition of Upthere, an app-based cloud services startup founded by a three-man team including former Apple SVP of Mac Software Engineering Bertrand Serlet.
The asset acquisition follows a successful $77 million venture capital funding round led by Kleiner Perkins Caufield & Byers last year. Western Digital declined to disclose the purchase price in an announcement on Monday.
Designed as a platform agnostic cloud storage solution, Upthere provides users direct access to their files, videos, documents and other media without moving relying on locally stored assets. While the system looks and acts like products marketed by competitors Dropbox and Box, all file actions are accomplished in the cloud.
AppleInsider took a hands-on look at the Upthere app last year and came away impressed by the system's flexibility and ease of use.
"Upthere is delivering on its mission to transform the personal storage market, and we share their focus on providing consumers more rich and meaningful experiences with their data," said Jim Welsh, SVP and general manager of Client Solutions at Western Digital. "I'm pleased to have Upthere CEO Chris Bourdon join the team as a strategic leader. His extensive software expertise will help accelerate our user experience and cloud services imperatives across all aspects of the Client Solutions business."
Bourdon is also a former Apple employee, having served as a senior product line manager for Mac OS X from 1997 to 2012, when Upthere was founded.
Along with Serlet and technology industry veteran Alex Kushnir, Upthere counts former Apple VP Roger Bodamer as a founding member. Bodamer, who previously worked for Oracle and a string of Silicon Valley firms, initially acted as the firm's CEO until 2015, according to his LinkedIn profile.
Serlet left Apple in 2011 after overseeing major OS X version launches since 10.6 Snow Leopard and initiating the project that would become iOS. He currently sits as director of Upthere's board.
Upthere will fall under the purview of new Western Digital Cloud Services boss Barbara Nelson, who recently joined the company after working at cloud security firm IronKey as an executive vice president and general manager.