iOS 14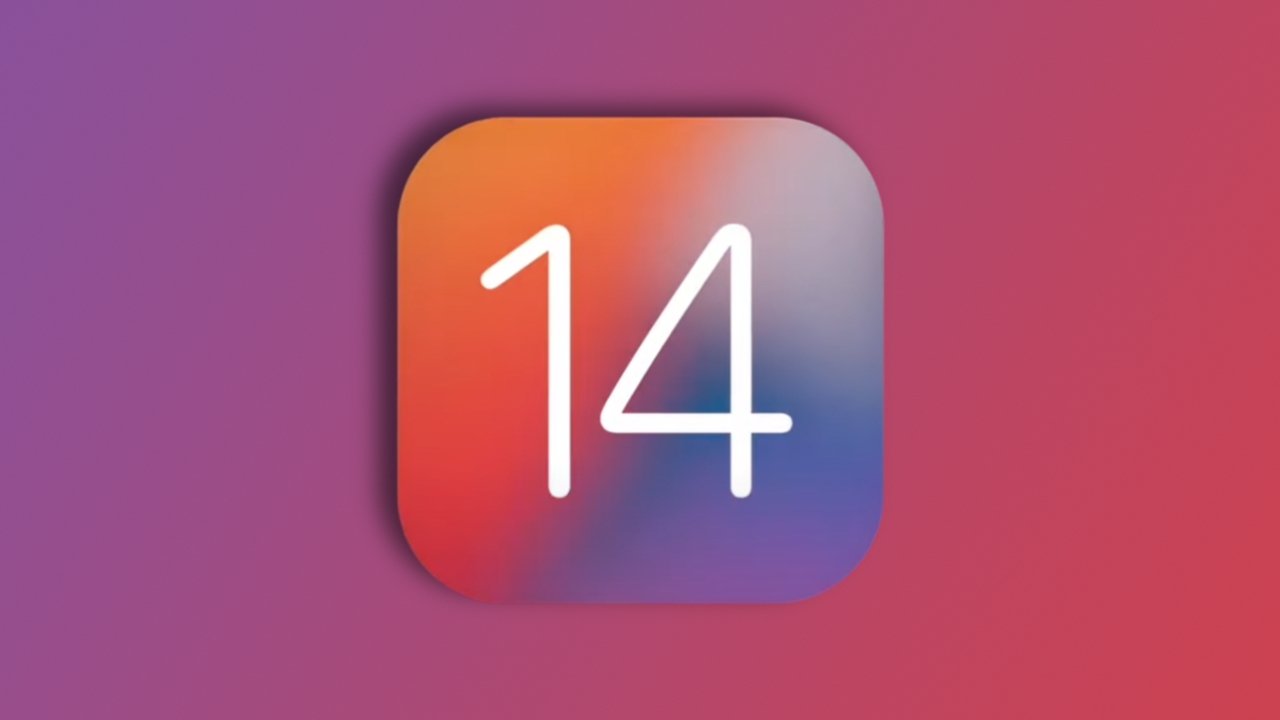 Last updated: 2 weeks ago
Apple announced iOS 14 at WWDC in June and revealed many new features and enhancements to the iPhone OS. This marks the first big change to the home screen since its inception and new privacy facing features were added across the system.
● Announced at WWDC in June
● Release in September 2020
● Widgets on the home screen
● App Library
● Pinned conversations and threading in Messages
● Shortcuts folders
● Picture-in-Picture on iPhone
● App Clips
---
The next big update to iOS changes many aspects of how users access apps and view information. Despite the pandemic interrupting the last few months of development, Apple was still able to come on stage at WWDC swinging. Home Screen Widgets, App Library, a new translation feature, and speed improvements and design changes add up to a sizeable release.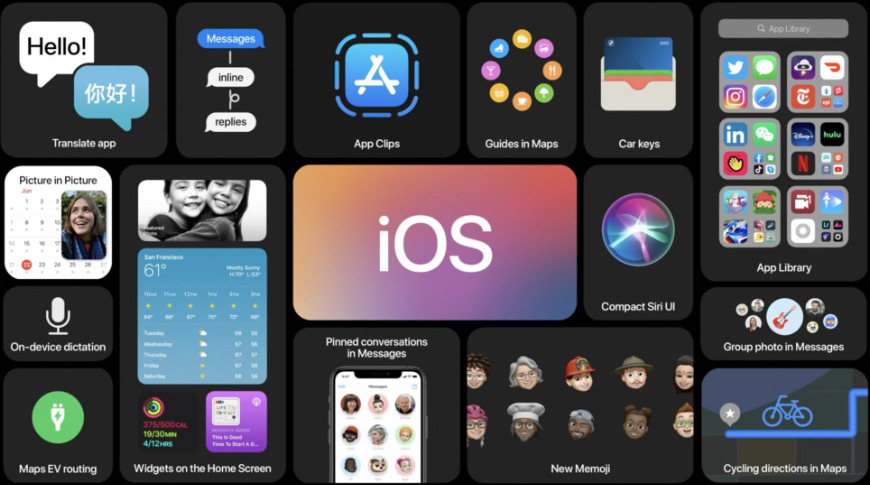 Several improvements point to an AR driven future, especially when rumored devices like "Apple Glass" are taken into account. App Clips and real world AR anchors pave the way for a HUD-like device.
iOS 14 Features
App Library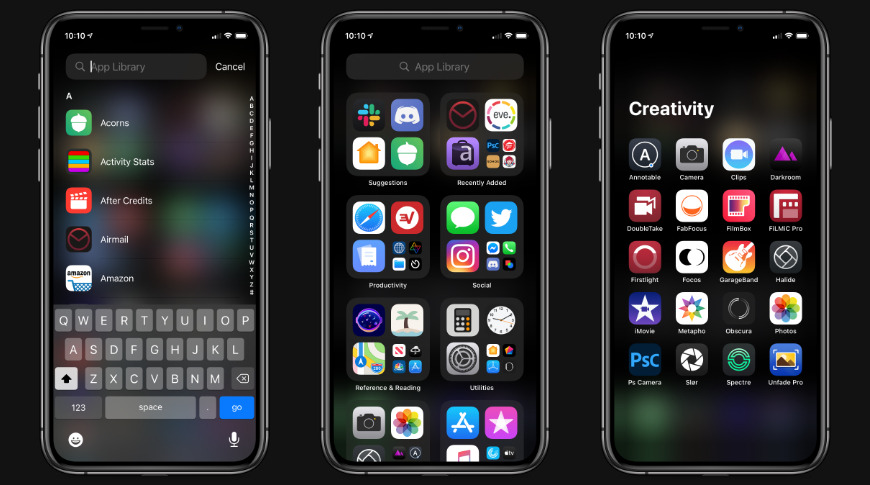 The Home screen has been basically untouched since it was first introduced on the original iPhone. A grid of squares you could click to launch an app and a place that held every single app you download. Small changes have been made over time, but iOS 14 rethinks the entire experience.
Now users can remove an app from the home screen without deleting it or hiding it in a folder. The app will live inside the new "App Library" located by swiping to the right-most screen. The App Library sorts apps by category and the search bar at the top will show an alphabetical list of all installed apps.
Widgets
Another big change to the Home screen is customizing interspersed widgets. Previously widgets would live in the "Today View" on the far left screen, but now users can drag widgets into the home screen.
Widgets can take up a 2x2, 2x4, and 4x4 space on the Home screen. They can also be stacked into groups that can be swiped through by the user. Widgets cannot have interactive elements and will only display information. Widgets act as launchers for apps that will deep link users to whatever content is being displayed at that moment.
Siri
Apple's smart assistant is getting a cosmetic makeover in iOS 14. Instead of taking over the entire page, it will now show up as a small colorful icon in the bottom of the screen. Siri seems to be more conversational and will remember previous tasks or queries better between uses.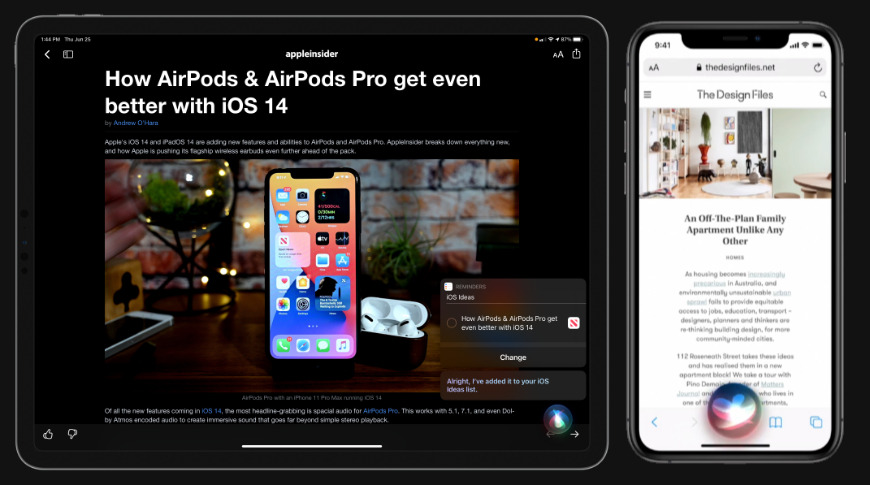 Siri intelligence is getting a boost, as offline translations of webpages is coming to Safari. Currently, tools like Google Translate require an internet connection to navigate to their app or web tool to translate a page, which is logged for their usual data tracking purposes. The offline iOS-based solution is totally private and uses on-device ML to process translation requests, which is more private and secure.
In addition to webpages, iOS 14 is including an entirely new app called Translate. This app will translate conversations in real-time and display text of the translations on-screen in real-time.
Security and Privacy
Apple often updates security measures to ensure more trackers are being blocked or exposed from the OS level. In iOS 14, users will encounter more intelligent notifications for when the camera, microphone, or clipboard is accessed.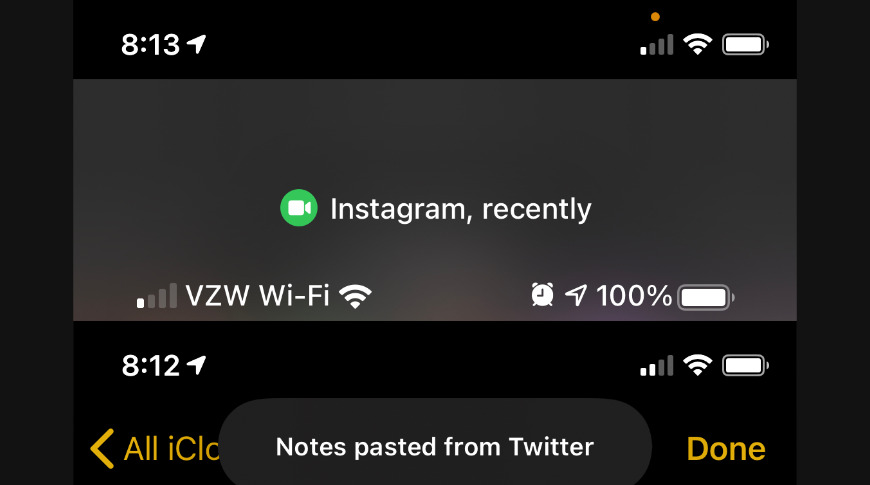 The developer and public beta tests have exposed several apps which try to run processes in the background without the user knowing. Tik Tok seems to be checking the clipboard with every keystroke within a text field, while apps like Instagram seem to be running the camera in the background without the user activating the camera.
When the camera or microphone is in use, a small colored dot will appear above the signal bars on the right side of the status bar, green for camera and orange for microphone. When the control center is accessed a small banner will be displayed at the top of the screen showing the last app to access either the mic or camera.
Anytime the clipboard is accessed by an app a small banner will show up at the top of the screen to say the clipboard was seen by an app and where the clipboard data was accessed from.
Weather
The number one weather app on the App Store, Dark Sky, was acquired by Apple in March. This means several things for the service, including the app's removal from Android and the API being deprecated.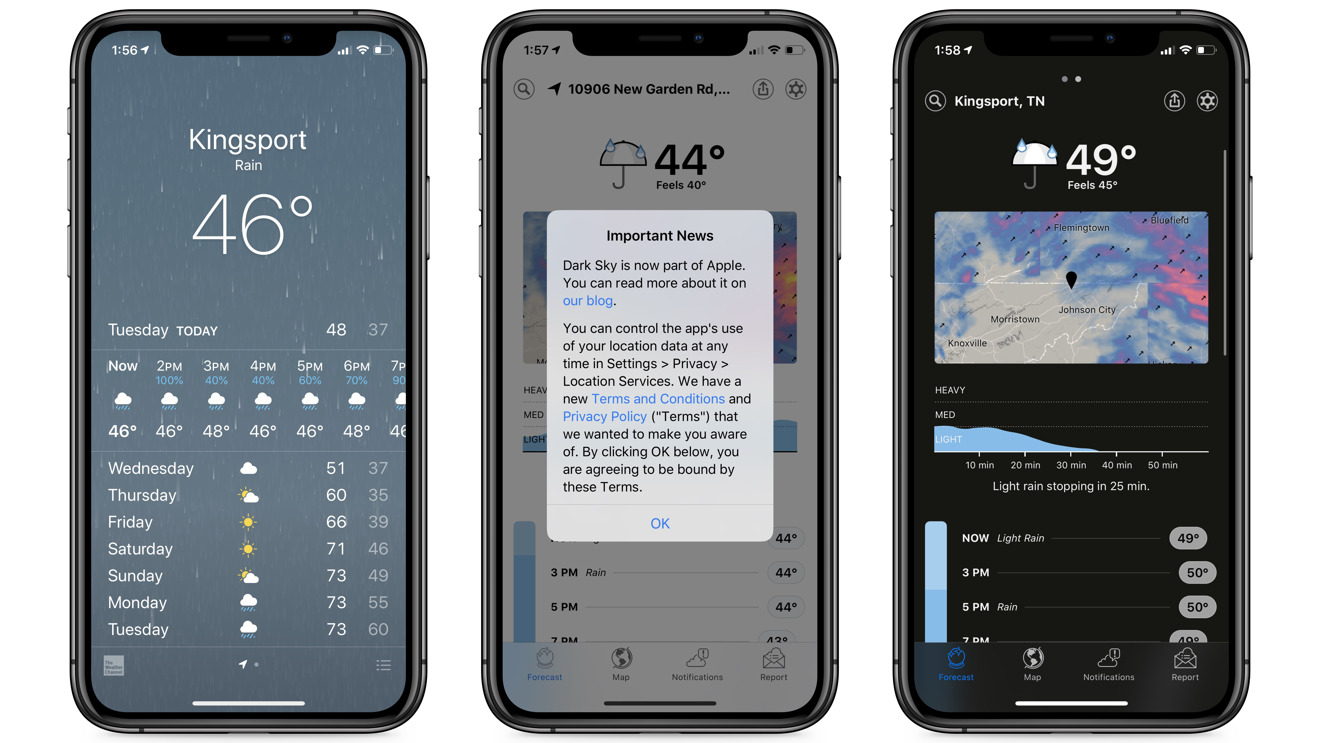 Not only does Dark Sky act as a great iOS citizen, but it also features a powerful iPadOS app as well. Nothing was specifically stated about the Dark Sky acquisition on stage at WWDC, but new updates to the weather app and widget show progress on that front.
The weather app still prominently displays The Weather Channel in the bottom corner of the app, but portions of the data are being sourced from Dark Sky, such as the new next-hour forecast included in the app. The widget will also display if rain or other weather is coming in the hour.
Messages
Messages will let users pin conversations to the top of the chat feed and group chats get new custom icon options. Another new addition is chat threads, which will let you reply to specific messages to maintain context. This is especially useful in more active group chats.
Additionally, contacts can be specifically tagged in a group chat, which will notify the user even if they have the conversation muted.
CarKey
Apple belongs to a "Car Connectivity Consortium" and iOS 14 will offer developers some new features for controlling and unlocking their cars. The new API is called CarKey and will replace key fobs for cars in the near future.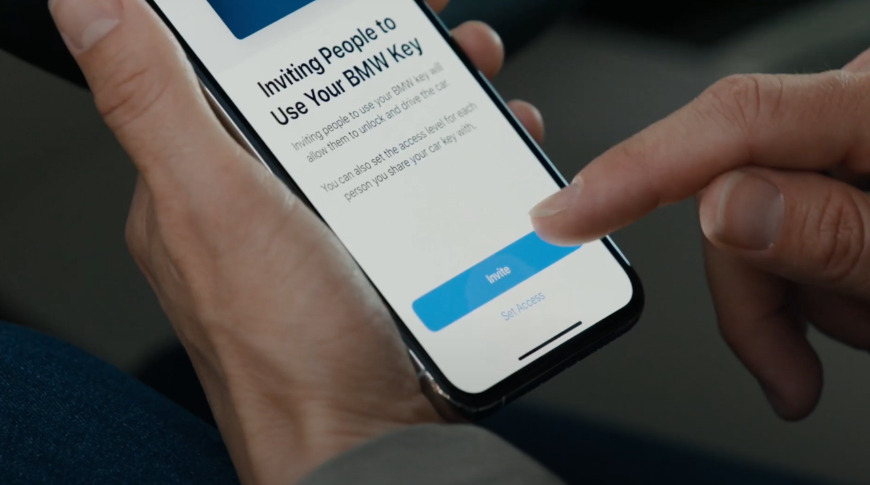 Apple's API will allow users to designate an iPhone or Apple Watch to act as a digital car key via NFC or BLE. BMW will be the first partner to support the feature with the Series-5 releasing later in 2020.
The technology will utilize the Secure Element to store CarKey authentication and will rely on device biometrics to use the features. NFC will be used to unlock the car at close proximity in the first release, but a future release will take advantage of the U1 chip in iPhones to unlock the car without removing the phone from your pocket.
Express mode will also allow users to access their car for up to 5 hours if their iPhone battery is depleted.
Homekit in iOS 14
A feature similar to Night Shift will be coming to HomeKit lights in iOS 14. The new ambient lighting feature will make lights automatically adjust throughout the day. This will create warmer tones in the morning and evening and phase through cool tones throughout the day.
HomeKit Secure Video, added in iOS 13, offers some smart features for users, such as recognizing objects that appear in videos for easier searching through footage. In iOS 14, the security feature will gain a face classification function, allowing it to identify individual people when they approach the camera.
App "Clips"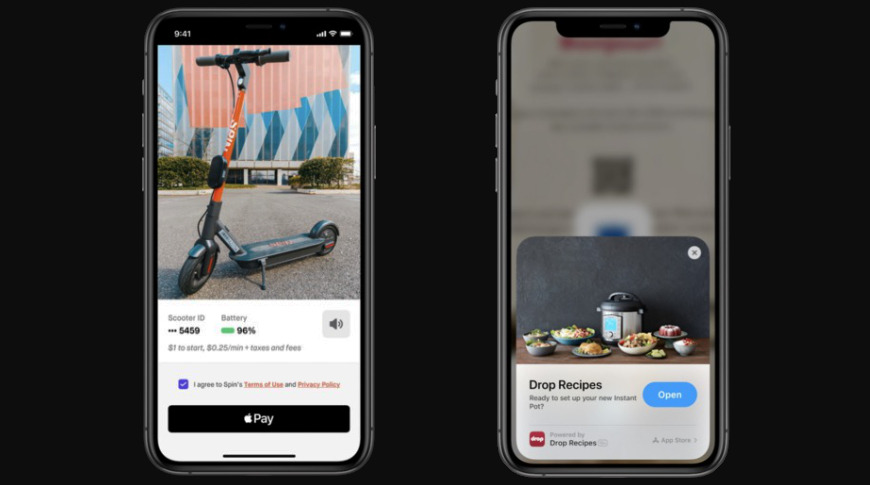 Apple announced the rumored App Clips and it aims to ease the friction of using some commerce apps out in the world. When faced with an e-scooter or parking meter, users would normally have to download an entire app, sign in, enter payment info, then finally complete the transaction just to get on with their day.
With iOS 14, users can tap an NFC sticker, click a link, or scan a special QR code to access a "Clip." These App Clips are lightweight portions of an app, required to be less than 10MB, and will show up as a floating card on your device. From there, you can use Sign-in with Apple and Apple pay to complete a transaction in moments, all without downloading an app.
The iOS 14 feature will also let apps like Yelp create specific clips for restaurants for use in Apple Maps and websites.
Other iOS 14 Changes
Watch Youtube in 4K HDR for the first time
AirPlay 4K video
Picture-in-Picture support
Emoji search within the keyboard
Set your default email and web browser app
Find My will allow third-party accessories like Tile to show up in app
FaceTime eye correction returns
ProRAW photos on iPhone 12 Pro and iPhone 12 Pro Max
Playstation 5 controller support
Apple released iOS 14 during the "Time Flies" event in September 2020 as a surprise to all. Normally the operating system releases alongside the new iPhone with a week advanced notice to developers, but this time Apple only gave 24-hour notice with no iPhone 12 in sight.
Updates
iOS 14.3
iOS 14.3, currently in beta, adds support for ProRAW. The new photography mode combines for the first time Apple's computational photography with shooting in RAW. Previously, iPhone photographers had to choose between the two modes.
The update also adds a new alert to help users update connected HomeKit accessories, rather than manually updating through the manufacturers' apps.
iOS 14.2
Apple released iOS 14.2 on November 5, adding a dedicated Shazam button and over 100 new emoji. The new emoji include more inclusive options, food, and objects. The update also included eight new wallpapers, including outdoor scenes and artistic pieces.
iOS 14.1
iOS 14.1 shipped alongside the iPhone 12 and iPhone 12 Pro. The update added support for the new smartphones along with 10-bit HDR video playback and edit in Photos for iPhone 8 and later.
Common iOS 14 questions
How do you update to iOS 14?
When an update is available for a device running iOS, it is installed automatically that day. If a user wants to update immediately:
Go to the Settings app.
Select "General."
Select "Software Update."
After verifying the update it will install when the iPhone is greater than 50% charge
How do you add custom icons to the iOS 14 home screen?
Open the Apple Shortcuts app (should be pre-installed)
Tap "+" in the top-right corner
Tap "Add Action" then select the icon labled "Scripting"
Select "Open App" from the list
Tap "Choose" within the Scripting shortcut item
Search for and select the app you're customizing
Select Next in the top-right corner to name the Shortcut
Tap on the colored icon to customize that if desired (not needed for the home screen)
Tap the "..." on the shortcut you just created
Tap "..." in the top right corner
Tap "Add to Home Screen"
Tap the icon to customize it with a file or photo
Tap Add to finish
How do you use the App Library on iOS 14?
The App Library is a new feature in iOS 14 that allows users to hide their apps without deleting them. You can remove every app from your home screen so you can customize it how you like, but have all the apps still installed available to you in the App Library.
Press and hold on an app on the home screen
Select "Move to App Library" to remove it from the home screen
Swipe to the right-most screen to view apps in the App Library
How do you hide home screens on iOS 14?
You can design custom layouts then hide them until you want to use them on iOS 14. Add the desired icons and widgets to a home screen page, maybe just for work or a specific activity, then you'll be ready to hide it until needed.
Long press anywhere on the home screen
When in "jiggle mode" dots representing your home screen will appear at the bottom of the screen
Tap on these dots to see an overview of all of your home screens
Tap the checks to choose if a home screen is displayed or not
Swipe up or tap "Done" to finish editing pages